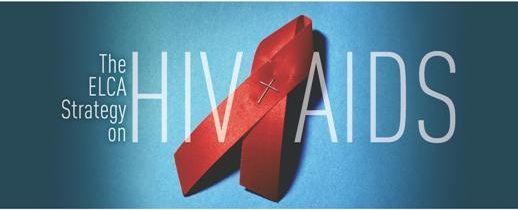 "Isn't that kind of…over?"
It is a surprisingly common reaction to my telling people what I do.
My name is Savanna Sullivan, and I am the Program Associate for the ELCA Strategy on HIV & AIDS. The Strategy on HIV & AIDS is a document the ELCA adopted in 2009 to direct the church's engagement with communities living with and affected by HIV, and to outline our commitment to addressing HIV in the United States and the world. My work focuses on helping the ELCA live into the key commitments of the Strategy – like our commitment to theological reflection on our response to HIV and our inclusion of people living with HIV, our commitment to education and to effective prevention, treatment, and care of HIV, etc. And so, when I get a variation on that question, "Isn't HIV over?" or comments like "It's not as bad as it WAS," I am frustrated, and then saddened, and then I get angry.
Because HIV isn't over, but it could be.
What a simple thought, right? The reality is that there are STILL people being infected with HIV every day – 5,763 people every day, actually. That is 240 people an hour who are contracting a life-threatening illness. We know, too, that HIV doesn't just affect people far away from us, in countries distant from our own. People in our own communities and congregations and fellow Lutherans in our companion churches are living with HIV.
In his letter to the Corinthians, Paul writes, "If one member (of the Body of Christ) suffers, all suffer together" (I Cor. 12:26). Friends, members of Our body are suffering unnecessarily.
Unnecessarily—because HIV is NOT what it was 30 years ago. Now, HIV is preventable.
Did you know there are prophylactic drugs available to reduce the likelihood of HIV infection during high-risk behavior (unprotected sex/drug use) to less than 30%? Or that there are medications that can prevent mother-to-child transmission of HIV to less than 1%? Did you know there are drugs that can reduce an HIV positive individual's viral load (amount of virus in their blood) to the extent that they are very unlikely to pass it to anyone else? Here are some other basic statistics about the HIV epidemic.
So why do people still get HIV?
The answer is complicated and wrapped up in problems surrounding access to education about HIV, testing availability, and access to prophylactic drugs or to HIV treatment. The answer is chained to systems of oppression that keep this information and access from marginalized populations – from communities of color, low-income communities and the LGBTQ+ community, among others. The answer is entangled with issues like availability of resources and gender inequality in developing countries around the world. So largely, the answer is colored – still – by stigma.
HIV isn't over, in part, because we are still afraid to talk about it. And that "we" includes us, the Church.
These issues need to be tackled, and that may feel like quite the undertaking for us as the Body of Christ. So where do we start? Well, as I begin my work helping the church to implement the ELCA Strategy on HIV and AIDS, I invite you to start by walking with me. I invite you to start by TALKING with me. It is high time we start conversations in our congregations and homes about HIV if we have not already. I invite you to pray with me for people whose lives have been affected by HIV. I invite you to repent with me for the ways the church has failed to include people living with HIV. Then, I invite you to act.
We in the churchwide office will be working hard to connect you all with resources for theological reflection in the coming months so you can check out ELCA.org/hiv for those resources, but you can also educate yourself about the HIV epidemic in the United States and around the world at CDC.gov/hiv. You can act with ELCA Advocacy to fight for healthcare for people living with HIV. You can start talking.
Because we are the Body of Christ – when one of us suffers from HIV, we all suffer together.
And because HIV and AIDS isn't over, but it could be.
Here are some other links that you can check out:
Savanna Sullivan is the program associate for the ELCA Strategy on HIV and AIDS. She can be reached at Savanna.Sullivan@ELCA.org.