Gina Tonn
​Special thanks to Kris Schultz of Gloria Dei for sharing the story of Backpack Buddies.
Over the summer Gloria Dei Lutheran Church posed a simple yet exciting challenge to its congregation: Read Books, Help Children.
The Downers Grove, Illinois, congregation holds a Summer Reading Program to encourage members, particularly children, to continue to visit the Memorial Library at Gloria Dei over the summer months. The Memorial Library is dedicated to providing resources for spiritual growth and to enriching the work of the congregation. This summer, however, the Summer Reading Program took on a new dimension with the addition of an ELCA Good Gifts matching challenge. Gloria Dei's Library Committee and Mission and Justice Committee partnered to envision "Backpack Buddies." Through the Backpack Buddies challenge, each participant in the Summer Reading Program was asked to set a reading goal of a certain number of books from the library, and adults were asked to sponsor them by pledging to give one dollar per book read. The money raised would go toward the ELCA Good Gifts program to provide schools supplies for children in need:
Ten Books = Ten Bucks = School Supplies for One Student
35 children, who ranged in ages from 3 to 12 years, enthusiastically made their pledges at the start of the summer, and 32 sponsors signed up, some sponsoring multiple readers.
Each Sunday that summer, the Memorial Library was busy with families returning books and checking out new ones. Each challenge participant had a reading progress chart to keep track of the books they read. The charts were hung up in the church's gathering area for the whole congregation to see and celebrate.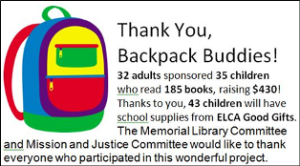 By the time Sunday School began in September, 185 books had been read through the Backpack Buddies challenge. The Mission and Justice Committee collected $430– well beyond the $1 per book promised!
The Backpack Buddies challenge was a success. The Memorial Library met its goal of increasing use over the summer, new connections between adults and children in the congregation were established, and 43 children will benefit from the donations for school supplies through ELCA Good Gifts.
Thank you to Gloria Dei Lutheran Church for sharing their story of a creative way to encourage summer reading and avidly support the educational efforts of ELCA World Hunger to help combat poverty around the world!
Interested in donating $10 for school supplies for a child? Click here to visit the Good Gifts Catalog!
Gina Tonn is a Program Assistant for ELCA World Hunger through the Lutheran Volunteer Corps.