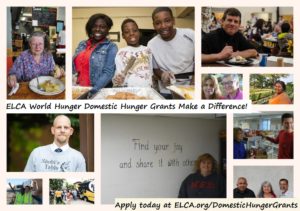 The application for Domestic Hunger Grants for 2018-2019 is now open! The Domestic Hunger Grants program supports ministries that accompany people who experience poverty and hunger in the communities across the United States and Caribbean. These grants do more than just give food to people who are hungry – in addition to immediate relief programs, ELCA World Hunger Domestic Hunger Grants fund projects in advocacy, community development, community-based organizing and relief that strengthen the foundations of communities affected by hunger and poverty.
In 2017, this program allocated a total of $691,810 to support 347 domestic projects and programs ranging from congregational food pantries to urban farms, job training and living-wage advocacy campaigns. ELCA World Hunger-funded Domestic Hunger Grants make a difference.
Domestic Hunger Grants support a wide variety of ministries connected to ELCA congregations and groups, from food pantries to job programs for youth, and from community gardens to programs addressing food waste. If you are looking to seed, grow, or nurture a new or existing program, consider applying today!
All applications must be postmarked no later than June 30, 2017, to be considered for funding in 2018 and 2019. You can find the application online at ELCA.org/domestichungergrants.
Here are just a few examples of programs supported in part by Domestic Hunger Grants in 2016 and 2017:
Manna from Heaven – Myra, Kentucky
This food pantry in the heart of Appalachia provides nutritious food and clothing to more than 250 people each month, in an area where access to food and social services is hard to come by. In partnership with Lutheran Church of the Resurrection in Cincinnati, Ohio, Manna distributes 10,000-15,000 pounds of food each month. Their Domestic Hunger Grant helps fund the delivery of this food from Cincinnati to Myra.
Young Leaders Program – St. Paul's Lutheran Church, Minneapolis, Minnesota
In a community marked by contrasts – the most community gardens and the highest rate of pollution in the city – St. Paul's Young Leaders Program works with youth ages 11-15 to help them develop their skills to be the leaders of today and tomorrow. Youth work on projects ranging from city beautification to arts to community engagement. With support from the community at St. Paul's, the Young Leaders are making their mark on their neighborhood – and experiencing a welcoming community where their talents are valued and nurtured.
Table Grace Café – Omaha, Nebraska
At Table Grace Cafe, anyone who walks through the door is served a nutritious meal, even if they don't have the money to pay. People who eat there are asked to pay what they can or to donate their time. But more than that, the staff at Table Grace Café don't just serve food, they listen to the people who come in, they hear their stories, and they try to help in other ways, including through their job training program.
Christ the King Deaf Church – West Chester, Pennsylvania
Christ the King Deaf Church accompanies neighbors who face vulnerability to hunger in complex, interrelated ways and yet are under-served by other agencies, including immigrants and refugees with hearing and vision impairments, people in prison who are deaf, and neighbors who are both deaf and blind. Christ the King Deaf Church offers communication and mobility assistance, case management, visits to the Graterford correctional facility, literacy and life-skills mentoring, and advocacy. In addition, the church provides the opportunity for the clients accompanied by these services to exercise their leadership of the programs through participation on an advisory committee or church council.
ELCA World Hunger Education and Networking Grants Also Available!
If you or your congregation, synod or organization is considering an event or program to help folks learn about hunger, poverty and how our faith calls us to respond to both, you may be eligible for an ELCA World Hunger Education and Networking Grant. More information can be found at blogs.ELCA.org/worldhunger/edandnetgrants.