Teri Mueller
On Wednesday, July 16th, the summer interns at the ELCA churchwide office had the opportunity to visit Bethel New Life on the West Side of Chicago. Bethel New Life is an example of an organization that has done some amazing work with its social ministry and community development programs. I was very excited about the opportunity to see the work of a community partner of the ELCA and to get a glimpse of how grassroots work relates to work we do at the national churchwide office.  The experience was educational, inspirational and thought-provoking.
Joe Young, ELCA Program Director of Community Development, briefed us on some of the background of the community before we actually went into Bethel. He described the difficulties the community has faced, saying, "The Neighborhood was very, very different prior to the Nelsons' coming…25 plus years ago, the neighborhood was a mess." (Mary Nelson was the former CEO of Bethel New Life.) He further went on to explain that the neighborhood has had unemployment ranging from 10-45% over the years. People have had to make tough choices about things like feeding their family or fixing their roof.  Large parts of the north Austin neighborhoods are also food deserts, meaning that there are no actual full- service grocery stores so people have to travel a significant distance to get food or purchase it from often overpriced corner stores. Some stores even have customers ask for food behind plexi-glass that separates customer from vendor. They do not even get the dignity of picking out their own food, and sometimes the items they purchase are expired.
Prior to visiting Bethel, I knew very little about the organization. Bethel New Life was born in a time of severe hurt after the riots of the late 1960s and early 1970s that followed the Civil Rights Movement and the assassination of Martin Luther King, Jr. The organization was founded over 30 years ago in 1979 by Bethel Lutheran Church. The church had a dream of making an impact on the poverty and des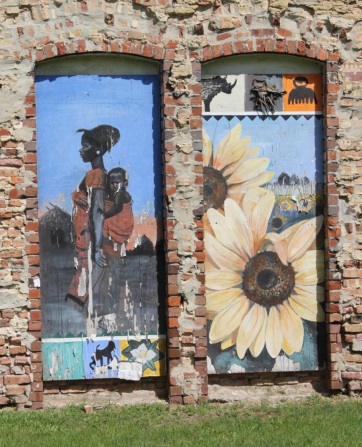 pair that the local community was facing. Though money was scarce, members decided to mortgage the church and put the limited funds they had into purchasing a building. They relied on their faith and passion as they diligently worked to make a difference.
Photo: Outdoor artwork at Bethel New Life 
Ms. Mildred Wiley, Senior Director Community Affairs, provided us with a lot of the history of Bethel along with giving us a tour and telling us about new initiatives. Ms. Wiley made it very clear that Bethel has a legacy of looking at community assets and working to help enable people. Her colleague, Ms. Tina Levy, Director of Communications and Fundraising, talked about how the community has been entrenched in poverty for decades and explained Bethel's philosophy to "value people investing in themselves so they can help themselves." Ms. Levy also shared with us about the West Side Forward campaign that is currently underway. The campaign seeks to significantly reduce concentrated poverty on Chicago's West Side. I was amazed looking at the figures within the West Side Forward report.  It claims that the total cost of transforming the neighborhood over the next ten years would be about $3.4 billion dollars, while the cost of keeping it the same would be around $29.1 billion. The solution seems like it should be clear, but I know change takes a lot of time, convincing and initiative.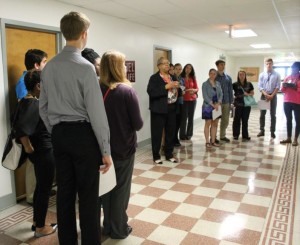 Photo: Ms. Wiley gives the interns a tour of Bethel
West Side Forward is directly part of Bethel New Life as it serves as the strategy of the organization. Staff are heavily invested in the initiative. Bethel's core areas of focus over the next ten years align with West Side Forward and include Community Economic Development and Education.  Senior housing is also a key part of Bethel New Life. We had a chance to see senior housing, economic development, and education in action during our visit. Ms. Wiley took us on a very informative tour of Bethel's facilities. Bethel has both senior housing and assisted living housing. We got to hear about many of the services offered at the assisted living facility including a barber and beauty shop, nurse's station, activity room, fitness facility, full meals and more.
Ms. Elayne Nickaloau, Director of Education at Bethel New Life, talked to us about the educational components of Bethel. She explained that Bethel places a strong emphasis on identifying partners and forming connections. She specifically mentioned the collaboration between Bethel and the By the Hand program in the community. The hardest challenge Bethel faces on the education front is getting people to dream and find hope in what they can do. Great programs are in place, but attracting participants is a challenge as is the case with many new opportunities.
We also got to see and hear about the Small Business Development Center at Bethel. In my eyes, the center is a combination of the educational and economic foci of Bethel. There is a 14 week entrepreneurship program that goes through forming a business plan, marketing strategies, etc. and helps people start their own businesses which can help contribute to the local economy. We briefly met Mr. Marshawn Feltus, a graduate of the Entrepreneurship program and owner of ACT Yoga. He talked passionately about his business and the benefits of yoga.
Bethel is also doing some awesome work that helps with economic development. Bethel has a three- pronged approach towards community economic development that focuses on business development, workforce development, and asset-building. One example of a helpful economic service that is supported by Bethel is the Community Savings Center.  When the neighborhood started to decline decades ago, all of the banks left the community and people could not easily obtain loans for socio-economic and racial reasons. Because of this, the Community Savings Center at Bethel New Life has significantly helped community members.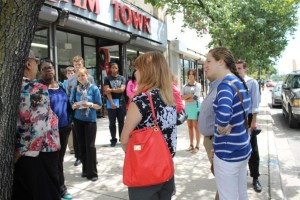 Photo: Ms. Wiley talks about the economic climate of the neighborhood
Looking back, the trip to Bethel was challenging because it was hard to see a neighborhood lacking in things that I have always regarded as fairly basic services like banks and grocery stores. However, it was also extremely inspiring to see the positive work that Bethel New Life has done and witness some of it in a first-hand manner. I do not know what the future holds for me or the other interns, but I know that I want to do my part to combat social injustices in one way or another. Together, we have the power to make an impact. As Joe Young asked us at the end of our trip, "If not you, then who? If not now, then when?" Supporting ELCA World Hunger and organizations like Bethel New Life is one way to have an impact. There are communities like those on the West side of Chicago combatting the effects of poverty all over our city, country, and world, but a positive difference can be made.
Teri Mueller is an intern with ELCA World Hunger.