​In November I was blessed to accompany ELCA Diakonia staff members to Cameroon to meet with representatives of the Lutheran church in Cameroon, Denmark, France, Germany, and the United States, all in partnership with the Evangelical Lutheran Church of the Central African Republic as it plans and administers health, education and sustainability projects in the villages of Central African Republic.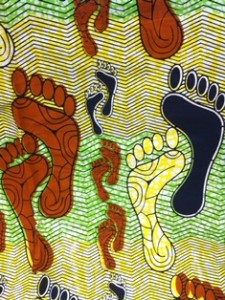 While there, we were asked to stand in front of the congregation after worship in the Garoua-Boulai hospital chapel ​on Friday morning and as we were all introduced (in French) the congregation said "Ahhh" when they heard it was my first trip to the continent. We were each presented with a gift of fabric, and apparently randomly –  but in the Holy Spirit there are no coincidences – mine was covered in feet, all different shades of the gold, green and reddish brown of the native vegetation and earth. The group of partners grinned, acknowledging the significance of the feet, not only for my journey to Africa, but for my journey to ELCA World Hunger.
The journey began with my father, who was national sales manager for a Chicago-based restaurant supply company. I admired his quiet, gentle yet powerful success, and followed his footsteps into national account sales and marketing with a career apparel firm based in Deerfield, Illinois. Then in mid-life the Holy Spirit called me into the ministry of word and sacrament. I attended the Lutheran School of Theology at Chicago and served congregations in Northeastern Iowa and Metropolitan Chicago Synods – until this fall when the Spirit moved once again. I began my position with ELCA World Hunger in October.  My focus is on congregations and supporting them in their work, which in turn supports the domestic and international health, education and sustainability projects we do as ELCA World Hunger and Disaster Response. I'll be travelling throughout the United States to visit congregations two to three Sundays every month, learning from those who are so actively engaged, and helping to engage those who are not yet supporting this vital work of our church.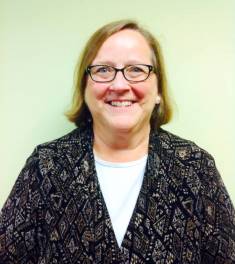 It has been a joy to begin this work with such faithful, wise, compassionate colleagues – and I look forward to getting to know you! What a journey we are all on together, all our footsteps guided by the Holy Spirit as together we partner on this journey, accompanying God's people so that all have food, water, health care, and income.
The Rev. Robin Brown is Associate Director of ELCA World Hunger and Disaster Appeal, Congregational Support. Before joining the ELCA World Hunger Team, Robin served as a parish pastor in suburban Illinois.