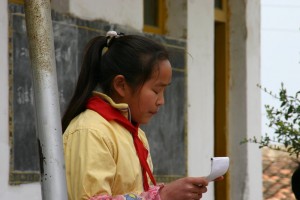 "On behalf of all the teachers and students, I thank you for bringing new hope and reading opportunities with these many great books. We have learned and gained new knowledge: how to be a person, how to study, how we can be kind and have a good heart for all people and things.
"The stories I read are all very fascinating, moving and real. Some make me think, often rousing up my imagination, and I wish I could write as well. For many years, we have not had books like this. We did not write well. However, now that we can read so many books, we have much higher standards in writing skills.
"I remember a quote from one of the books: Reading is the best knowledge. I also learned from my teachers that we must study each story carefully to sense the emotions of the authors. After I understood this, I have done just that – to read with care.
"These books are treasures to us, for the contents are precious and there is much to learn. It is an ocean of knowledge. We must read more so as to know that they contain true wealth and beauty.
"Thank you, for you have brought hope and happiness to us. Every time we see these books, we not only see them as books, but your lasting care and support."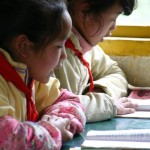 "–Speech given by Zhao-Ling, 6th grader at Ju-Xian Elementary School in the mountains above Gulin, southeastern Sichuan Province. With the assistance of the ELCA, Luzhou Christian Church (Sichuan) purchased library books for this village school. Most of the students are of the Miao ethnic group, and many are Christian.
–As heard by and submitted by Y. Franklin Ishida, Director for Asia and the Pacific, ELCA Global Mission