Lanny Westphal, director of ELCA Global Church Sponsorship
Read on for updates on Middle East and North Africa: Strengthening Arab Christian Evangelical Witness (GCS4009), an ELCA Global Church Sponsorship project that is part of Always Being Made New: The Campaign for the ELCA. To make a gift to this Global Ministry, click here.
__________
July 2014
THE NEED: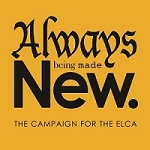 The vibrant witness of Protestant (Evangelical) churches in the Middle East has never been more vital than in the past few years of regional upheaval. As with all churches, however, there is a need to continually form youth and adult laypersons in the basics of Christian faith so they can be strengthened for witness in their context.
THE OPPORTUNITY:
This project, focused on companions in the Holy Land and in Egypt, will strengthen the capacities of laypersons to live out their Christian vocations through strengthening companion churches' efforts to provide catechetical and lay leadership training. Special priority will be given to women interested in becoming lay evangelists and catechetical teachers. The overall effort will include development of Christian education and confirmation materials for young people and the development of lay preacher training for adults. Plans are in place for printing Bible study materials, hymnals, and the Arabic translation of the Augsburg Confession.
GET INVOLVED!
This ELCA Global Church Sponsorship priority is a new ministry as part of Always Being Made New: The Campaign for the ELCA. You can help by sharing this information, by praying, and by making a donation.
By check: Make your check payable to "ELCA Global Church Sponsorship" with "MENA, GCS4009" in the memo line, and send it to: ELCA Evangelical Lutheran Church in America, P.O. Box 1809, Merrifield, VA 22116-8009  or place your gift in the offering plate.
Online: Go to https://community.elca.org/jordanholyland to make a one-time gift.
By phone: Call 800-638-3522 and pay with a credit card or set up a monthly gift.
For more information please visit www.elca.org/globalchurch or contact:
Rev. Lanny Westphal, director, ELCA Global Church Sponsorship
8765 W. Higgins Road, Chicago, IL  60631
773-380-2641
lanny.westphal@elca.org