This gift-in-a-story is drawn from a communication the Rev. Charles Fredrickson sent to sponsors.  Pr. Fredrickson and his wife, Elizabeth Borstad, are ELCA missionaries serving in Japan.  Learn more about ELCA Missionary Sponsorship at www.elca.org/missionarysponsorship.  Enjoy!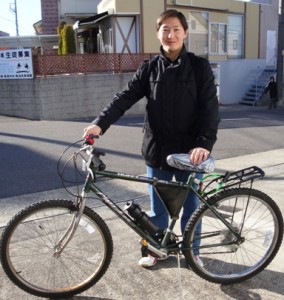 On Christmas Day morning I was tempted not to answer the intercom for our front door downstairs.  My mother was visiting all the way from Texas and we were near the end of opening Christmas presents.  There were other factors, too, none of which worked in favor of answering the door.
I answered the door "Hi, moshi, moshi" in Japanese.  An answer came back in English over the intercom, "Hello!  This is Ichiro.  I would like a bicycle."
Ichiro is a young medical doctor from Mongolia who received a scholarship from the Japanese government to work on a doctoral program at a medical university here in Nagoya, Japan.  Ichiro had recently moved into a building across the street from our church and had seen on our sign that we had English worship.  When he first came to our worship, just the week before, he reported that it was only the fourth time he had ever attended a Christian worship service.
Then it came back to me: on Ichiro's second visit to the congregation—Christmas Eve—I had mentioned that we had an extra bicycle that he could use.  It had been left behind by a former attendee of our English worship service.
That fact that the bicycle had been sitting outside for over a year did not deter Ichiro. Together we got the bicycle out from where I had put it that afternoon after a family from Kentucky left it on the church parking lot before returning to the US.  Out it came from under the tarp, where it had sat neglected, now revealing its rust and two flat tires.
I went back into the church to get a tire pump, some WD 40 to spray on the rusty chain and sprocket, and a wrench to lower the seat for his smaller stature.  As he watched me and provided assistance when he could to get the bicycle in working order, we had a chance to talk.  I found out that his older brother had become a Christian in Mongolia several years ago.  Ichiro had attended worship once or twice with his brother and had witnessed his brother's baptism.
After the bicycle was more or less serviceable I apologized for its "state" but told him that it now belonged to him.  This was not a rental; I did not want it back, it was a gift.  At that, he smiled broadly and his smile grew after he got on the bicycle and went around in circles, first slowly and then faster as he tested out the hand brakes and the handlebar gear shifts—completely new technology for him.  Before he rode off to go to the university library, he stopped and thanked me and said, "Thank you for my first Christmas present!"
I was somewhat taken aback because from the time I had debated opening the door, and while watching Ichiro riding in circles in front of me, I had momentarily forgotten it was not just any day.  It was Christmas Day, and here I had given him a "present."
As I walked back upstairs to family, coffee and our Christmas celebration, I gave thanks for Ichiro, for a hand-me-down bicycle, and the opportunity to make God known.