Four gift cards are available to announce gift donations to ELCA Missionary Sponsorship and ELCA Global Gifts (e.g., Lutheran Schools in the Holy Land).  Contact Global Mission Support to request the "Remembering" memorial-gift card and the "Thanking," "Celebrating," and "Honoring" tribute-gift cards.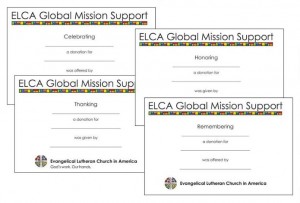 Thankful blessings, Sue
P.S.  In the cool new ELCA Good Gifts catalog, find Global Mission Support gift-donation suggestions on pages 14-15 ("inspire") and pages 18-19 ("partner").