Y. Franklin Ishida
​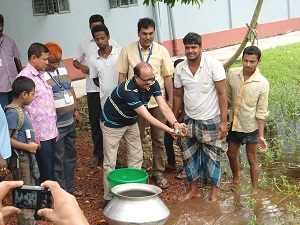 The local government administrator, watched by Lutheran Health Care Bangladesh Executive Director Pius Serao (center in yellow shirt), releases fish in a small ceremony that inaugurates the expanded fish cultivation project at the hospital.
There is a small piece of low land on the hospital campus of Lutheran Health Care Bangladesh, located in Dumki in the southern part of country. During the monsoon season this depression in the land fills with rain water and remains a small water body for at least four to five months every year. It has been an unused piece of land – until now.
Taking advantage of the rainy season and this pond, in 2013 the staff began to raise fast-growing fish species. More than 2,400 telapia and small carp were released into this seasonal pond. The results were outstanding and brought in unexpected profits for the hospital. With the growth of the fish and successful breeding, by the end of the rainy season there were over 10,000 fish. Then, as soon as the water began ebbing, many of these fish were transferred to a bigger pond on the hospital campus.
In addition to creating a source of income and nutrition for the hospital, the staff decided to turn the operation into a local fish cultivation demonstration project. In June 2014 after the monsoon arrived and the plot was filled with rain water, 1,250 carp were released on June 25 in a small inaugural ceremony attended by local dignitaries. Local people, farmers and visitors are now able to learn from this project throughout the season and into the future.
Lutheran Health Care Bangladesh is a comprehensive care facility in southern Bangladesh in the village of Dumki providing health care and assistance in community development. The facility is supported in part by donations to ELCA Global Church Sponsorship. You can make a difference with an online donation at https://community.elca.org/Bangladesh, or call 800-638-3522 to give by debit or credit card or to set up an automatic monthly gift, or send a check for Global Ministries in Bangladesh (GCS4002) to Global Church Sponsorship, P.O. Box 71764, Chicago IL 60694.