November 1, 2009–All Saint's Day–marks the official start of  the first annual Operation Thanks-Giving. 
The idea began as  Pr. Twila Schock, Global Mission Support director and my boss, told the story of her first Thanksgiving as a missionary. She told how November in general and Thanksgiving in particular can be downright difficult, especially for first-year missionaries.  One thing led to another and we decided to "seize the thanks-giving" and show missionaries a little love by sending them "I'm thankful for you" cards.  
The "first" of "first annual" is obvious.  Editor types will note that what began as "Operation Thanksgiving Card" became "Operation Thanksgiving" and now seems to have settling in as either "Operation Thanks-Giving" or "OPERATION THANKS-GIVING."   We're learning as we go.   The "Q & A" below resulted from great questions asked by Trinity Lutheran Church in Vale, N.C. 
The "annual" in "first annual" assumes "Operation Thanks-Giving" (or whatever name it ends up) will catch on.  It trusts that, if  invited to a thanks-giving party, the good people of the ELCA will come.  They will offer encouraging and sustaining gifts.  They will make Operation Thanks-Giving cards and give ELCA Missionary Sponsorship donations. 
I know we are a thankful people, both blessed and a blessing.  Still, I was nervous.  "Do you think people will send cards?" I asked Twila.  "It could take time to catch on, but we'll get cards," she reassured.  Two-hours later I received the e-mail from Trinity Lutheran.  They wondered how many cards the congregation should prepare in order to send one to every ELCA missionary.  Imagine!  We could have an abundance of thanks-giving to share!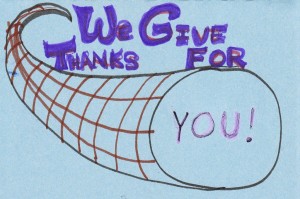 1. How many cards would we need to prepare to be able to send one to each missionary or missionary family?
There are 258 missionaries, 88 of whom are in their first year.
2. Can we put our church name and individual names on the cards?
You bet! You might want to include one e-mail address, too. I can't promise that you'll hear back from the missionary who receives the card (we don't want to tie an obligation-to-respond to these random acts of thankfulness), but I'm thinking you could receive return e-mails.
3. When must you receive them to have time to distribute them?
There's no deadline for thankfulness, so we'll distribute the cards as they come in. We'll scan and e-mail the cards we receive by November 21, so as many reach the missionaries as possible before Thanksgiving. Then, beginning in December, we'll begin mailing all the cards (even those we've e-mailed) once a month.
4. I assume that we will send them to you in a bulk package. Will we need to provide envelopes for each?
You won't; envelopes are not needed.
5. Is there a fee for postage?
It would be greatly appreciated if you included a donation for ELCA Missionary Sponsorship along with the cards. Make out the check to ELCA Missionary Sponsorship and place "MSG0340" or "where needed most" on the memo line of your check.
Find Twila's "My first Thanksgiving as a missionary" story on the second side of the Fall 2009 Hand in Hand newsletter.  Find useful "Operation Thanks-Giving" links at www.elca.org/handinhand.  During the month of November watch the Hand in Hand Blog Digest for "Thanks-Giving" stories by missionaries and sponsors.  E-mail your "Operation Thanks-Giving" stories to globalmissionsupport@elca.org.
Thankful blessings, Sue Edison-Swift