Charity Springer
​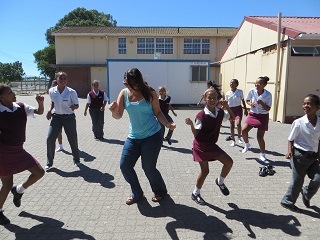 A special dance was part of the One Billion Rising event.
By Charity Springer
Picture this: On a sunny day in Bellville South, South Africa, a sea of women, young and old, are dancing and singing, full of life. The lyrics "I dance cause I love; dance cause I dream; dance cause I've had enough; dance to stop the screams" ring out. Among them is a young American woman, smiling and getting caught up in this one-day celebration of women's empowerment.
How did this all come about?
In Bellville South, the challenges of hunger, homelessness, unemployment, rape, drug abuse and lack of education are prevalent for women and men. Violence against women is a great concern. Abby Henderson, who is serving in this community for a year through the ELCA's Young Adults in Global Mission program, has been living and working alongside South African Lutherans and learning about their challenges and their joys. Along the way, she's had an opportunity to make a difference in the lives of young women in the most unique way – through dance.
Abby spends her day at WOW Movement in Bellville South, where she is a Teen Life Coach at Proudly Female. The program works with girls in grades 6-7 at two local schools. There are about 140 girls in Proudly Female each year, and it is a requirement that they participate in the program. In small groups, students and Teen Life Coaches talk through issues pertinent to young females living in South Africa.
"The program has two main goals," Abby explains, "to show the girls that they have inherent worth and to encourage them to stay in school. Many of the girls come from homes where they do not receive as much love and attention as they deserve, so the Teen Life Coaches serve to show the girls that they are wonderful and worthy, just as they are."
Abby's supervisor, Joy Warries, hopes to see the program grow to include girls in grades 5-11, but due to a lack of funding, they are not able to do that yet. "Joy is an amazingly faithful woman, and truly believes that God will provide and the program will grow in due time," Abby says.
Abby also helps with other projects at WOW Movement, which is how she got involved in helping to plan a One Billion Rising event that included a special dance. The One Billion Rising movement encourages 1 billion men and women to stand for love and justice for the 1 billion women who will be raped or beaten in her lifetime. Abby's role was to learn the choreography and then teach the dance to others for her organization's event.
"I had a session to teach the dance at least once a weekday for over a month, and there was never a single session that was not full of laughter and joy! One of the best moments, for me, was watching some of the seventh-grade girls I worked with dance next to some of the women from the senior citizen center, all of them singing along to the lyrics."
With all that she does in her community, Abby is still able to take time and see God at work every day. Although it's not always easy for her, Henderson knows that God is present. "One of the most difficult parts of this year has been learning to see God in moments where I would be tempted to say God is not present. God is present everywhere, always," she says. "Throughout my year in South Africa thus far, I have begun to learn to see God in all the heartaches as well as the joy, and that is due to my incredible communities in Bellville South and the Young Adults in Global Mission program around the world."
To follow more of Abby's activities in South Africa, visit her blog at http://accompanyabby.wordpress.com/.
Learn more about how you can support Abby's work and the work of other Young Adults in Global Mission atwww.elca.org/yagmsupport.