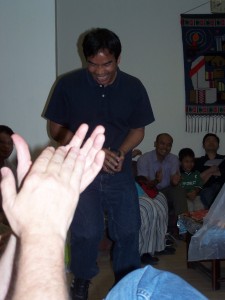 "Clap your hands, all you peoples; shout to God with loud songs of joy." — Psalm 47:1 (NRSV)
Taking time out of the busy, busy schedules of the Hong Kong lifestyle, students & faculty of the Lutheran Theological Seminary of Hong Kong honor the international students who are graduating this week. They will soon be returning to their home churches in places as diverse as Myanmar, Cambodia, and Germany, to preach, teach, and serve God's people with the good news of the love of God for people of all nations and cultures.
When all is said and done, it's moments like these that make life worth living!
Our hands. God's work.
Christa von Zychlin blogs on the many facets of her new life in Hong Kong. She and her husband Wayne Nieminen are ELCA missionaries with the Evangelical Lutheran Church of Hong Kong, with Wayne serving as a professor of Practical Theology in the area of Marriage and Family Pastoral Care.