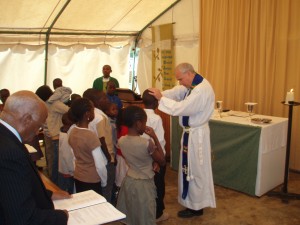 Pastor Sam and Cindy Wolff are ELCA Missionaries in Kenya.  Pastor Sam serves as pastor of the Nairobi International Congregation and works with the Dagoretti Swahili Church. Pastor Sam and Cindy help develop an AIDS outreach program and work with the Kenya Evangelical Lutheran Synod in furthering the ministry and outreach of the Dagoretti church.  
Get a feel for the place where the Wolffs minister by reading "Dagoretti," Pastor Sam's powerful Hand in Hand Blog Digest post (May 10, 2010). 
I used this photo of Pastor Sam to illustrate the ministry of "blessing," in For the Sake of the World, a narrated slide presentation about how the ministries of ELCA missionaries and ELCA World Hunger are funded.  I e-mailed Cindy and asked her to tell me more about what is happening in the photo.  She writes: 
This photo was taken in our congregation.  We are worshiping in a tent at this time because of a land dispute.  We hope to complete our church building as soon as the matter is cleared up.  Our children are very faithful and look forward to the children's service each Sunday.  They will not return to their special "children's bench" until blessed.  Each are given a coloring sheet relevant to the Gospel lesson.  They remain in the service until after the sermon and then go to their Sunday school classes.
Gifts for ELCA Missionary Sponsorship make it possible for Pastor Sam and Cindy Wolff and some 225 other ELCA Missionaries working "hand in hand" with companions in 50 countries teaching, preaching, healing, peacemaking, building and growing.  ELCA missionary covenant sponsors promise to prayerfully and financially support a missionary.  E-mail globalmissionsupport@elca.org to be matched with a missionary in need of sponsorship.  –Sue Edison-Swift is associate director for ELCA Global Mission Support.