​
Warm-up Questions
What does "Advent" mean to you?
What are your favorite preparations for Christmas? Why?
Preparing With Hope

Many American big box stores have had Christmas decorations up and holiday merchandise available since Halloween. It almost seems like "getting ready for Christmas" is more important than Christmas itself. Many have noted that all the spending and preparations are easily divorced from celebrations of the birth of Jesus (that's why "Jesus is the Reason for the Season" becomes such a popular phrase for some).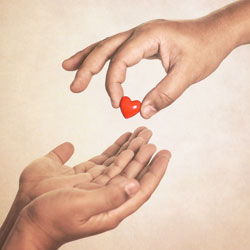 In an effort to resist consumerism and to create more meaningful holidays, some families follow guidelines for choosing Christmas presents, if they choose to buy presents at all. In the family of Glennon Melton, blogger author of Carry On, Warrior, each child chooses "One gift you want, one gift the world needs, one gift to wear and one gift to read."  BloggerChristella Morris asks family and friends not to buy presents for her children, but to give them gifts only of time and love instead
Discussion Questions
What do you think of pre-Thanksgiving Christmas decorations? Is there such a thing as "too early"?
How do you feel about the approaches to Christmas gift-giving described? Why?
Which do you prefer – giving Christmas presents or receiving Christmas presents?
First Sunday of Advent

(Text links are to Oremus Bible Browser. Oremus Bible Browser is not affiliated with or supported by the Evangelical Lutheran Church in America. You can find the calendar of readings for Year C at Lectionary Readings.)
For lectionary humor and insight, check the weekly comic Agnus Day.
Gospel Reflection
It's the Sunday after Thanksgiving, the first Sunday in Advent, and here we are reading about the end – not the end of the season, but the end of the world as we know it.
The thirteenth chapter of Mark is sometimes called his "little apocalypse" – the revealing, or uncovering, of what has until now been hidden, recorded to affirm that God keeps God's promises and to encourage the earliest Christians. Jesus' disciples ask him how they'll know it's the beginning of the end, and Jesus' answer includes all kinds of unrest and natural phenomena.
Jesus concludes his answer with the statement that only the Father knows the exact hour when the Son will come in glory. That frees Jesus' disciples, then and now, from having to worry and fret over signs and passing seasons. Instead, we are freed to get about the work the master has left for us to do. "Keeping awake" means living every day with God's promises in mind.   "Keeping awake" means trusting that the Son of Man really will come in power and glory, bringing an end to suffering and death. The message is not one of fear but of hope.
Discussion Questions
What does it mean to you to "keep awake?" Is it possible to live not fully "awake" to what's happening around us? Why is it hard to "keep awake?"
How often do you think about the Son of Man coming with "great power and glory?" How could you use the days of Advent to prepare for Jesus' coming again?
What do you understand is the "work" the master has left for you to do? For the church to do?
Activity Suggestions
Finding alternative ways to celebrate Advent and Christmas is becoming more widespread. Check out the Advent Conspiracy website (www.adventconspiracy.org) together and discuss what you find.
In Mark 13:27, Jesus says the "elect from the four winds, from the ends of the earth to the ends of heaven" will be gathered by the angels. The whole people of God is a whole lot bigger than our individual congregations.  Learn about some Advent/Christmas customs from a culture different from your own – perhaps from the traditions of a Companion Synod. (Find your Synod's Companion Synod here:http://download.elca.org/ELCA%20Resource%20Repository/CSR_By_Synod.pdf )
As the first Sunday of Advent, November 30th marks the beginning of a new liturgical/lectionary year. In 2013-2014 the Gospel readings in the Revised Common Lectionary were mostly from Matthew. This year, they will be from Mark. Mark is the shortest of the Gospels, and lends itself to being read aloud. Find a time to read the whole Gospel in one sitting, perhaps assigning "parts," or taking turns reading. For extra preparation, read the introduction to Mark's Gospel in a study Bible.
Closing Prayer
Come, Lord Jesus. By your Spirit, keep us awake. Make us aware of your presence with and among us, and prepare us for your coming with great power and glory. Amen