Contributed by Angie Larson, Clive, IA
Warm-up Question
Would you sleep outside in a box? In the rain? In Iowa? When the weather is only 30 degrees?
Sleeping Under the Stars So Kids Can Reach Them
This past October 29th nearly 1,000 Iowans abandoned their warm beds and homes.  They left their dinners and Halloween parties to head to Drake University's outdoor stadium to sleep in cardboard boxes or on the ground.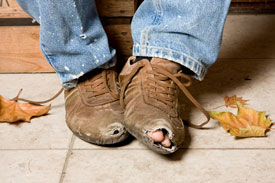 Does it sound like a crazy thing to do?  Especially when the temperature neared 30 degrees and it began to rain.  Reggie's Sleepout (www.reggiessleepout.org) began in 2001, after Reggie Kelsey died in the Des Moines River, three and a half months after he aged out of the foster care system.  During those months Reggie (who suffered disabilities) battled homelessness, stayed in shelters, and slept outside.  He was ill-equipped to live on his own.  After his tragic death, Des Moines took a hard look at itself and how it handled its over 3,000 homeless youth.  Reggie's Sleepout was developed.  It's not only a fundraiser for the Iowa Homeless Youth Centers but an awareness project for the community.  Participants spend one evening in the cold, raising awareness, learning, and listening to stories of youth who depend on shelters for survival in the cold Midwest.
When Mackenzie Devoto, a participant at Reggie's Sleepout, was asked about why she chose to spend the night in a box she replied, "Helping others is part of who I am.  Learning about homelessness and the people it affects reminds me how lucky I am and also reminds me that because I'm so lucky I get to help them also." After sleeping in the cold, participants reflect on how long the night feels when you have so little and how exhausted they are after just trying to stay warm.  It causes them to ask questions like, "What would it be like if I had to do this every day?" and "How would I be able function at work or get an education if I weren't able to get a warm, soft night's sleep?"
Discussion Questions
 Have you ever spent a night in the cold?  How did you feel the next morning?
What awareness projects are there in your community for youth homelessness?
How would you respond to Reggie Kelsey's death?
At 18 years old would you be able to survive in the "real world"?  What resources would you use?
Scripture Texts (NRSV) for Sunday, November 20, 2011 (Christ the King Sunday)
(Text links are to Oremus Bible Browser. Oremus Bible Browser is not affiliated with or supported by the Evangelical Lutheran Church in America. You can find the calendar of readings for Year C at Lectionary Readings.)
For lectionary humor and insight, check the weekly comic Agnus Day.
Gospel Reflection
In Matthew chapter 25 Jesus brings us three different views of what to expect and how we are to be:   the Parable of the Ten Bridesmaids, the Parable of the Talents, and today's text, the Judgment of the Nations. The king separates the sheep from the goats.  He tells the sheep that they will "inherit the kingdom prepared for them from the foundation of the world."  He tells them that they clothed him, fed him, visited him, took care of him, gave him something to drink, and welcomed him.  The "sheep" are surprised and ask when they did this; surely they would have remembered serving the king.  The king responds that when they do it to anyone they do it to him. For the people who are the sheep, serving seems to be woven into the very fabric of who they are.  They serve others because they can and because they understand the importance and humanity in the service.  The giving is a reflection of their character.
At Reggie's Sleepout the participants slept outside to better serve and understand homeless youth in their community.  They spent time, energy, and resources to provide clothing, food, visitation, welcoming, and safety for the teens.  They responded not only to learn, but to experience what it was like to be homeless; to walk in their shoes, if only for one evening.  There are many reasons why people from Des Moines participated in Reggie's Sleepout, but for many of them it was a reflection of who they are and how they desire to help make the world a better place for others.
Discussion Questions
 How does your group or congregation live out their faith without even knowing it?
What are some things that you do to help others?
Who are some people who are under-served in your community?
Activity Suggestions
 Brainstorm ideas for your group to clothe, feed, visit, care for, or welcome someone in your community.  Implement that idea.
Host your own "Homeless Night Out." Start by visiting a homeless shelter in your area, discover what their needs are and learn about the people they serve.  If you get the chance, visit with the homeless that use that shelter, get to know their stories.  Next develop your plan for your "Homeless Night Out."
Listen to Ben Harper's "Picture of Jesus" while looking at pictures of people in your community.
Closing Prayer
Dear Lord Jesus, Thank you for blessing us with this time together.  Open our hearts to your scriptures and our eyes to your people in need around us. Help giving and servanthood to become part of the fabric of who we are as people, so that when we respond, we continue to see the face of Jesus in all who surround us. Please use us Lord for your kingdom. Amen.