Contributed by Sylvia Alloway, Granada Hills, CA
Warm-up Question
Have you ever been wrong about someone? Have you ever rejected a person as odd, stupid, or untrustworthy and later discovered that you were mistaken? What was the situation? What happened?
Treasure in Plain Sight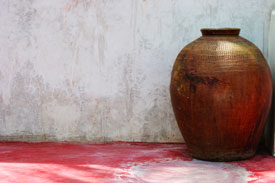 The white bowl with the pointy, leaf-like pattern shaped into it had sat on the mantle in a New York state home for several years. The family had paid three dollars for it at a tag sale. A belated curiosity about the trinket's origin led the family to an assessor and a big surprise. Their humble little bowl was 1,000-year-old Chinese treasure, an example of "Ding" pottery from the Northern Song dynasty.
Given to the famous auction house Sotheby's to sell, it was expected to fetch around $200,000. A bidding war among four art collectors resulted in a price ten times that much, $2.2 million.
Discussion Questions
There is an old saying: He knows the price of everything and the value of nothing. What does this mean? What is the difference between price and value?
Is there anything in your life that you value, even though it is not worth much money? What? Why?
Think about what people without Christ value, compared to what Christians value. Is there a difference? What is it?
Scripture Texts (NRSV) for Sunday, March 31, 2013 (Resurrection of Our Lord Easter Day)
(Text links are to Oremus Bible Browser. Oremus Bible Browser is not affiliated with or supported by the Evangelical Lutheran Church in America. You can find the calendar of readings for Year C at Lectionary Readings.)
For lectionary humor and insight, check the weekly comic Agnus Day.
Gospel Reflection
There are two Bible stories that are so familiar to Christians that we hardly pay attention to the words when we hear them. One is the story of Jesus birth, the other is the story of his resurrection. These two miracles are the heart of Christianity, special occasions in the church. We give thanks, sing some songs, and go about our business.
But think about these words: "There were in the same country shepherds, abiding in the fields, keeping watch over their flocks by night."
Um, yeah. So?
Shepherds were considered unclean by upper class Jews. They were not invited into homes. They were not allowed to testify in court. They were outcasts. Yet, these despised people were the first to hear about Jesus' birth. God valued them and their strong, simple faith. He entrusted them with the news of his Son's arrival. Sure enough, they ran to tell anyone they could find that the Messiah was born.
In today's lesson we read the familiar story of the women finding the empty tomb. Women, too, were outcasts, thought inferior to men. Women, too, could not testify in court, because they would not be believed. (Notice how the disciples react when they hear the women's testimony.) Yet God again chooses outcasts as the first to behold the culmination of his great plan of salvation, the greatest event in the history of the world. Again he gives them a message to tell. He shows how much he values those whom the world rejects.
God does not choose people who think they are worth more than others to spread the news of his salvation. He values the humble, the willing, the faithful, as if they were million-dollar treasures. He paid for them, for us, a price immeasurably greater than money. He paid with his lifeblood.
Let us run and tell!
Discussion Questions
In today's world humility is not considered a very valuable trait. Why is this so?
What is the value of humility? What can humble people accomplish that those who think they are great can't?
Christians are often considered outcasts in the non-Christian world. How can we follow the example of the shepherds and the women in telling others the Good News?
Activity Suggestions
 Think of a way the class can tell the Good News of Christ's resurrection. Do it.
Talk about what makes a person an outcast among young people. How we can value outcasts and not reject them as the world does?
Sing any resurrection song
Closing Prayer
God of the humble, Savior of the outcast, we ask for true humility. Convict us when we put someone down or leave someone out. May the joy of your salvation fill us so that others can see and know that there is hope in you. In Our Savior's Holy Name, Amen.