Danny Stone, Marion, IA

Warm-up Question
Who are your heroes?  What makes someone a hero?
Heroes Redeemed
On Monday, November 12 a flurry of text messages spread through the high schools of Marion, Iowa.  Maybe at your high school too.
"Did you hear?"
"I am heartbroken."
"He's dead."
"I can't believe he's gone."
"Stan Lee died."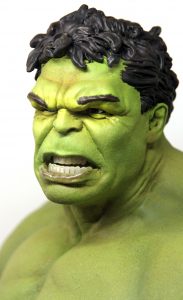 Marvel Comics co-creator and hero to generations, Stan Lee, died on November 12th at the age of 95.   Stanley Martin Lieber was born in Manhattan, New York City on December 28, 1922.  After graduating from high school at 16 ½, he began his comic book career at Timely Comics in 1939.  By the age of 19, he moved up from filling ink wells and erasing pencil marks to be interim editor.  Timely Comics eventually became Marvel Comics, and Stan Lee served as Editor-in-Chief for 31 years.  He left comics to serve in World War II, but returned to help make Marvel an international sensation.
Stan and his collaborators gave the world a pantheon of heroes and villains.  The cineplex would be quiet without Iron Man, the Hulk, the X-Men, Spider-Man, the Fantastic Four, Black Panther, Thor, Loki, Thanos . . .
Marvel breathed new life in the industry with flawed characters who bickered, had bloated egos,  and acted out of anger.  Instead of secret identities and changing in phone booths, heroes like Tony Stark openly declared, "I am Iron Man." Ant-Man is an ex-con, behind on child support payments.  Thor behaved like an immortal man-child.  Spider Man struggled with girls and guilt.  Doctor Strange was an ego driven surgeon.  If one of the X-Men sneezed wrong or threw a tantrum, cities could be destroyed.  Hulk SMASH – enough said.
Instead of wallowing excess and vices, Tony Stark changed and created a hero driven to protect the weak and end war.  Thor grew from the braggart son be a leader willing to sacrifice for the greater good.  Bruce Banner found how to use his Hulk side to SMASH, when appropriate.
Discussion Questions
How did you and your friends react to the news of Stan Lee death?
Who are your favorite Marvel characters?  DC?  Star Wars and Star Trek?  Harry Potter and Lord of the Rings?
Many of the heroes overcome the mistakes or follies of their youth.  Do you think it is fair that "the youth" are portrayed as having flaws?  Are there older adults in our world who need to reform and be redeemed?
Who are some of the flawed Bible heroes who sought redemption?
From the news and history, what are your favorite stories of redemption – people who has overcome obstacles or their own flaws?
First Sunday of Advent

(Text links are to Oremus Bible Browser. Oremus Bible Browser is not affiliated with or supported by the Evangelical Lutheran Church in America. You can find the calendar of readings for Year C at Lectionary Readings.
For lectionary humor and insight, check the weekly comic Agnus Day.
Gospel Reflection
Readings like this gospel lesson have agitated the faithful since Luke documented Jesus' pronouncement.  We obsessively look for the signs and say that our current political turmoil must be THE foreboding events.  Black Death spreads through Europe – the end is at hand!. King George loses the colonies – repent!  Hitler rises in Europe – looks like it's the antichrist!  Y2K (you'll have to explain this one) – we're all going to die!
To counter the hysteria, think of the camp song, "I've Been Redeemed"  (Versions vary):
I've been redeemed . . . I've been redeemed.
By the blood of the Jesus . . .by the blood of the Jesus.
I've been set free . . . I've been set free.
By the blood of the Lamb . . . by the blood of the Lamb.
How good it is . . . how good it is.
How sweet it is . . . how sweet it is.
To know that I'm a child of God, and I've been washed as clean as snow.
Ooo – oo – ooo-oo.
This simple call and response song should be a mantra that we keep on the tips of our tongues.  As Lutherans, we do not need to obsess about the end seen in obscure signs.  We need to be willing to take action.  We need to be God's hands at work in the world.  Don't watch the fire.  Organize and put it out.  Feed the homeless.  Go on a mission trip.  Make friends with some with different beliefs and learn to talk about those differences with dignity and respect.
Harvard Professor, Dr. Steven Pinker, preaches with zeal a message that exclaims, "It's not that bad out there!"  According to Pinker, American homicide rates are down from 20 years ago.  Fewer of us live in poverty.  Sulfur dioxide emissions are down, too. In 2018, 238 Western Europeans dies in terrorist attacks – 440 people died in 1998.   What's the take-away?  Every age is a victim of pessimism and fixates on the negative.  Jesus knew it and warns us to "not be weighed down."
Worries are a trap.  They can build anxiety, foster division and lead to isolation.  Jesus is with us.  He is our redemption.  Go with a light heart and be a positive force of change.
Discussion Questions
Earthquakes, fires and civil unrest!  Why do you think the network news leads with bad news and closes with good news?
Why do rumors of salacious trouble spread faster that stories of triumph and joy?
What is the good news in your community?  What is the good news in the world?
What local causes can you serve to better your community?
Activity Suggestions
 Either as a large group or in small groups, brainstorm on large sheets of paper lists of comic book heroes with their positive and negative traits.  Discuss results.  In round two, allow students to use phones to brainstorm lists of historic heroes with their positive and negative traits – Winston Churchill, Martin Luther, Martin Luther King Jr., Gandhi, Margaret Thatcher . . . Discuss results.  In round three, allow students to list on a small sheet their own positive and negative traits.  Ask, "Did you find it difficult to list our own faults and talents?  Is self-examination a normal part of your life?"
 Invite students to share their favorite scenes (either description or video) favorite scenes from heroic movies and literature.  Yes, comics and graphic novels are literature.
 Since Stan Lee's death, his 1968 article about racism and been shared and re-shared.  Read and discuss the article.
https://www.esquire.com/entertainment/movies/a25022397/stan-lee-marvel-racism-1968-essay/
 Watch and discuss Dr. Pinker's TED Talk, "Is the world getting better or worse? A look at the numbers."
https://www.ted.com/talks/steven_pinker_is_the_world_getting_better_or_worse_a_look_at_the_numbers/transcript?language=en
Closing Prayer (inspired by Psalm 22)

To you, dear Lord, we lift our souls.  We trust you.  Help us to be brave in the face of failure.  Lead us and teach us the ways of truth.  You are our salvation and you forgive our youthful transgressions.  Forgive us our sins and show us your merciful path.  Pull us out of our distress and let integrity be our guide.  In your name we pray, amen.