In the heated battle of humanity versus covid-19, the Zoom meeting app is booming. People want to see and be seen. Big learning curve for many. But free and open to everyone!
Indeed, being seen, and even loved, is one of life's deepest joys. Conversely, not being seen, yet being hated, is a heavy stressor.
The surge of hate crimes against Asians in the US shows that Asian Americans are not seen by many as good neighbors, friends, Americans. No matter who we are, if we have a "Chinese" face, our personal safety and well-being are at risk. Not only coronavirus, but from coronavirus rage.
National reporting site A3PCON says that 2/3 of those attacked are not even Chinese, but of other Asian ethnicities.
Spitting, verbal abuse, harassment, bullying, beatings. A six year old boy was stabbed on his head, requiring stitches. And women are three times more likely to be harassed than men. One woman suffered severe chemical burns when a man deliberately threw acid at her.
I've been confronted and assaulted before. US history and my own history tell me that living in my own city, my own country is seriously dangerous. Now it is even worse. My heart sank when elected leaders used racist terms like "kung flu" and "Chinese virus." Their ill-chosen words set up Asian Americans to be mocked and blamed. Angry people may choose at any time to lash out at us. Anyone targeted for violence knows what I mean. It feels like just being out in public will mean having to run a gauntlet.
Meanwhile, the Asian American community is very diverse: culturally, geographically, socio-economically. Many will say they are fine, and have never experienced racism. But many will also confirm the pain it causes when it does strike. Please help to spread the word that people who "look Chinese" are not the virus. We are not covid-19 carriers just because we are Asian. We are not the enemy! We are Asian Americans, trying to "flatten the curve" like mostly everybody else.
It's ghastly how many people have died so suddenly in Queens, New York. A dozen tractor trailer sized trucks — mobile morgues — were parked outside Elmhurst Hospital to store the bodies of the dead. I used to live in this immigrant enclave area of Queens, one of the most diverse counties in the US. I loved the vibrant Chinese and Latino life there. Now it's shut down, and the people are reeling.
My church is there. Eight blocks from the hospital, St. Jacobus Lutheran offers one of only two food pantries still open in Elmhurst, serving 100-300 families a week. More young families now, and Latino. Two or three generations living in an apartment, with no work to be had. And available resources do not match the needs. "The virus has exposed what's been there all along," says my pastor, Joe Mantovani. "How high the rents are. How hard it is to find enough work to feed their families."
Many Asian American families citywide are also at risk for starvation and homelessness, reports the Coalition for Asian Children and Families (CACF). They are like US Americans of all backgrounds who had worked for low wages and tips, with no safety net. The struggle is fierce for too many, including African Americans dying in high numbers.
We are trying, as our beloved New York Governor Andrew Cuomo urges, to be "tough, smart, disciplined, united and loving." I know my resilience can only happen in a collective. Every day I give God thanks for my husband, family, friends, pastor, and caring people I don't know who work for peace and justice.
All of us in US America have a long way to go, and some much farther. If we look to see the good in others, honor each other's humanity, work against poverty, despair, racism, we will make great strides for a better future for all.
I wish every Zoom user everywhere would realize that a Chinese American, Andrew Yuan, created the app. It's just one example of what Asian Americans can contribute to the US and the world. I pray that more of us will "zoom together for racial justice," whether literally or not. "Join the zoom meeting," I'd invite. "I'll bring Chinese food, you bring whatever you like, and we'll share." It could be a big learning curve at first. But with God as our host, we cannot fail. Free and open to everyone!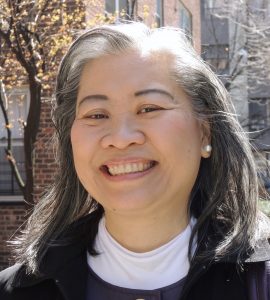 Lily R. Wu, is a Chinese American Lutheran who has worked as a church communicator for more than 40 years. She also served as a vice-president of the Association of Asians and Pacific Islanders-ELCA.