For a long time, no one in Tulsa's white or black communities talked about the massacre that destroyed the Greenwood district in May 1921. Those who were there remembered.  A few kept the memory alive.  But most simply chose to forget. Shrouded in silence for decades, it lay there in the heart of the city, eating away at it like a cancer.
History — especially difficult, painful history — needs to be remembered. It needs to be talked about, studied, examined and explored. Not to make people feel guilty or ashamed, but to be honest, forthright and aware of how history has shaped who we are and what we are about. A sanitized history only drives the painful stuff underground, where it eats us up and slowly destroys the fabric of society. Besides, a history with no pain, suffering or struggle is a lie.
I have always appreciated how honest the Hebrew Scriptures are about the painful history of the people of God. If you have any doubt about that, just read the prophetic writings. Why did God's people preserve those difficult, painful indictments of their own greed, idolatry, disobedience to God's commands and mistreatment of the poor and powerless? Because God's people knew that, forgetting, they might turn their backs on God again, and they knew the results of doing that were disastrous.
Today, Tulsans remember. A year ago, we marked the 100th anniversary of the Tulsa Race Massacre with much fanfare and national attention. This year we will remember again. And we need to. The destruction of Greenwood still shapes this city. The systemic racism that led to the massacre persists. The work of reconciliation is ongoing. The debate over reparations for those who lost land and homes and lives continues, even though it has continued for far too long.
We need to remember. The Tulsa massacre may have been the worst racial violence of the early 20th century, yet massacres, lynchings and riots took place in communities across this country. In 1919 a massacre similar to Tulsa's took place in Elaine, Ark. At the same time, not far from Tulsa, Osage people were being murdered so that whites might take their land. Today, racial violence continues to plague our nation, as we recently witnessed in Buffalo, NY.
Like the people who preserved the prophets' writings, we also need to remember the churchs' role in this difficult, painful and bloody history. Here in Tulsa, on the Sunday after the massacre, the black community was blamed for the death and destruction from pulpits across the city, including in our Lutheran congregation.
Across our church, we need to continue our work for racial justice. We need to study, with honesty and forthrightness, who we are and where we come from. We need to learn from the past and make the changes necessary to become the inclusive, grace-centered communities we aspire to be, where all people — no exceptions — can experience and live in the steadfast love of God that is ours in Jesus Christ.
To learn more about the Tulsa Race Massacre, visit:
John Hope Franklin Center for Reconciliation
Tulsa Historical Society and Museum
www.tulsahistory.org/exhibit/1921-tulsa-race-massacre/
History Channel: Tulsa Race Massacre
www.history.com/topics/roaring-twenties/tulsa-race-massacre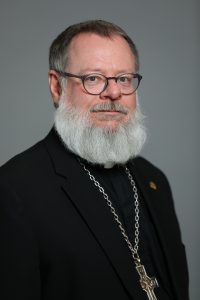 BIO: Michael Girlinghouse has been bishop of the Arkansas-Oklahoma Synod since 2011. Prior to becoming bishop, he served as a campus pastor at three universities and as a parish pastor. A devotional writer, he is author of Embracing God's Future Without Forgetting the Past (Fortress Press, 2019). Bishop Mike graduated from the Lutheran School of Theology at Chicago, has one adult daughter and lives in Tulsa, Okla., with his wife and their two dogs.