In recognition of Asian Pacific American Heritage Month, I share the journey of my achievements and struggles as a person of Asian descent in our church, and in our nation.
I immigrated to this country when I was seven years old, and the kids teased me by telling me to go home.
I learned to speak, dress, publicly act like the dominant culture, and people still told me to go home.
I graduated from college and became a productive citizen in our society, and people still told me to go home.
I graduated from seminary and served in a predominantly white denomination and church, and people still asked me, "When do you plan on going home?"
I considered serving in an Asian church but the immigrant Asian pastors and community elders felt I wasn't Asian enough because my voice and language wasn't theirs; I felt they were telling me to find a new home.
I served this country as a military chaplain for 21 years and held the hands of brave warriors as they entered life triumphant, and people still tell me to go home.
I supported and defended the Constitution while rocket-propelled grenades exploded around me, and people in this country still tell me to go home.
I moved up in the ranks of the military chaplaincy, higher than but for one other Asian in its history. Yet when I see that among the 37 senior ranking chaplains, there are only three chaplains of color, I hear them saying to me, it's time for you to go home.
When I disagree with siblings in our church who tell me that the historical western theology, ecclesiology, vestment, and style of worshiping is normative, I feel like they are telling me to go home.
But America and this church is my home…the home I love, the home I've suffered in, and am willing to die for, the only home I really know.
When can I be home without people telling me to go home?
My story is one of many in the landscape of AAPI experiences in the ELCA, and in our nation.  Covid times have simply confirmed how so many do not view us as fully American. In fact, the surge in anti-Asian harassments and assaults solidified how this destructive view is still deeply embedded in the American psyche. Yet, with deep roots in the history and culture of our nation, our voice and contributions are very much a part of the American experience.
Together we can build toward a world where people of every background can be safe and can thrive. May God's people show what church together means, in our actions for justice, and for peace.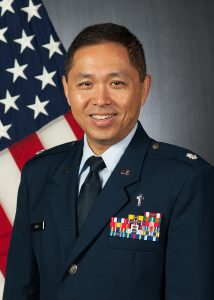 bio  The Rev. Herbert Shao is a Director of Evangelical Mission for the Northwest Washington Synod.  He is also a member of the Association of Asians and Pacific Islanders-ELCA, one of the six ethnic associations of the ELCA.