The third Monday in January is observed in honor of the birthday and legacy of Rev. Dr. Martin Luther King Jr.  Efforts to designate a day to honor Dr. King began shortly after his  assassination on April 4, 1968 in Memphis, Tennessee. It took an act of Congress to pass the measure– with former President Ronald Reagan signing the bill into law in 1983. Institutions such as banks, schools, post offices and non-essential government offices close in observance of the holiday. Many of us will attend worship services, community events or volunteer in acts of service. However, if you live in Alabama or Mississippi, Dr. King and Confederate general Robert E. Lee's birthday are combined in observance of the day. Dr. King was born on January 15, 1929 and Lee was born on January 19, 1807.  Dr. King gave his life to bring this country together against racial divides. Lee fought to divide this nation by preserving the enslavement of blacks in southern states. Just to be clear celebrating the birthday of Robert E. Lee as a hero is about maintaining a legacy of white supremacy.   Organized efforts are underway in Mississippi to separate the two days. However, no such actions are currently planned in Alabama.
"But let justice roll down like waters,
    and righteousness like an ever-flowing stream." Amos 5:24 (NRSV)
Dr. King along with the collective power of grassroots leaders and national organizations like the Southern Christian Leadership Conference (SCLC), National Association for the Advancement of Colored People (NAACP), Student Nonviolent Coordinating Committee (SNCC), the  Congress of Racial Equality (CORE) and the interracial Freedom Riders, challenged the legal system of racial segregation. Their campaigns of non-violent action, voter registration drives, teach-ins and sit-ins–challenged racial attitudes; broke down racial barriers in employment, housing, education; public accommodations, travel and voting. Activist of the movement placed their lives and limbs on the line to do what they had to do for justice. Their bodies in action became a spiritual meditation, born out of a love for God's people on a quest for justice. Selma to Montgomery marcher and activist, Rabbi Abraham Joshua Heschel was quoted as saying that civil rights marchers "prayed with their feet."  Rabbi Heschel
marched with Dr. King from Selma to Montgomery in 1965 in support of black voters' rights.  The physical sacrifices and spiritual efforts of these movement workers were not in vain.  The Civil Rights Act of 1964 and the Voting Rights Act of 1965 signaled major progress in ending overt racist segregation politics and polices. Yet, Dr. King believed the fight for freedom rested on building an intersectional, multiracial coalition of African Americans, white Americans, Asian Americans, Hispanic Americans, and Native Americans that worked towards bending the arc of the universe towards racial and economic justice for all people.
Concerned for the living and working conditions of poor people in the United States, Dr. King and the Southern Christian Leadership Conference (SCLC)  began to organize a campaign led by people impacted by poverty. The dream for the Poor People's Campaign was born. The campaign was designed to take on the social structures that produced the oppression and suffering of people.  Dr. King said: 'The dispossessed of this nation—the poor, both white and Negro—live in a cruelly unjust society. They must organize a revolution against that injustice, not against the lives of their fellow citizens, but against the structures through which the society is refusing to deal with the issues of injustice.' Dr. King's intersectional approach towards systems of oppression launched the vision for the Poor People's Campaign.  Although Dr. King's life was cut short by an assassin on April 4, 1968 — his vision for the campaign lived on. In May of 1968, the Poor People's March was launched in Washington, D.C.
The days of racial segregation under Jim Crow laws may be over but the ills of  systemic racism and poverty are alive and well.  Racial profiling; extrajudicial killing of unarmed black and brown bodies by law enforcement; the disproportionate number of poor, people of color trapped within the criminal unjust system;  voter suppression laws and tactics that diffuse the political power of poor communities of color; the resegregation of school districts that shuttle poor Black, Latino and Native American children to under performing schools; and the gravity of nearly 41 million people in the U.S. living below the federal poverty line. A poverty line that cuts across race, gender, age, sexual orientation, religious affiliation, ability and geography.
Building on the dream of Dr. King and the movement makers of the 1968 Poor People's Campaign; fifty years later the vision was resurrected. The Poor People's Campaign: A National Call for a Moral Revival co-chaired by and Rev. Dr. Liz Theoharris and Rev. Dr. William Barber II, is a multifaith, multiracial  nonviolent coalition of our time. The campaign seeks to hold this nation accountable to  the democratic values of liberty, equality and justice. Grassroots activist of the Poor People's Campaign have picked up the mantel of the Civil Right era. Across this  country, community leaders are showing up, speaking out, marching together by "praying with their feet" against the evils of systemic racism, poverty, the war economy, ecological devastation and the nation's distorted morality.
The Evangelical Lutheran Church in America's social statement, The Church in Society: A Lutheran Perspective,  proclaims that "this church is committed to defend human dignity, to stand with poor and powerless people, to advocate justice, to work for peace, and to care for the earth in the processes and structures of contemporary society. Lutherans teach that we are freed in Christ to love and serve our neighbor.
Disrupting and resisting the systems that dehumanize and oppress the most vulnerable within society is the work of followers of Christ. Systemic racism and poverty undermine the basic tenets of our democracy and human rights. As we remember the legacy of Dr. King, let us follow  the example of Jesus Christ by walking with our neighbors for justice and  "praying with our feet."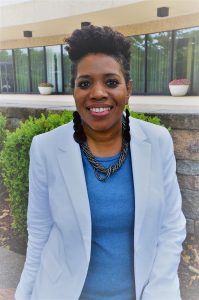 Judith Roberts serves as the ELCA Program Director for Racial Justice.