My Freedom Day as a Female, Black and Queer Pastor
To be a female, Black and gay pastor on "Freedom Day" necessitates a certain amount of introspection, for my relationship with the church has long been a queer dance whose steps I don't often apprehend.
Galatians 3:28 says: "There is no longer Jew or Greek, there is no longer slave or free, there is no longer male and female; for all of you are one in Christ Jesus." Yet this oneness has been elusive in the ELCA and elsewhere, has it not?
There are still churches in the ELCA that won't hire a female pastor. If hired, we are required to perform femininity in a way that is acceptable to the congregation. Dress like a woman, but don't be too sexy. Be a strong leader, but never too emotional. Love the children of our church, but don't spend too much time with your own.
There are churches in the ELCA that won't hire a person of color — full stop. For those that do, we are often required to perform race in a way that is "nonthreatening" to the community. Be a dynamic speaker, but don't be too loud. We know that you are Black, but don't be too proud. And for the love of God, don't talk about race or white privilege — it makes people uncomfortable. After all, we're all the same ….
Finally, we know there are churches in the ELCA that won't hire a queer person. If they do, we are required to perform our queerness in ways that do nothing to change the community. Don't talk about being gay. Don't teach our children "that way of life." Don't do anything that would cause our church shame in the community.
So, to recap, it's OK to be female, Black and queer in the ELCA as long as it does not make the 97% European-American demographic of our denomination uncomfortable in any way. I call Bullshit.
Juneteenth is Freedom Day. June is Pride Month. And every single day approximately half of humans are female. Many have said that "none are free until all are free." When God said that we "are one in Christ Jesus," it was not an invitation to be all the same. It was an invitation to truly embrace our diversity and to become the beloved community for which Jesus died and the Holy Spirit longs.
Beloveds, what would it look like for us to truly value one another's diversity and to celebrate one another's cultures, experiences and way of life? How might our churches be transformed if we practiced radical hospitality, welcoming all just as we would Christ Jesus? What would happen if we followed the Holy Spirit outside of the four walls of our buildings and into the community to experience life with the neighbors God has given us?
Might we learn to dance together? Might the Holy Spirit lead our steps — both in joy and sorrow, lament and justice-seeking? Would she blow among us, compelling us to insist boldly on peace with justice for all of her children? How might she guide us to stop performing "welcome" and to actually be welcoming for the sake of Christ?
John 8:36 says: "So if the Son makes you free, you will be free indeed." Since Christ has made us all free, let us stop shackling one another and walk in the light of freedom as one.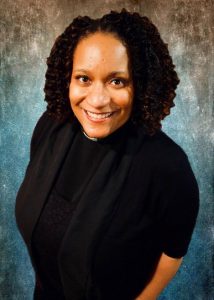 Bio:
The Rev. Dr. Yolanda Denson-Byers hails from St. Louis, Mo. She earned a Bachelor of Arts degree from Wesleyan University, Middletown, Conn., in religion and African American studies. Her Master of Divinity is from Harvard University, Cambridge, Mass., with a specialty in worship, preaching, education, and pastoral care and counseling. Her Doctor of Ministry is in the field of congregational mission and leadership from Luther Seminary in St. Paul, Minn.
Pastor Yolanda is a missional leader, with a heart for social justice issues, who has, for the last 23 years, been exercising her gifts through the vocations of pastor, evangelist, campus minister, hospice chaplain and bereavement counselor. In addition, she is very proud of her ministry as a wife and mother. Pastor Yolanda enjoys reading, writing, camping and anything pertaining to a warm climate with a saltwater beach!