The Church Response to HIV Stigma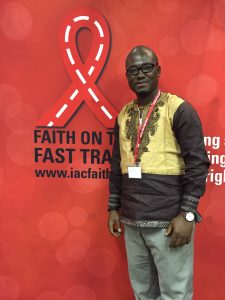 In 2016, I had the privilege of representing the ELCA on the global scene as a member of the International AIDS conference delegation in Durban, South Africa. Throughout the conference, it was encouraging to hear how much has been achieved in the global response to HIV/AIDS.   During the two-day pre-conference, it was exciting to learn how the World Council of Churches (WCC) is responding to the fight against HIV/AIDS globally.  WCC supports and partners with leaders, practitioners and organizations reflective of many faith traditions to eliminate the epidemic of HIV/AIDS. The WCC is also intentional in providing a platform for PLWHA (People Living With HIV/AIDS) to safely and openly share their journeys.   One such story involved a Lutheran pastor living with HIV. He was silenced by his church and salary withheld because of his positive HIV status.   The touching testimonies from PLWHA, encouraged me to solemnly reflect on the challenges that remain in eradicating this global epidemic. One key question continues to permeate my mind.  What more can the ecumenical body do to stop the spread of HIV/AIDS, with specific focus on the chief agents' stigma and discrimination against those living with or affected by HIV/AIDS?
HIV related stigma and discrimination is counter to the purpose of the church in witnessing for Christ. The church is called to love and care for the neighbor as Christ commissioned. To care for the neighbor, one must understand the stigma associated with HIV/AIDS.  In some communities, HIV/AIDS was thought to be linked to sexual disobedience or promiscuity.  Many churches reinforced a biblical narrative of pain, suffering, and death as punishment for disobedience or a consequence of one's wrong. Thus, blaming and shaming PLWHA.  However, the message of the gospel is to love your neighbor as yourself.
During the conference, many communities shared their approach in breaking stigma and discrimination to learning, education and accompaniment. The role of the church in mitigating the impact of HIV has expanded beyond preaching the message of love.  Churches are partnering with communities to include local leaders, healers, church members, and community based groups in providing accurate information on the facts about HIV; especially considering the modes of transmission, testing and treatment. Access to accurate information and a gospel message of compassion, churches can play a major role in ending the stigma of HIV/AIDS. Today, a growing number of churches are working to encourage a message of love, hope, support and dignity for people living with HIV.   
Bio
A baptized and confirmed Lutheran originally from Liberia, West Africa. I serve as Council Vice President of Peoples' Community Lutheran Church (PCLC) DE-MD Synod, Region Eight Representative of the African Descent Lutheran Association (ADLA), and HIV/AIDS Awareness Project Coordinator – PCLC. I currently serve on the ELCA Young Reformers Cohort, an alumnus of Elisha's Call, ELCA Delegate to the International AIDS Conference (2016) and a member of the Association of Liberian Lutherans Living in the Americas (ALLLIA). I am student at the University of Maryland University College, Majoring in Cyber Security.
My fervent prayer is a world where People Living with HIV/AIDS (PLWHA) are no longer consider threat to society and incarcerated, rather embraced without fear as fellow humans needing love and compassion. This is something dear to me, and is evidence by my partnership with the DE-MD Synod, the ELCA Strategy on HIV/AIDS, the Black AIDS Institute and the Maryland Department of Health – office of Faith and Community based organizations. I also envisioned that, we as a community of believers, can help to ultimately seal the achievement and privilege gap that currently exist.
To learn more about ending the stigma of HIV/AIDS, view the ELCA's repository resource link below :
http://download.elca.org/ELCA%20Resource%20Repository/ELCA_Strategy_on_HIV_and_AIDS.pdf.