While the ELCA was wrapping up our Churchwide Assembly in New Orleans, our neighbors, right there in Louisiana, were dealing with the fast rising waters of a flash flood. During the proceedings, Holly Schmitt, a member in the Southwestern Pennsylvania Synod rose to shine light on the flooding and offer prayer. In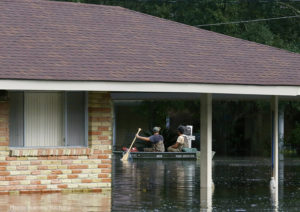 her prayer offering, she said, "Unfortunately, we are beginning to see what the ravishing effects of rain are doing to this area, once again."
At the culmination of the flood, there were a total of 13 confirmed deaths, tens of thousands had been rescued and even more evacuated across southern Louisiana and southern Mississippi. This flood came on the heels of several other floods that have hit the Gulf Coast region, starting earlier this spring.
Our coordinator, Jessica Vermilyea, Upbring's Director for Disaster Response , is a very seasoned and well respected disaster coordinator in Louisiana. Beyond that, she is the chairperson of the Louisiana VOAD (Voluntary Organizations Active in Disaster). In that capacity, she is the key person coordinating and collaborating with FEMA, all levels of state government officials, together with many voluntary organizations and ecumenical partners to address the relief needs of flood survivors. Through her and Upbring, Lutheran Disaster Response is already actively at work in Louisiana.
"Please hold the people of this great state [of Louisiana], and especially of the Gulf Coast region, in the palm of your loving hands. And let us all offer up our prayers to you, that they may be as safe as possible and have as many resources available to them as we can provide."  – Holly Schmitt
We know that this will be a long road to recovery, and we will be there to provide support through every phase of this disaster recovery process.
---
Be a part of the response:
Pray
Continue to pray for the people affected by flooding. May God's healing presence give them peace and hope in their time of need.
Give
Gifts to Gulf Coast Flooding will be used to assist those affected by floodwaters until the response is complete.
Volunteer
There is a desperate need for volunteers in Louisiana area. Help individuals and families get back in their homes by signing up to volunteer. For volunteer opportunities, please reach out to Jessica Vermilyea and visit http://www.volunteerlouisiana.gov/
Email: jessica.vermilyea@upbring.org
Phone: 504-376-9121
Connect
To learn more about the situation and the ELCA's response: