​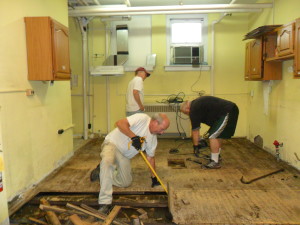 In June 2013, central New York was impacted by flooding. Trinity Lutheran Church, an ELCA congregation in Herkimer County, suffered severe damage. Through the efforts of Patsy Glista, the Lutheran Disaster Response Coordinator for Upstate New York, and several congregations from the Central Crossroads Conference of Upstate NY Synod, work has been well underway to clean out damage in Trinity and rebuild. Lutheran Disaster Response – U.S. invested in the recovery of this area by giving $25,000 for flood relief efforts.
Below, Pastor Ann Zimmerman shares updates on work being done at Trinity Lutheran Church and the story of other Lutheran congregations helping Trinity rebuild. Whenever Lutherans come together to respond in times of need, Lutheran Disaster Response is in action in its purest form.
"As I reflect on this last year, it has been challenging to say the least. Our village community of Herkimer was affected by localized creek flooding in June 2013. Never before had flood waters come down German St and engulf the church like an island. The water seeped into the foundation and an underground spring that was dormant for decades bubbled water for three weeks after the flooding ended. Our three Faith Formation rooms, nursery, fellowship hall, storage areas and kitchen were heavily damaged.
We knew that this would take some time to recover and rebuild. Calls were quickly made to Patsy Glista, Lutheran Disaster Response Coordinator for Upstate New York Synod and Jeff Spann, ELCA Building Consultant for their advice. Their prompt response started us on the road to recovery. Even though we never had standing water from prior heavy rains, we noted that there was water seeping behind the walls, causing mold and mildew in all of the ground level rooms. The sheetrock on all of the walls had to be cut up four feet on interior walls and six feet on exterior walls. The kitchen was gutted and appliances removed. The wooden flooring in the kitchen was removed, as well as the carpet in the fellowship hall. Next came the planning, visioning and rebuilding phase so Trinity could move "Forward in Faith."
Initial cost estimates were more than $100,000, and our congregation, with a very small endowment fund and just meeting the mission needs of the budget, knew that this could be a time of trial and tribulation. Praise God from whom all blessings flow… just as the Good News of the Gospel is spread person to person, so was word of our flood issues. Other Lutheran and ecumenical congregations sent funds totaling more than $11,000. Our own congregation held a quick building fund match and raised more than $10,000 in two months. Donations from individuals who heard of our plight gave more than $8,000 from their abundance, and we received three grants totaling almost $5,000. We are well on our way to recovery.
God's Work, Our Hands has a new meaning, as so many folks have rallied to help us in our time of need. Work teams from Lutheran churches in Clay, Liverpool, Syracuse, Utica and Clifton Park have come through our doors and many folks more than once. We still have a way to go, but we know that God is with us. We give thanks and are grateful to so many folks who share from the blessings God has given them.  When you pass through the waters, I will be with you; and through the rivers, they shall not overwhelm you.  (Isaiah 43:2)  Thanks be to God!"
Rev. Ann Zimmerman
Trinity Lutheran Church