​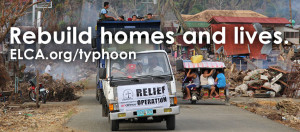 Six months ago, Typhoon Haiyan (known locally as Yolanda) crashed into the Philippines. As one of the strongest storms in recorded history, it affected more than 14 million people and destroyed approximately 1 million homes. More than 6,200 people were reported dead as a result of the storm, and more than one thousand people still remain missing.
Working with Lutheran World Relief, Lutheran Disaster Response was active on the ground in the Philippines days after Typhoon Haiyan made landfall. A lot of recovery work has been done in the past six months. Projects have involved shelter repair, cash-for-work programs, non-food item distributions, livelihood rehabilitation, and water and sanitation intervention programs.
Here is a breakdown of some of the recovery projects in process:
Shelter: Working with Habitat for Humanity Philippines, 1,457 households have received shelter repair kits, which have impacted 7,285 people. Repair kits include things such as plywood, coco lumber, iron roofing sheets, nails, hammers and saws. These kits allow people to return home.
Cash-for-Work: More than 18,000 people have participated in cash-for-work debris removal programs. This means that people are able to contribute to their community by taking part in clean-up efforts, and they can receive money to be able to make prioritized spending decisions that are right for their family. Cash-for-work programs are beneficial because even though millions of people were impacted by the same disaster, they were impacted in different ways and have different needs as they recover.
Water: The availability of clean drinking water was a major concern tackled after the storm, and 240 community water filtration units have been installed in child-friendly places, such as schools.
Delia Moreno is a grandmother to three children. She and her grandchildren were in her home in Maya barangay of northern Cebu when Typhoon Haiyan was approaching. They quickly ran to a neighbor's sturdier home for shelter.
"We ran for our lives," Delia said. "I prayed that I would receive God's graces and survive the storm."
They all survived the storm, but Delia's house did not. When they emerged from her neighbor's home, they saw that all that remained of Delia's home was a pile of debris.
However, on Nov. 23, just two weeks after Typhoon Haiyan destroyed her home, Delia received a shelter repair kit and with the help of her nephew, she rebuilt her home.
"I am so happy," she said.
There have been great strides in recovery in the six months since Typhoon Haiyan hit the Philippines, but there is still a long way to go. Thanks to your generosity, Lutheran Disaster Response is able to work with our brothers and sisters in the Philippines as they continue to rebuild and recover. To help provide assistance to those who need it most, you can give a gift to the Lutheran Disaster Response – Pacific Typhoon fund. Donations from people like you allow the church to be present and active in this long journey to recovery.
The one who began a good work among you will bring it to completion by the day of Jesus Christ. -Philippians 1:6
Please visit the Lutheran Disaster Response Facebook page for more photos of Typhoon Haiyan recovery projects.