Remembering Katrina in the Face of Harvey
by: Rev. Michael Stadie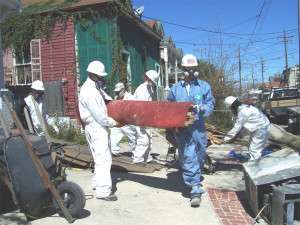 For most people, the last week of August means back to school or looking forward to the Labor Day weekend. But for many others, this is a time of pain, hurt and sadness for August 29 is the 12th anniversary of Hurricane Katrina striking the gulf coast and the 5th anniversary of Hurricane Isaac coming ashore in the same area as Katrina did. Now with Hurricane Harvey, this week will never be the same for hundreds of thousands who are being impacted by the storm. The rest of their lives will be marked as "before Harvey" and "after Harvey."
As I write this, countless people in the greater Houston area are being rescued every minute. There are some 17,000 people in shelters and dozens more are being prepared to receive those displaced by the storm. And it is still raining. Because there is so much water, it will be weeks before the water recedes enough for people to safely see what, if anything, is left of their homes and for the relief efforts to begin. Because of the immense destruction, it will be many years before most homes will be repaired or rebuilt and people find their new normal.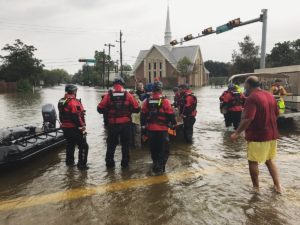 The images we have seen on the news this week, survivors walking through chest-high water or waiting to be rescued, first responders and volunteers risking their lives to save others, dozens if not hundreds of people in shelters all bring to mind what happened 12 years ago. For most of us, we are saddened to see the devastation, heartened by the rescues, and inspired by the resiliency seen in those who have gone through the flooding. But what is not seen is the fear, anxiety, and depression people are feeling, or the feelings of being retraumatized by those who have gone through Katrina, Isaac or one of the other hurricanes that brought suffering to so many lives. Yes, Hurricane Harvey has brought physical destruction to the gulf coast area but has also opened old wounds. As you remember those impacted by Harvey in your prayers, please also remember those for whom this storm brings back memories of another frightening time.
So, no matter if this is a person's first hurricane or if they have been in the path of many storms, Lutheran Disaster Response through our local affiliate, Upbring, will be there for them to walk with the survivors on the long road to recovery as they find their new normal.
---
Rev. Michael Stadie is Program Director for Lutheran Disaster Response U.S.
---
 Be a part of the response:
Pray
Join us in prayer and partnership, and to help spread the word in your congregation. Click here for the bulletin insert. You can find additional resources for worship here.
Give
We invite you to stand by our neighbors on the Gulf Coast during this time. Your gifts to Hurricane Relief ensure that our church will be able to provide help and hope for those left homeless or otherwise affected by this disaster for years to come.
Connect
To learn more and Stay connected to the latest events and our response to this and other disasters: