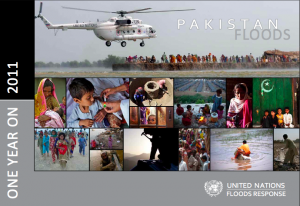 It has been almost one year to the day since what has been described by UN General Secretary as a "slow-motion tsunami" struck Pakistan. With heavy monsoon rains in mid-July 2010, bodies of water throughout the country began to overflow their banks leading to flooding that started in the north and wound its way southward causing a domino effect of floods lasting from July to September. In total an estimated 18 million people were affected by flooding, with 14 million needing humanitarian assistance.
As the work to help the Pakistani people rebuild their lives continues, this is a great resource to take stock of how things have progressed. I really appreciated the map explaining the progression of the flood as well as the timeline. Also of note are the amazing pictures that do more to tell the story than words sometimes can. Interspersed throughout you will find informative reports and heart-wrenching and -warming stories of those affected by the flooding and those who have dedicated themselves to the relief effort.
I recommend taking some time and giving the report, "Pakistan – One Year On", a read.
————-
Gifts to ELCA International Disaster Response allow the church to respond globally in times of need. Donate now.