Megan Brandsrud
​In June, eastern South Dakota experienced severe weather ranging from record downpours to a tornado.
Heavy rains lead to flooding
During the night of June 16, Lincoln County received 8.5 inches of rain, which means it received a full month's worth of rain in one evening. This significant rainfall, paired with continued rain storms throughout the region during the following two weeks, caused riverbanks to overflow, lower levels of homes to flood, sewers to backup and more than 12 farms to be flooded.
In the town of Canton, in Lincoln County, highways and roads leading into the town were completely flooded, which made it difficult for rescue and emergency-response vehicles to provide service to the approximately 1,300 households that were impacted by the flooding.
In addition to the homes and businesses in Canton that experienced negative effects from the flooding, the oldest Norwegian Lutheran church in the state, Canton Lutheran (an ELCA congregation), was severely damaged in the flood.
Tornado destroys, damages homes
On June 18, an EF-2 tornado went through Wessington Springs, a town in Jerauld County, destroying dozens of homes and businesses. Wessington Springs has 1,000 residents that comprise 485 households. Of those 485 homes, 43 were damaged, 12 were totally destroyed and another 12 were left uninhabitable.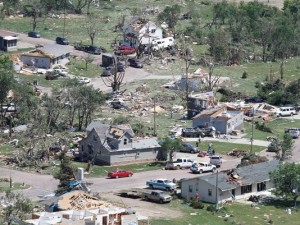 (Pictured: A view of Wessington Springs after the tornado.)
Lutheran Disaster Response has committed an initial $100,000 to Lutheran Social Services of South Dakota to assist in long-term recovery efforts that are following these June storms. Long-term recovery efforts will include disaster case management to work with people who were impacted by the disasters to connect them with necessary resources so they can return to their "new normal." Recovery projects will also include construction management in Canton and Wessington Springs to assist in the repair and rebuilding of homes.
We will work hand-in-hand with the people of eastern South Dakota as they recover and rebuild after being impacted by severe weather. Thanks to your generosity in undesignated gifts, Lutheran Disaster Response is able to provide help when and where it is most needed.
If you would like to support Lutheran Disaster Response's work in providing hope and healing to those who have been impacted by disaster, please visit the Lutheran Disaster Response giving page.