​
Pictured: Damage in Washington, Ill., caused by November 2013 tornadoes. Augustino/FEMA
One year ago, on Nov. 17, 2013, a storm system that consisted of 73 tornadoes moved through the Midwest. Illinois was severely impacted—the tornado system that hit the state was the fourth deadliest and costliest to occur in Illinois with six deaths and more than $1 billion in damages.
Immediately after the storm, Lutheran Disaster Response began assessing the situation in collaboration with our affiliate, Lutheran Social Services of Illinois. Since then, thanks to your support, we have been active in case management work in the communities of Washington, Brookport and Gifford to help people who were impacted by the tornadoes navigate their way through the recovery process.
A House after the Storm
Ray and Marcina Warfield live in Brookport, Ill., where 44 homes were destroyed and 127 homes were damaged. At the time the tornado tore through their community, the Warfields were out of town visiting family. They were happy to have been safe from the storm, but when they returned, they saw that their mobile home had been destroyed in the tornado's path.
The Warfields applied for assistance with FEMA and initially planned to purchase another used mobile home. However, they changed their minds after meeting with a case manager through the long-term recovery group, which is supported in part by Lutheran Disaster Response. The Warfields' case manager suggested applying their resources toward a new home instead, which would provide them more security. Being in their 70s and having always lived in a mobile home, the Warfields were a little apprehensive, but they put their trust in the long-term recovery group.
Work crews and volunteers immediately began building the Warfields a new house on the property where their mobile home was. Every night, the Warfields would help out by cleaning the work site and throwing out trash. During the day, they spent time getting to know the crews working on their house and expressing their gratitude. In August, the Warfields' new home was dedicated and they moved in.
"Never in our dreams did we think we would live in a real home," Marcina Warfield said.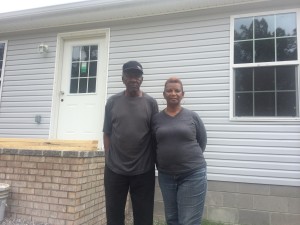 Pictured: Ray and Marcina Warfield stand in front of their new home in Brookport, Ill.
Thanks to your generosity, Lutheran Disaster Response has been active in Illinois to work with families, like the Warfields, who experienced loss from the tornadoes. We continue to work with the communities and provide case management to help those who were impacted adjust to their "new normal." Thank you for your prayers and support for Lutheran Disaster Response and the communities of Washington, Brookport and Gifford. Please join us in giving thanks for the rebuilding that has happened and praying for continued recovery!