The Evangelical Lutheran Church in America (ELCA) and Life With Dignity (LWD) — the ELCA's partner development organization in Cambodia — convened a three-day conference on"Migration and the Human Trafficking Crisis in Asia: Prevention, Protection, Prosecution and Partnership." The conference was held in August in Phnom Penh, Cambodia. Over 60 people from 39 institutions and 14 countries, including Cambodia, participated. The conference aimed to assist the ELCA in developing strategies for policy and implementation with churches and faith-based organizations to address migration and human trafficking issues, and how to work together in the future, in Asia, and across the world.
During the conference, participants affirmed that human trafficking is not a problem experienced by nameless and faceless people, but one that indicts all of us as it thrives by commodifying those who are considered inferior and vulnerable by the prevailing structures and cultures. It was discerned that all faith traditions should uphold the values of justice, equity, and dignity as crucial for the sanctity and integrity of life for all people, especially those who are victims of or are vulnerable to human trafficking.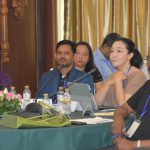 As a result of the conference, participants pledged a commitment to a partnership through courageous actions of confronting and resisting the forces that cause human trafficking, preventing its occurrence, protecting the vulnerable, and healing and restoring broken lives and relationships. The group further committed to accompanying one another through the values of mutuality, respect, trust, and holding each other accountable.
For more information about the conference, click here. To see the concluding statement from the conference, click here.
---
Be a part of the response:
Pray
Let us pray for those impacted by human trafficking, migration and other forms of displacement.
Give
Thanks to generous, undesignated donations, Lutheran Disaster Response is able to respond quickly and effectively to disasters around the globe. Your gifts to Lutheran Disaster Response will be used where there is the greatest need.
Connect
To learn more about global migration and what Lutheran Disaster Response is doing: