Conversations with Members of Our Saviour, Freeport After Hurricane Dorian
By Thomas L. Weitzel
Nearly two weeks after Hurricane Dorian struck the Bahamas as a category five hurricane, the people of Grand Bahama, and particularly the members of Our Saviours Lutheran Church in Freeport, are still struggling with basic needs like water and power.  They're also still processing the trauma associated with two days of 185 mph winds and  2o foot storm surges that carried off many a loved one.
"It was horrible – a nightmare," said Greg Smith, a long-time member of Our Saviours.  "The wind was ferocious. It sounded like a train coming." The storm damaged Greg's roof, causing rainwater to pour into his family room. "All we could do was try to keep ahead of it with towels and blankets," Smith said. "But it just kept coming in. It was so frustrating. And long. I would check the storm's progress on my cell phone, and find it was moving at 2 mph. Then I'd turn it off to save the battery.  And when I would check again hours later, I would find it was moving at 1 mph! It just went on and on."
Nearly all the members of Our Saviours experienced property damage of some kind. "We have a lady at the church who lost her car and had to retreat to the third floor of her complex.  Fortunately, people were neighborly enough to take them in."
Pastor Cliff Lewis – Pastor of Our Saviours – spoke of one member, Ivan Bethel, who lost his entire business to the flooding.  Another member had five feet of water in her home and lost everything.  And yet another member, an attorney with three children, was forced to evacuate and returned to a total loss.  "It was a disaster, to say the least," said Pastor Lewis.
LOSS OF LIFE
While none of the congregation died, many lost friends and loved ones. Mordine Smith, Greg's elderly mother and a member of Our Saviours, lost her sister when the waters surged up.  "She clamored up on a rooftop for safety, but lost her balance and fell into the water and was carried away," Smith reported.  When Greg and his mother shared the news with her sister, who was in cancer treatment in Nassau, she was so overcome that she died two days later.  "So my mother lost two sisters and I've lost two aunts in just a couple days," Smith said.
Janet Albury-Simpson, who was in England at the time of the storm reported that Virginia Mosvold, her daughter Sissel and son in law, George, were rescued from their farm after holding on to the highest point in their home. Everything at the Mosvold farm was washed away, and unfortunately, their right-hand person drowned.
Those water surge stories are repeated again and again by Our Saviours members, with untold numbers of people and children washed away.  "I met a man who told me that nine members of his family were washed away," said Greg.  "What do you say to that?!  What can you say?!"
The waters came up in a matter of 10 minutes, Gena Granger, another member of Our Saviours said. "We had flooding in areas that have never flooded before." She described the storm surge coming in from the north, near the airport where if frequently floods.  This time, the storm surge was so high that it went all the way through the downtown and as far south as Sunrise Blvd, the east-west thoroughfare on which the church sits.  That's about three miles of water over an island that is only five and a half miles wide from north to south.  "It essentially closed down the economy," said Albury-Simpson.
NO DAMAGE AT THE CHURCH
For all the damage across the island, and for as close as the floodwaters came, there was no damage to the church itself, members reported.
Fortunately, the congregation replaced the roof on their 1967 church sanctuary just three years ago, installing a "hurricane resistant" interlocking metal roof.  "If we hadn't done that," said Smith, "it might have been a different story."
A roof replacement over the offices and classrooms also occurred in 2005 following damage from Hurricanes Frances and Jeanne, and that roof held firm as well.
"We're going to check to see if any pins came out or were loosened" on the new roof, said Pastor Clifford.
A lot of that kind of checking is probably going to be necessary across the island, given the ferocity of two days of 185 mph winds on homes and buildings.  Gena Granger reports cracks in the 4×10 inch beam supporting the roof of her condo.  "Obviously from the roof trying to come off," she said.
Similarly, all the water damage is creating problems for reconnecting homes to the power grid on the island.  "Every house that was flooded has to be inspected before they can turn the electric back on," Granger reported.  "We're talking hundreds of homes."
NO POWER, NO WATER
As a result, power has only been restored to about half the population of 30,000 residents of Freeport as of Sep. 15, according to the Facebook page for the Grand Bahama Power Company.  Fortunately, that brought most ATMs online, reported Pastor Lewis, even though banks are still only operating on a limited basis because of flooding.
Equally challenging is the restoration of the public water system because of "saltwater intrusion in the water storage tanks," according to Gena Granger.  "So we can't drink the water, and we can't wash with it either – until they give the all-clear." As of Fri., Sep. 13, only 50% of homes had safe running water, according to the Facebook page for the Bahamas Information Services.
All these challenges mean that it's going to be a long haul getting the city of Freeport and the East End back together again, commented Pastor Lewis. Fortunately, the port is open to shipping, and the airport is open on a limited basis.  "Commercial flights only, no international flights, and only humanitarian flights from the States."
For those looking for ways to help, money is the best way to support at this time.  This allows the church to direct support towards what is needed most.  Be cautious of mailing things to the Bahamas. "It will take six months to get here that way."  Instead, Granger recommends wire transfers to Our Saviours Lutheran Church.  Pastor Lewis similarly suggested sending pre-paid credit or debit cards that the church could give out and that could be used in ATM machines to draw out cash.
Donations may also be made through Lutheran Disaster Response or the Florida-Bahamas Synod Disaster Response.  Both organizations are working directly with Our Saviours to support immediate relief efforts.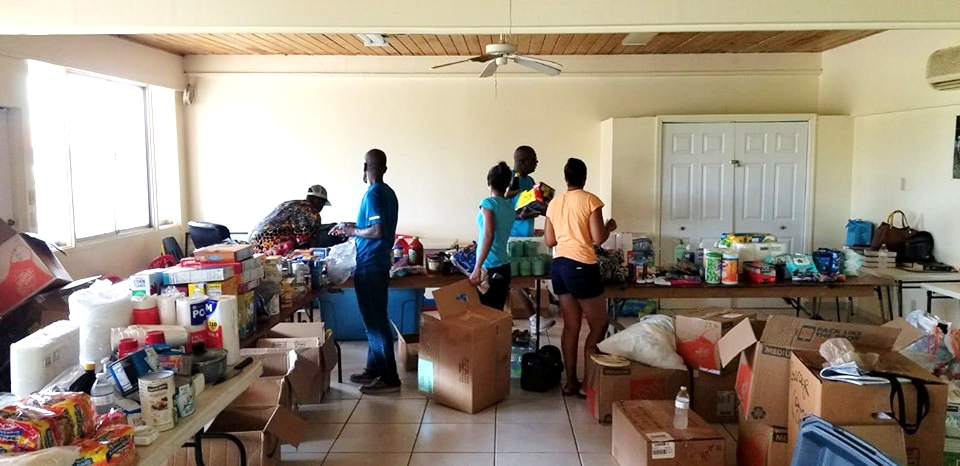 Our Saviour Church members sorting and stocking items for distribution in Freeport.
WITH GOD'S HELP
"With God's help and the help of so many from across the U.S. and the world, we will put it all back together again," said Pastor Lewis.
On the Sunday following the hurricane, about 30 people gathered at Our Saviour for worship. They began with a hymn and a prayer.  Pastor Lewis gave a short homily referencing all the adversities of the week, yet affirming that "even with the stench of death all around us, God gives us life."
He asked members the question, "How have you been tested this week?"  That started a conversation that lasted about an hour and a half.  "Even the quiet folks who hardly ever talk spoke out," said Pastor Lewis.  "We just had to get it out."
"It was cathartic," said Smith recalling the service.  "People talked about their experience and what they were feeling.  Then there was communion and more talking afterward."  That talk included planning for work with the Florida-Bahamas Synod and Lutheran Disaster Response.
Pastor Lewis said the service ended with the singing of "My Life Flows on in Endless Song" (ELW 763), whose refrain ends each verse:
"No storm can shake my inmost calm while to that Rock I'm clinging.

Since Christ is Lord of Heaven and Earth, how can I keep from singing."
---
Thomas Weitzel is a freelance writer and a former pastor of Our Saviour Lutheran Church in Freeport, Bahamas ( 2004-2006).
---
Be a part of the response:
Pray
Please pray for the communities that have been affected by Hurricane Dorian. May God's healing presence give them peace and hope in their time of need.  You can find additional resources for worship here.
Give
We invite you to stand by all the communities impacted by Hurricane Dorian. Your gifts to Hurricane Relief ensure that our church will be able to provide help and hope for those affected by this disaster for years to come.
Connect
To learn more and stay connected to the latest events and our response to this and other disasters: