​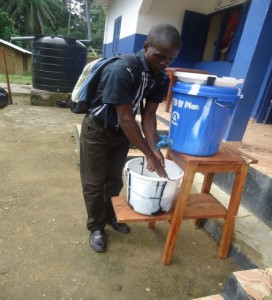 As of Oct. 29, 2014, Sierra Leone has had 5,235 documented cases of Ebola and 1,500 documented deaths. However, the World Health Organization says these numbers could be severely underestimated. Ebola transmission continues to be persistent in Sierra Leone, and all districts in the country have reported at least one confirmed or suspected case of Ebola since this outbreak began.
Since this outbreak is the first time that Ebola has impacted Sierra Leone, the people were not prepared or well-educated about the virus, its symptoms, and its means of transmission or prevention and containment methods. The lack of prior information and the spreading of misinformation has broken down trust and created alarming concern in communities.
Working with the Council of Churches in Sierra Leone, Lutheran Disaster Response is helping create greater community awareness to help bring the Ebola crisis under control. Priorities are focused on building awareness, teaching prevention strategies, addressing myths related to Ebola and treatment facilities, building trust in communities, and providing support regarding anti-stigmatization.
Companions in Response
Many ELCA congregations and synods in the U.S. have joined in the fight against Ebola by showing solidarity, joining in prayer and raising funds. The ELCA's Northern Texas-Northern Louisiana Synod has raised more than $85,000 to send supplies to the Evangelical Lutheran Church in Sierra Leone, the synod's companion church. To date, the synod has sent three containers with Personal Protective Equipment (PPEs) and Steramine, a highly-concentrated disinfectant, to Sierra Leone. Funds have also been used for food assistance.
"People have been motivated to give to these projects because we know our friends in Sierra Leone face-to-face," says the Rev. Kevin Kanouse, bishop to the Northern Texas-Northern Louisiana Synod. "We have met them; we have walked with them through their war and recovery. We know that loving our brothers and sisters is central to our call as disciples of Jesus and we find joy and purpose in helping in this way. We assure them that we are praying for them, and they pray for us, as well. They do not walk alone in this tragedy; they have our love and encouragement, and they have God's peace, love and hope."
While Ebola continues to impact Sierra Leone and other countries in West Africa, the disease is taking a toll on other aspects of life, including food security and healthcare regarding non-Ebola related illnesses. Please continue to hold West Africa in your prayers as we journey on in this fight against Ebola. If you would like to support Lutheran Disaster Response's work in the Ebola Outbreak Response, please visit the response giving page.
(Pictured: Hand-washing station during prevention training in Sierra Leone. Photo courtesy of Northern Texas-Northern Louisiana Synod.)