Approximately 200 children who were separated from their parents at the border have still not been reunified with their parents. Additionally, the zero-tolerance policy that seeks to criminally prosecute all people arriving at the border continues, and there are efforts to expand the detention of children and their parents. As we face continuous policy changes that harm children and families seeking protection in the U.S., Congress has an important role to play in allocating funds for the Department of Homeland Security (DHS).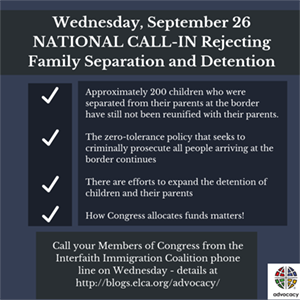 Join the Interfaith Immigration Coalition (IIC) and hundreds of people of faith in a national call-in day, Wednesday, September 26th to ask your Member of Congress to reject family separation and detention and champion alternatives that honor the human dignity of all.
Family detention is inhumane and unnecessary. Community-based alternatives, such as the Family Case Management Program (FCMP), are humane, cost-effective and successful in ensuring families continue their immigration cases. Families that used the FCMP had a 99% compliance rate in continuing their immigration process. In addition, while family detention costs $319.37 per person per day, the FCMP costs $36 per day per family. Beyond punishing children and parents who have already been through a difficult journey to arrive in the U.S., there is no reason to continue to spend our tax dollars expanding detention.
You can act today by joining IIC's Call-in day rejecting family separation and detention.
Call your Members of Congress.​ Dial the IIC line (866) 940-2439 three times to be connected to your 2 Senators and 1 Representative. You can use this sample script for guidance, although your own story can also be influential:
"I am your constituent from [CITY/TOWN], and [as a person of faith] I urge my Senator/Representative to reduce funding for immigration detention, deportation, and border militarization. Enforcement alone without underlying reform is causing harm in my community and tearing families apart.
"I also urge my Senator/Representative to reject family detention. Detaining children with their parents is not a solution to family separation. Rather than detention, Congress and the administration should use and invest in community-based alternatives to detention such as the Family Case Management Program. The administration must end 'zero-tolerance' criminal prosecution of families and asylum seekers for crossing the border, and immediately reunify families already separated. My community welcomes and values immigrants, and we urge you to do the same."
Share on Social Media: ​Share the same message with your Senators & Representatives on social media.
Go to the Interfaith Immigration Coalition's Summary Sheet to learn about more actions you can take to support children and families seeking protection.