By guest blogger the Rev. Athena C. Thomasson-Bless, Social Justice and Advocacy Coordinator, ELCA North Carolina Synod
In a year where we are experiencing the COVID-19 pandemic and the Black Lives Matter Movement is gaining traction challenging police brutality and systemic racism, voting is both more important than ever and may look different this time around. An emphasis of the ELCA presiding bishop is that we are church for the sake of the world. Part of being the church for the sake of the world in 2020 is to encourage and advocate for fair elections and the right to vote.
North Carolina where I pastor and serve on synod staff is a state infamous nationwide for voter suppression controversies. These include gerrymandering, the manipulation of boundaries so as to favor one party or class; same-day registration regulation, which can allow eligible voters to register to vote and cast their ballots on the same day; and voter identification (ID) provisions, which were struck down for disproportionate affect on minority voters.
VOTER SUPPRESSION'S UNEVEN IMPACT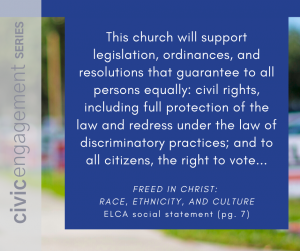 I have experienced some of the hoops that one must jump through to be able to vote in North Carolina and elsewhere as someone who was a student for the past nine years and has moved over six times in that span. I've waited in lines and driven over an hour to my polling place on one occasion. What I experienced was inconvenience. For many black and indigenous people of color, voter suppression can be a be a vote-prohibitive experience. For example, in the Kentucky primaries this week only 200 polling places were open for voters. And there was only one polling place in Jefferson County, the county with the most people and the largest black population in the state.
Projections this year indicate mail-in ballot use is on the rise. In the first half of this year, many states which do not already have a vote-by-mail election system are scrambling to reimagine the ways we can vote in the midst of COVID-19 realities. Projections by some experts of a second wave of the COVID-19 virus in the fall, and outbreak numbers rising as I write in states including North Carolina, add to the fear that voters may have going to polls. Looming pandemic realities are a real and tangible problem for our election system.
In North Carolina, usually less than 5% of votes are cast by mail in absentee ballot. However, this year, a surge of up to 40% more mail in absentee ballots according to state officials is anticipated. This is why a new bill, House Bill 1169, has been passed in the North Carolina Senate to provide more resources for voting by absentee ballot and to make it easier on voters to request and submit ballots. This bill had three votes against it, all coming from Black Representatives who did not like the bill's mention of what they called misleading voter ID requirements. This opposition resonates with challenges in our country to white supremacy and systemic racism. Currently North Carolina does not have voter ID requirements in place due to court rulings that struck them down citing the possibility of motivation by racism. Even with this bill generated by bi-partisan support overall and providing more resources for voting by mail, the damage of voter suppression is evident.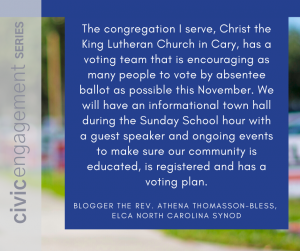 Voter suppression has more often than not intentionally targeted the ability of black and Indigenous people of color to exercise the right to vote. This form of systemic racism is not just present in North Carolina, but across the nation. And as adaptation of voting methods to accommodate pandemic realities increases, myths about voter fraud may rise as well.
CIVIC ENGAGEMENT
As Christians and as Lutherans, we have a responsibility to combat the sin of systemic racism and to advocate for fair and accessible elections. On a congregational level, congregations can provide resources and have Get Out the Vote drives.* The congregation I serve, Christ the King Lutheran Church in Cary, has a voting team that is encouraging as many people to vote by absentee ballot as possible this November We will have an informational town hall during the Sunday School hour with a guest speaker and ongoing events to make sure our community is educated, is registered and has a voting plan.
Our elections may look a little different this year, so please: educate yourself, your congregation and your community. Start now! November will be here before we know it. Check out your state's Board of Elections website and our #ELCAVotes resources, stay informed – and make sure to register to vote. We have the opportunity and the responsibility to advocate for justice and peace and use our voice to vote this November.
---
* Tips for Get Out The Vote drives and more can be found in the ELCA Civic Engagement Guide.