By: Ryan Taylor, Legislative Intern
Congress has the capacity and, more importantly, the responsibility to act upon and pass S.2123, the Sentencing Reform and Corrections Act of 2016. This Congress; however, refuses to act upon the legislation and ignores millions of our brothers and sisters disproportionately affected by our current flawed and egregious sentencing laws. As a Church, we implore this Congress to act.
This legislation has broad bipartisan support in the Senate and is supported by the civil rights community and the faith community, among many others. The Sentencing Reform and Corrections Act would help restructure, revitalize, and effectively innovate our criminal justice system by reducing overly-aggressive sentencing laws for low-level drug crimes and, in turn, shrink not only the population of our federal prisons, but also the cost of running them.
Since 1986 and the implementation of mandatory minimum drug sentences, both the number of incarcerations and the overall length of time spent in prison by inmates have dramatically increased. In fact, according to the Federal Bureau of Prisons, today, nearly half of all federal inmates are serving sentences for low-level, nonviolent drug crimes.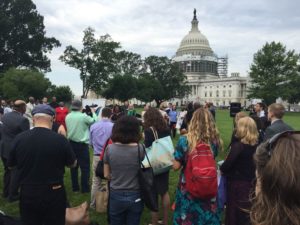 Take, for example, the story of Sharanda Jones shared by Families Against Mandatory Minimums:
"When Sharanda herself was a child, her mother was paralyzed in a car accident. She did not meet her father until she was an adult. Sharanda's grandmother worked, and the close-knit family relied on disability income and welfare support."
After graduating from high school in 1985, Sharanda earned a food certification license and a cosmetology license. She maintained steady employment in both fields, but still struggled to support herself and her young daughter.
"Out of desperation, Sharanda made the bad decision to become involved in distributing cocaine and crack cocaine in the mid-1990s. In 1999, she was arrested and indicted in federal court along with several codefendants, including some family members. Sharanda was found guilty of conspiracy to distribute and possession with intent to distribute crack cocaine at trial and sentenced to life without parole in federal prison…
How did this first-time, nonviolent offender end up with a life sentence? Sharanda was sentenced under the harsher crack cocaine penalties because The Court found that she knew, or should have known, that the powder cocaine she brought back was being converted into crack cocaine."
Although Sharanda's sentence was commuted by President Obama in December 2015 and she was released from prison in April 2016, the sentence she received was overzealous and abhorrent for a one-time, non-violent drug arrest given no prior criminal history. Sharanda's case is not unique and amplifies the fundamental and thus systemic flaws in our current sentencing laws.
If enacted into law, S.2123 would expand what are known as safety-valve provisions. These provisions allow judges broader discretion to sentence low-level drug offenders to less time in prison if they meet certain requirements, as opposed to levying mandatory minimum sentences for low-level crimes. The bill would also allow some low-risk prisoners the opportunity to participate in rehabilitation programs designed to prevent prisoners from falling back into criminal behavior in order to earn up to a 25 percent reduction of their sentences. Moreover, the bill would develop alternatives to incarceration for low-level drug offenders who have shown no signs of violent behavior. Finally, this bill would repeal mandatory life sentences without parole for nonviolent drug offenders with "three strikes."
The provisions of the Sentencing Reform and Corrections Act are commonsense, bipartisan, and are supported by a multitude of organizations and Americans across the country. Indeed, according to a 2012 Pew National Survey, 82 percent of respondents voiced support for sending fewer low-risk, non-violent offenders to prison and re-investing in alternatives to incarceration.
As Lutherans, we must continue to pursue and exhibit justice, love, and compassion for all God's children. We must remember that we are all sinners, and we are reminded by Daniel 9:9 that "The Lord our God is merciful and forgiving, even though we have rebelled against him." Thus as both sinners and children of God, we must remain steadfast in seeking mercy and forgiveness in all that we do, and reforming our criminal justice system is one way in which we may advance these ideals.
Sharanda Jones' experience is only one of many examples of why our criminal justice system is broken. Now is the time for Congress to act. No longer can we stand by and lock up our brothers and sisters under harsh and one-size-fits-all drug sentences. We must continue to advocate for reform, and Congress should take seriously our call for action and our pursuit of justice.