By Dustin Wright, intern, Lutheran Office for World Community
Nearly halfway into my yearlong internship with the Lutheran Office for World Community at the United Nations, I have certainly been blessed with a wide variety of powerful experiences. I've sat in on meetings with ambassadors, planned for the upcoming Fifty-Sev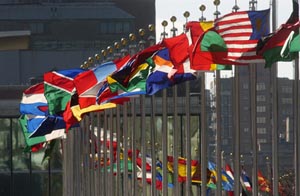 enth Commission on the Status of Women with an ecumenical group of colleagues from other advocacy offices and even met two Nobel Peace Prize laureates. Through such experiences however, I've been burdened with one central question, "How can ELCA members throughout the country participate in the global conversation I experience everyday in New York?"
On the local, state and federal levels of democratic government, grassroots advocacy is an often difficult but fairly straightforward process. Organizers identify a legislative issue that lines up with the stated values of their organization and then urge others to contact government officials about either voting for or against related pieces of legislation. This process is straightforward because we, of course, elect government officials to represent us in decision-making; we are their constituents and we can hold them accountable by voting them out of office.
On the global level at the United Nations, things work a bit differently. Our Permanent Representative to the United Nations is not elected but appointed by the president and confirmed by the U.S. Senate. Because of this indirect system of representative democracy, our grassroots impact on global decision-making can often seem minimal.
Luckily, there is an exciting new way for Lutherans around the world to directly participate in global-decision making: The World We Want platform. In the year 2000, world leaders gathered to set specific global development goals to be reached by 2015, the Millennium Development Goals. Today the deadline is less than three years away, and we've made progress: access to clean drinking water has increased, fewer people live in unhealthy urban slums, and most importantly, the number of people living in extreme poverty worldwide has been cut in half. This success shows us that change is possible, but more must be done: inequality is growing, 950 million people still go hungry each night and climate change threatens the livelihoods of millions more.
When world leaders first met to create the Millennium Development Goals, they left something out, something important: your voice. Without your voice gathered together with others from around the world, without people-power, shaping the world we want is not possible.
This time, you have a seat at the table. Through the World We Want platform, you can participate in a survey on your priorities for the world and your community called MyWorld. Maybe you want to contribute on a deeper level? After creating a profile you can submit directly to consultations sponsored by a United Nations panel of experts. Perhaps you want to share your own story? You can post pictures or even a YouTube video, and share your posts with the Lutheran Office for World Community (lowc@elca.org).
A new world is being created. Whether it's the world we want is up to us. Participate, contribute and share on the website — the World We Want.