By Ruth Ivory-Moore, Program Director for Environment and Corporate Social Responsibility
The 2019 United Nations Climate Change Conference (COP25) gets underway in Madrid, Spain today, and an unprecedented number of people from the ELCA are present as part of an ELCA Advocacy delegation – including Lutheran state public policy office directors, young adult leaders, global companions and members of the Lutherans Restoring Creation network. Negotiators and civil society observers meet annually at conference of parties (COP) conferences to hammer out resolutions to remedy, mitigate and adapt to a warming climate. Despite being in a crisis situation, where severe weather patterns are intensified and disaster damage and loss of life are more frequent, we must and can turn this around.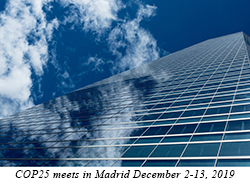 This moment in time involves using all tools at our disposal with a recognition that our human existence is interlinked with all of creation. "Lutherans are called to listen to the cry of the Earth along with the anguished cry of every broken soul so that we assume personal, ecclesial and public leadership in addressing both human justice and Earth justice together," reads "Why Lutherans Care for Creation." We are equipped at COP25 to use God's creative wisdom to take stock of where we are now and where we need to be and to devise plans to wisely steward our place caring for the earth.
Days at a COP are long. Side events, displays and key speakers draw participants to opportunities for engagement and collaboration as well as learning. Lasting and collaborative relationships will be formed and strengthened with our neighbors, whether geographically in Pennsylvania, the Caribbean, Europe, Africa or Asia-Pacific. There are no boundaries to the devasting impacts of a warming earth, be they wildfires out West or historic flooding in Venice, or be they ecological system changes such as migrating species from moose to microbes. Knowing we are living into our role as stewards of creation energizes COP encounters with unparalleled enthusiasm.
Two youths who spoke at an interfaith climate emergency consultation in New York City in September 2019 implored us to think of caring for the earth not as a movement but as part of who we are. The resource, "Why Lutherans Care for Creation," asserts: "For Christians, care of the Earth is not an 'environmental cause.' Rather, it is central to our holy calling to treasure the Earth and to care for it as our common home, fully integrating creation-care into our love of God and neighbor."
ELCA participants bring another core conviction to COP25. While the environmental impact of a warming climate is dire, hope triumphant over despair is central to our tradition. As the ELCA Caring for Creation: Vision, Hope and Justice social statement reminds us: "We testify to the hope that inspires and encourages us. We announce this hope to every people, and witness to the renewing work of the Spirit of God."