U.N. | California | Colorado | Minnesota | New Mexico | Southeastern Synod | Pennsylvania | Virginia | Washington | Wisconsin

Lutheran Office for World Community, United Nations, New York, N.Y.
Dennis Frado, director
57TH SESSION OF THE COMMISSION FOR SOCIAL DEVELOPMENT: The fifty-seventh session of the Commission for Social Development (CSocD57) took place from 11 to 21 February 2019, at the United Nations Headquarters in New York. The Priority theme this year was "Addressing inequalities and challenges to social inclusion through fiscal, wage and social protection policies". The Commission's emerging issues theme was "Empowerment of people affected by natural and human-made disasters to reduce inequality: Addressing the differential impact on persons with disabilities, older persons and youth".
Across nine days, the challenges and inequalities of social inclusion were explored through fiscal, wage and social protection policy during high level panels and side events. A plenary on February 13 highlighted the peoples most affected during times of crisis; people with disabilities, older persons and youth and how current policies could be more inclusive and empowering through all stages of planning and implementation. An emphasis on the importance of including those with psychosocial/mental disabilities in disaster planning was also addressed, with the need for visual materials, and verbal cues during moments of natural or man-made disasters.
For further information, check out CSoD57.
UNITED NATIONS BLACK HISTORY MONTH TOUR: During the month of February, the United Nations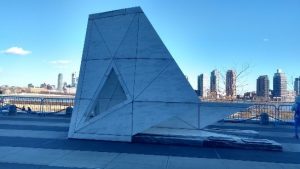 Ark of Return located on the United Nations Visitors Plaza. © LOWC/Rebekka Pöhlmann
offered for the first time a special Black History Month tour. Each weekday the Black history-themed tour of the United Nations included a look at the Ark of Return, a permanent memorial in honor of the victims of slavery and the transatlantic slave trade, located on the United Nations Visitors Plaza. The art piece was designed by Rodney Leon, an American Architect of Haitian descent, and unveiled on 25 March 2015 to commemorate the more than 15 million African men, women and children, who were enslaved.
During the tour the visitors had the chance to learn about the contributions of people of African descent to the work of the United Nations in fields such as peace and security and human rights, with a special emphasis on decolonization. Ralph Johnson Bunche, for example, was the first person of African descent to receive a Nobel Peace Prize in 1950 for his efforts to help resolve the Arab-Israeli conflict in the 1940s, specifically the 1949 Armistice Agreements. He was also highly involved in the formation and early administration of the secretariat of the United Nations.
The tour was also organized in the context of the International Decade for People of African Descent 2015-2024.
---
California
Regina Banks, Lutheran Office of Public Policy loppca.org
BILL INTRODUCTION DEADLINE: February 22, 2019 marked the final day for the California Legislature to introduce bills for the 2019 Legislative Session. The Senate and Assembly Desks remained open through the weekend to process the bill introductions. Nearly 2,600 bills were introduced this year, covering an extensive range of topics and subject-areas. Among the several bills introduced were no fewer than 17 that represent the End Child Poverty Plan recommendations. Many other bills were introduced with respect to LOPP-CA's other legislative priorities of Water Justice and Immigration and Migration issues. The policy council will begin to narrow down bill priorities in the coming weeks.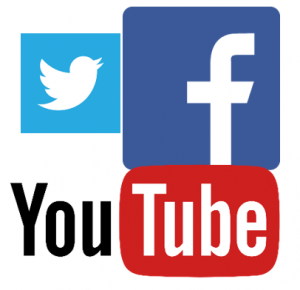 SOCIAL MEDIA CAMPAIGNS: The Communications Committee has heard your cry: Invest in LOPP-CA's Social Media presence! We know that you are looking for LOPP-CA on social media platforms and we are preparing to meet you there. Please visit us on Facebook at Lutheran Office of Public Policy- California. We are sharing updates, article and time-sensitive action items. Like, share and repost our content. The policy council has a goal of getting 5000 followers by the end of the year. You can help us meet our goal and stay up-to-date with the activities. Plans are underway for Twitter, LinkedIn and YouTube. Watch this space!
---
Colorado
Peter Severson, Lutheran Advocacy Ministry–Colorado lam-co.org
LUTHERAN DAY AT THE LEGISLATURE: We had a successful lobby day event on Thursday, February 21.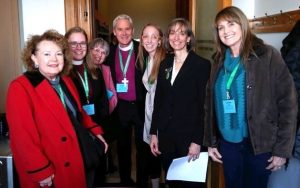 Constituents of State Sen. Tammy Story (2nd from right) meet in her office at the State Capitol for Colorado Lutheran Day at the Legislature
Thanks to all who came out for fellowship, conversation, education and advocacy! We heard from State Senator Jeff Bridges, Rocky Mountain Synod Bishop Jim Gonia, and Colorado Center on Law & Policy attorney Jack Regenbogen. Our asks were all criminal justice related: support for automatic record sealing, "Ban the Box," and abolishing the death penalty.
Many attendees met with their legislators and/or a legislative aide during our time at the Capitol. The next day, Bishop Jim Gonia offered the opening prayer for the House of Representatives, where he gave thanks for the vocation to public service of our state legislators. You can watch video of his remarks online here (via Facebook).
LEGISLATIVE UPDATE: We have been advocating recently on bills to extend eviction notice windows for renters (HB 19-1118) and to expand the Child Nutrition School Lunch Protection Act (HB 19-1171). LAM-CO Director Peter Severson testified in both hearings. We expect the introduction next week of several high-profile bills on our agenda, including Paid Family Leave and Abolishing Colorado's Death Penalty. Follow all the bills that have been introduced at http://leg.colorado.gov and be informed on issues that you care about. Stay tuned!
---
Minnesota
HOUSING & THE GOVERNOR'S BUDGET: Gov. Walz's budget highlights housing as a critical issue facing Minnesota, calling for investments across the housing continuum from homelessness to homeownership. We appreciate that the governor gives the housing crisis the increased attention it needs! However, we must go beyond his proposals to even do more to meet the housing needs of students, families, employers, and communities across Minnesota. State investments must also include supportive services (in Health & Human Service budget).
CLEAN ENERGY LEGISLATION: Legislation has been introduced that creates a set of renewable and carbon-free energy targets for Minnesota's utilities to meet between now and 2050, with 100% carbon-free energy the eventual goal. It allows flexibility if meeting the targets significantly effects energy costs or reliability, and allows modification for future unknowns like new technology, environmental impacts, or obstacles to building energy infrastructure. (The bill defines "renewable" energy as electricity produced from solar, wind, small hydroelectric facilities, hydrogen and biomass. "Carbon-free" energy is defined as electricity produced without emitting carbon from sources like nuclear energy which aren't renewable).
CLEAN ENERGY & CLIMATE ACTION DAY: Join students, neighbors, families, people of faith! Engage in opportunities throughout the day to learn, share, meet with legislators and let them know you want action on clean energy. Participate in action stations, inter-faith worship, and a rally in the Capitol Rotunda. Stay for the day or come when you can. Register at: http://bit.ly/MNEnergyDay

WHEN: Wednesday, March 13, 8:00 a.m. – 4:00 p.m.
WHERE: Christ Lutheran Church on Capitol Hill, 105 University Ave. W., St. Paul 55103
---
New Mexico
Ruth Hoffman, Lutheran Advocacy Ministry- New Mexico (LA-MN) lutheranadvocacynm.org
2019 LUTHERAN ADVOCACY DAY: The 2019 Lutheran Advocacy Ministry-New Mexico Bishop's Legislative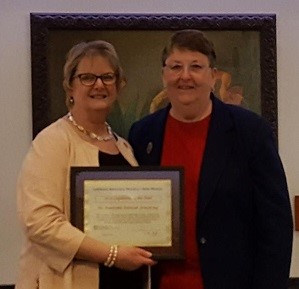 Rep. Armstrong with LAM-NM Director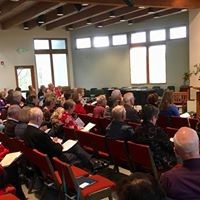 Advocates gather
Luncheon and Issues Briefing drew over 150 advocates from throughout the state. For the first time, over half of the attendees were from our ecumenical partners. The morning began with our Issues Briefing at the United Church in Santa Fe, one of our partner congregations from the United Church of Christ. Advocates attended briefing sessions on several issues included in the LAM-NM 2019 Advocacy Agenda. Bishop Jim Gonia shared remarks in the morning as well as at the luncheon. At the luncheon, Rep. Deborah Armstrong was recognized as Legislator of the Year for her work on health care issues. Also honored was the New Mexico Faith Coalition for Immigrant Justice for its dedicated work to advocate for and serve the interests of the immigrant community in New Mexico.
---
Southeastern Synod
Hilton Austin, Director
CAPITOL VISITS: It has been an exciting month, packed with lobby days at Georgia's state capitol. Hilton and Jordan have been able to participate in several of our partner's Lobby days to raise awareness for a myriad of issues including environmental justice, criminal justice reform, immigration reform, and Medicaid expansion.
ANNUAL GATHERING: We were humbled by a great turn out and positive responses to our office's Fourth Annual Advocacy Gathering, titled "Walking Wet," in Atlanta. Amy Reumann joined us for our event as the keynote speaker and left all in attendance feeling reenergized and ready to advocate both in our local communities and as a Church body. Participants were also able to enjoy fellowship time with other advocates and participate in workshops hosted by Inspiritus (formerly Lutheran Services of Georgia), Georgia Interfaith Power and Light, the Southern Poverty Law Center, and Catherine Strate and Policy Council Member Dawn Bennett.
LEGISLATIVE PRIORITIES AND UPDATES: It has been a busy month with many reoccurring themes across the 3 states(Georgia, Mississippi, and Tennessee); Our office is currently determining our priorities for the push leading up to Georgia Crossover Day, March 7th. The Alabama legislature kicks off March 5th. In addition to helping the folks in our Synod make sense of current legislation, we are publishing legislative updates so folks can see what their lawmakers have been up to so far this session.
---
Pennsylvania
Tracey DePasquale, Lutheran Advocacy – Pennsylvania (LAMPa) lutheranadvocacypa.org
LAMPA CO-SPONSORS ADVOCACY WEBINAR: LAMPa and United Methodist Advocacy are co-sponsoring a webinar March 5 to help congregations and faith-based non-profits in Pennsylvania understand their right to engage in advocacy. Click here to register.
STAFF & VOLUNTEER OUTREACH: Tracey visited with members of the Tree of Life (LSS) sharing an informative conversation about LAMPa. Over the course of several months in 2018, LAMPa assisted a group of congregants at Upper Dublin Lutheran Church (SEPA Synod) who were interested in creating an advocacy team. They did their homework, including a congregational survey, and launched what they call the "A Team" on the Sunday she visited. Tracey also spoke at worship services. Lynn and policy council member Cheryl Burns shared a program on Advocacy and Hunger at St. Stephen's (LSS).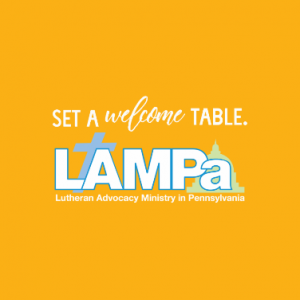 JOIN US IN THE CAPITAL: Bring Your Faith to the Table — On May 19 and 20, join people of faith from around Pennsylvania for inspiration, education and participation — in worship, service, learning and advocacy. MONDAY, MAY 20 — LAMPa's traditional Lutheran Day of Advocacy — Set a Welcome Table! features Keynote speaker Kathryn Lohre, assistant to the Presiding Bishop of the ELCA. Learn more and register.
SUNDAY, MAY 19 — Come to the Welcome Table! and join neighbors of many faiths for service, learning, prayer, artistic expression and a community meal — all with an emphasis on strengthening what unites us. A variety of service and learning opportunities will be offered, as well as preparation for advocacy for our common home. Learn more.
---
Virginia
The Virginia General Assembly adjourned on February 24thafter a chaotic session. VICPP is thrilled that 2 bills passed both the Senate and the House and are now waiting for the Governor's signature. Under current state law, jobs like shoe-shine boys, newsboys, ushers, and movie ticket-takers are exempt from the minimum wage, stemming back to the Jim Crow era. We worked with Del. Cia Price and Sen. Lionell Spruill to remove this discriminatory language from Virginia's minimum wage law. We also worked with Del. Lashrecse Aird and Sen. Frank Wagner to pass legislation that requires employers to provide workers with a paystub. Under current state law, paystubs are optional. However, paystubs are critically important to helping prevent and deter wage theft. VICPP is looking forward to working on more aggressive legislation for the 2020 General Assembly Session.
---
Washington
Paul Benz, Faith Action Network (FAN) fanwa.org
FAN has had a busy month! We are right in the middle of Washington State's Legislative session. The House and Senate are hearing and discussing thousands of bills and working hard to set the budget for the next two years.
We had scheduled our Interfaith Advocacy Lobby Day for Valentine's day. The Seattle area experienced numerous winter storms in the beginning of the month and had more snowfall than we've had in more than 50 years – nearly 22 inches in just the first two weeks of February. Unfortunately, these icy roads and hazardous conditions led to canceling Interfaith Advocacy Day. We are working hard to ensure that the faith communities in our network have the tools they need to make their voices heard at the legislature in other ways. The FAN staff has been leading and speaking at educational events, attending and supporting other lobby days, and assisting faith communities in their own understanding of different bills and the legislative structure.
Legislative session is about halfway through. As we move through different votes and policy cutoffs, we are keeping a keen eye on the bills on our legislative agenda. A few of the bills we're advocating for address:
---
Wisconsin
Cindy Crane, Lutheran Office for Public Policy in Wisconsin loppw.org
ADVOCACY TRAINING/PREPARATIONS: The director, Cindy Crane, preached and led a workshop on advocacy for pastors from conferences in the Northwest Synod in Chetek. The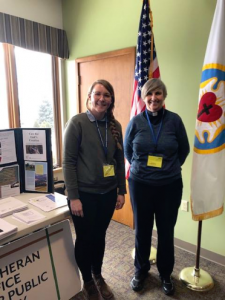 focus was on how to talk to congregants about faith-based advocacy.
Our intern, Sarah, is gathering information about legislators on a spreadsheet that will help us in our advocacy.
LOPPW is involved in planning the People of Faith United for Justice Advocacy Day on April 11. The director is investigating a focus on water, which is one of our priorities related to Care for God's Creation.
Kelsey Johnson, LOPPW's hunger fellow, is working on materials based upon LOPPW's resources to create packets for our advisory council members to present to conference deans in their synods.
Kelsey and Cindy engaged several people who expressed a passion for justice but were not signed up for our action alerts at the Greater Milwaukee Synod's Together in Mission in Brookfield.
ANTI-SEX TRAFFICKING: Kelsey and Cindy led a workshop on anti-sex trafficking in the South-Central Synod in Boscobel. Kelsey managed an LOPPW table at an anti-trafficking event at a Catholic church in Madison. She has been in regular contact with one of our speakers from our January rally to explore writing a bill together. Cindy was in regular contact with WELCA in the East Central Synod to discuss what's next after the rally. She was also in touch with Jen DeLeon, director of advocacy for WELCA, about how Jen can support our efforts.
ELCA: Cindy was part of a relators for DEMs meeting.