ELCA Advocacy Office, Washington, D.C.
The Rev. Amy Reumann, director                                                                                              ELCA.org/advocacy 
ADVOCACY ON "GOD'S WORK. OUR HANDS." SUNDAY: On Sunday, Sept. 9, we look forward to celebrating the ELCA volunteer day of service and action, "God's work. Our hands." Sunday. This year, ELCA Advocacy has shared advocacy resources, including a sample letter to Congress supporting the Voting Rights Advancement Act and a Voting Rights Fact Sheet. Be sure to check out all the resources and activities on the "God's work. Our hands." Sunday toolkit page.
VOTER REGISTRATION: Tuesday, Sept. 25, is National Voter Registration Day. The day draws attention to voter registration deadlines across the nation and encourages prospective voters to sign up, check their status or volunteer for further democratic participation. Additionally, new #ELCAvotes resources will be released later this month, including:  
a new Bible study that looks at instructive parallels between the early church community found in Acts 4 and how we vote our faith values in society; and
a voting guide for people facing homelessness, including congregation resource tips on facilitating voter registration.
Be sure to check ELCA Advocacy social media in the coming weeks for  more engagement around #ELCAvotes!
FARM BILL UPDATE: It is a crucial moment in the legislative process for the farm bill as it moves to the conference committee, and many important policies dealing with local efforts against hunger and international food security are at stake. A farm bill fact sheet on international food aid will be distributed by ELCA Advocacy later this month. Additionally, faith leaders from certain states are joining a petition to Congress, urging their lawmakers to support a farm bill that reduces hunger and improves nutrition.
"PUBLIC CHARGE" RULE: Both ELCA World Hunger and Advocacy are monitoring a rule change being considered by the Department of Homeland Security. Historically, the U.S. government has restricted immigration applications if it is determined an immigrant would be a "public charge," that is, they would likely depend on cash assistance or long-term medical care. The rule expansion will raise barriers for people to obtain and maintain legal immigration status in the U.S. if they or their dependents access public benefits.
A post to the ELCA World Hunger blog written by an Advocacy staff member highlights the short period for public comment. Those of us active in hunger-related ministry are encouraged to consider the potential impact and prepare to comment in opposition to this rule.
---
Lutheran Office for World Community, United Nations, New York, N.Y. 
Dennis Frado, director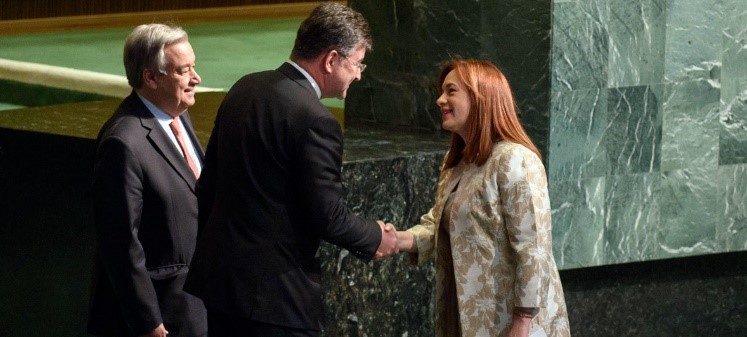 UN Photo/Loey Felipe
Ms. Espinosa (right) is congratulated by Miroslav Lajčák, President of the 72nd session of the General Assembly, following her address to the General Assembly. Also pictured is Secretary-General António Guterres.
U.N. GENERAL ASSEMBLY: On June 6, the General Assembly elected Ecuadorian Foreign Minister María Fernanda Espinosa Garcés president of its upcoming 73rd session. She is only the fourth woman to hold that position and the first since 2006. Espinosa Garcés noted that she is also the first woman from Latin America and the Caribbean to preside over the Assembly.
Espinosa Garcés has previously been minister of foreign affairs and human mobility, minister of defense, and coordinating minister of cultural and natural heritage. She was the first woman to be named permanent representative of Ecuador in New York, after having served as ambassador in Geneva. She said, "As you know, I am also a poet as well as a politician. As such, I am fully aware that no view is useful if we do not see, and no word has value, if we do not listen. I will be ready to listen to you all and work for, and with you." Read her vision statement here.
Espinosa Garcés has published more than 30 academic articles on the Amazon River, culture, heritage, development, climate change, intellectual property, foreign policy, integration, defense and security. She has also published five volumes of poetry and received the Ecuadorian National Poetry Prize in 1990.
UPCOMING GENERAL ASSEMBLY SPECIAL EVENTS:
Sept. 5                          High-level forum on a culture of peace
Sept. 24                        High-level meeting: Nelson Mandela Peace Summit
Sept. 25 – Oct. 1         General debate
Sept. 26                        High-level plenary meeting to commemorate and promote the International Day for the Total Elimination of Nuclear Weapons
Sept. 26                        High-level meeting on the fight against tuberculosis
Sept. 27                        High-level meeting to undertake a comprehensive review of the prevention and control of non-  communicable diseases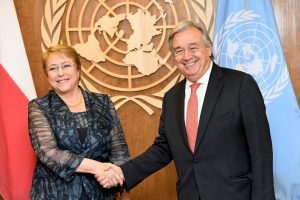 NEW APPOINTMENT TO U.N. HIGH COMMISSIONER FOR HUMAN RIGHTS: U.N. Secretary-General António Guterres has appointed Michelle Bachelet of Chile the next U.N. High Commissioner for Human Rights. In September, she will succeed Zeid Ra'ad Al Hussein of Jordan.
Bachelet ended her second four-year term as president of Chile in March 2018, having already held the position between 2006 and 2010.  The first woman elected to Chile's highest office, after her first term, she joined the United Nations as the first executive director of the newly established U.N. Entity for Gender Equality and the Empowerment of Women (U.N.-Women).
A long-time human rights champion and ground-breaking leader,  Bachelet is a pediatrician who began her government career as an adviser in the Ministry of Health, rising quickly to become the first woman to lead the ministry in 2000 and its Defense Ministry in 2002.
She became involved in Chilean human rights activism in the early 1970s. She and her parents were political prisoners, and her father, a general in the air force, died in prison. After their release, Bachelet and her mother spent several years in exile. She returned to Chile in 1979, finished school and became a pediatrician and public-health advocate. Bachelet also studied military strategy at Chile's National Academy of Strategy and Policy and at the Inter-American Defense College in the United States.
---
California
Mark Carlson, Lutheran Office of Public Policy                                                                       http://loppca.org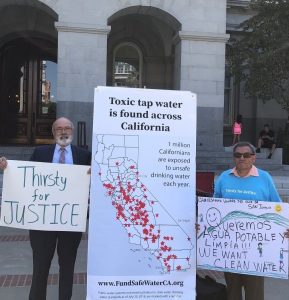 LEGISLATIVE SUMMARY: The California Legislature concluded its two-year session on Aug. 31 with mixed success for proposals supported by the Lutheran Office of Public Policy-California. SB 100, a bill to require 60 percent carbon-free electrical energy by 2030 and 100 percent by 2045, passed with considerable uncertainty and drama. As this is written, it is on Gov. Jerry Brown's desk awaiting action. A New York Times editorial supported it. A major disappointment was the demise of two bills to fund access to safe, affordable water in disadvantaged communities, rural and urban. SB 844, whose supporters included agricultural interests, would have enacted a fee on fertilizer and dairies, primary sources of nitrate contamination in groundwater. SB 845 would have enacted a voluntary fee on water bills to fund domestic water supply projects, including maintenance and operation. Despite long negotiations and a degree of bipartisan support, the fear of distorted political attack ads over "taxes" in the election prevailed on the last day.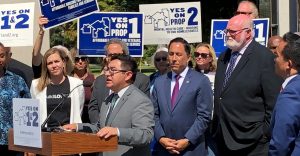 NOVEMBER BALLOT PROPOSITIONS: The public launch of the campaign for Propositions 1 and 2, the measures on the November ballot that would fund low-income housing, including permanent supportive housing for the chronically homeless and housing for veterans and farmworkers, took place at the Vietnam War Memorial in Capitol Park. Pastor Kirsten Moore of Calvary Lutheran Church, Rio Linda, and conference dean offered a brief statement at the news conference, joined by Sacramento Mayor Steinberg, other local elected officials and several state legislators, including the chairs of the Assembly and Senate housing committees.
---
Colorado
Peter Severson, Lutheran Advocacy Ministry–Colorado                                                                  lam-co.org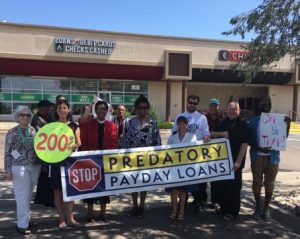 Advocates for Proposition 111 gather
in Colorado Springs to officially kick
off the campaign to Stop Predatory Payday Loans
BALLOT MEASURES CERTIFIED: Lutheran Advocacy Ministry-Colorado supports two measures on the statewide November ballot. One is a constitutional referendum, Amendment A, referred from the Legislature.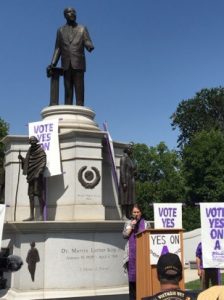 Pastor Caitlin Trussell of Augustana
Lutheran Church in Denver speaks at the Yes on A/Abolish Constitutional Slavery rally in Denver's City Park
Amendment A would strike the exception from Colorado's ban on slavery and involuntary servitude, finally abolishing slavery from our state constitution. The campaign kicked off on Aug. 28 with a rally in Denver's City Park.
The second measure, as Proposition 111, will cap payday lending interest rates at a maximum of 36 percent. We are thrilled to stand up with those who have been exploited by these predatory practices, along with economic justice advocates, in saying no to usury in Colorado. The campaign kicked off with a news conference in Colorado Springs on Aug. 29.
Colorado will have six referred measures and at least five citizen initiatives on the ballot this fall, ranging from redistricting to oil and gas setbacks to funding for transportation and education. Two additional initiatives are awaiting possible certification, which would bring the total to 13 statewide items. Lutheran Advocacy Ministry-Colorado will be on the road doing a lot of voter education this fall!
---
Minnesota 
Tammy Walhof, Lutheran Advocacy–Minnesota                                                                  tammy@lcppm.org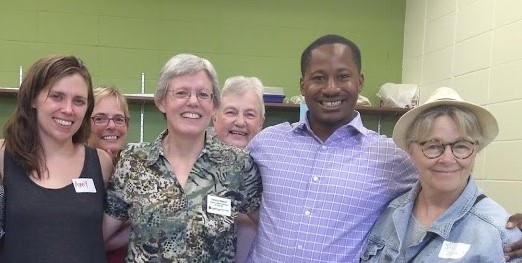 Amy, Tammy, & Kendrick with three of
six Policy Council members who made it
to Kendrick Hall's farewell open house
STAFF TRANSITIONS: We're delighted to welcome Amy Shebeck to help part-time with communications and administration! Amy jumped right in, helping create a handout on immigration family separation, representing us on the Homes for All Communications Team and overhauling our website!
We're excited for Kendrick Hall's next step – his continuing professional education (CPE) assignment with Lutheran Social Service of Minnesota's Center for Changing Lives (homeless youth), but we already miss his day-to-day work, especially on  housing issues! His Hunger Advocacy Fellowship was completed in August.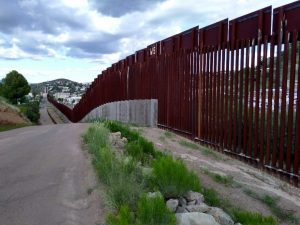 ISSUE PIVOTS: Important federal issues need our attention! We aren't dropping our state-level issues but have
added farm bill and immigration concerns for fall work.
FARM BILL: The House farm bill (passed 213-211) decimates bipartisan rural-urban coalitions. Rep. Collin Peterson states the House bill "doesn't do enough for the people it's supposed to serve. It … leaves farmers and ranchers vulnerable; it worsens hunger and it fails rural communities." The Senate's bipartisan bill (passed 86-11) doesn't make drastic changes to programs, offers more certainty for farmers, ranchers, food security advocates and more.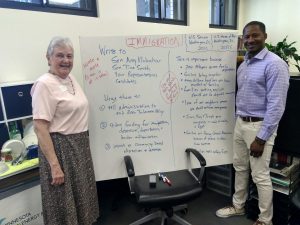 The bills will be negotiated by a conference committee–- the house appointed an unprecedented 47 members, compared to nine from the senate!
IMMIGRATION: Immigration took center stage in national news this summer with the outcry around family separation, court ordered reunification and many related issues. Tammy Walhof, LA-MN director, participated in a trip to Tucson and Nogales, Ariz., (both U.S. and Mexican sides of the city) to learn more. She has many stories to share. See our action alert on Facebook (and in the photo!). Watch our website and Facebook for updates and urgent action alerts!
---
North Carolina 
GeoRene Jones, North Carolina Synod Social Justice & Advocacy Ministries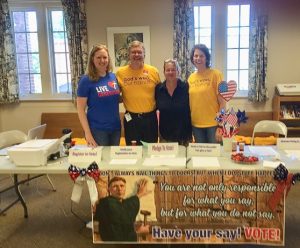 ENCOURAGING VOTER ENGAGEMENT: St. Mark's Lutheran in Asheville is a good example for congregations desiring to support the ELCA's Voter Engagement Initiative, ELCAvotes.  The congregation's Christian Action Team partnered with The United Way of Asheville and Buncombe County, which provided materials, submitted voter registrations and emailed voting reminders to those who took the pledge to vote. Team preparation included production of event handouts, which included sample ballots and early voting information detailing dates and locations. Production costs were covered by a Thrivent Action Team grant.
Making themselves available in the common areas of the building after Sunday services, the team (pictured above) helped currently registered voters verify their registration record as up-to-date – including correct address –and registered eligible voters using official registration forms. Team members delivered the completed forms to the local Board of Elections. Also available were non-partisan information on candidates running for office, links to websites with additional information, and a sign-up sheet for people willing to make their pledge to vote. The team also provided a transportation sign-up sheet for individuals needing assistance in getting to the polls. Overall, the event garnered 49 pledges to vote, including eight individuals aided in registering to vote.
VOTER EDUCATION RESOURCES: Our website provides congregational leaders ELCAvotes resources through synod conference deans and direct mail. Bible studies, the ELCA's Civic Education and Voter Education Guide and support information for the Voting Rights Advancement Act.
---
Pennsylvania
Tracey DePasquale, Lutheran Advocacy–Pennsylvania                                     lutheranadvocacypa.org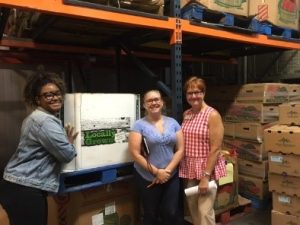 ELCA WORLD HUNGER: ELCA World Hunger staff members Julianna Glassco and MaeHelen Jackson recently visited several anti-hunger sites in central Pennsylvania, including the Central Pennsylvania Food Bank, which they toured with Karen Woodings, advocacy manager. They are shown, at right, at the food bank alongside corn they picked at The Wittel Farm, a ministry of the Lower Susquehanna Synod and the Lutheran Camping Corporation.
CREATION JUSTICE: LAMPa continues to promote the upcoming Energy-Star Stewardship Tour for faith communities Sept. 25-27 at seven locations across the state. Learn more about this partnership with the Environmental Protection Agency and faith-based organizations. In addition, LAMPa, along with other faith partners, is sponsoring a community solar webinar on Sept. 20 at 7 p.m. Learn more. Attendees at all events will be equipped to connect with policymakers on renewable energy.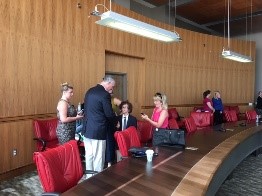 In the photo, Senator Cy visits
with a family who has two children
with pre-existing conditions.
POVERTY SIMULATION: Lynn Fry, program director, recently participated in a poverty simulation in Franklin County. "It would be quite beneficial if all legislators were able to participate in this simulation so they could gain insights into how difficult life is for a segment of our population. Even though assistance programs are available, many are very difficult to access," Fry said.
GOD'S WORK. OUR HANDS.: LAMPa is providing resources to help congregations take their service to their neighbor a step further toward justice through advocacy.
HEALTH CARE ROUNDTABLE: Fry also attended a health care roundtable hosted by U.S. Sen. Robert Casey. Casey spoke about concerns related to insurance requirements on existing conditions with those in attendance.
---
Southeastern Synod
Hilton Austin, director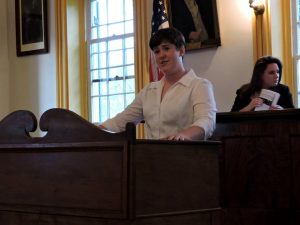 We are excited to introduce our new Hunger Advocacy Fellow, Kimberly Jordan Slappey, who started on Sept. 4. Jordan is a recent graduate of the University of Georgia.
Major: religion. Focus: the religion of the civil rights movement and the intersections between gender, race and religion.
Minor: political science. Focus: constitutional law and the law as it pertains to marginalized populations.
Jordan plans to attend Pacific Lutheran Theological Seminary in the fall of 2019 following her internship as an ELCA World Hunger advocate. Jordan has a background in church work, LGBTQ+ advocacy and local government. When she isn't working, Jordan enjoys podcasting, geocaching, attending concerts and playing video games. Jordan is looking forward to broadening her knowledge and understanding of the many facets of advocacy.
---
Washington 
Paul Benz, Faith Action Network                                                                                                             fanwa.org  
BALLOT INITATIVES: FAN is engaged, as always, on numerous statewide initiatives:
940 – Reform our state's use of deadly force statute, which is one of the most egregious in the ability of a county prosecutor to convict a law enforcement officer. Endorsed
1000 – Reinstate our affirmative action laws that were rescinded by an initiative several years ago. It is currently in the signature-gathering stage and has until the end of the year to complete that stage. Endorsed
1631 – Create a carbon fee of $15/ton on our state's largest emitters of CO2s and is an obvious way to reduce global warming through our state laws. Endorsed
1634 – Prohibit municipalities outside of Seattle from enacting a tax on sugary beverages. FAN right now is neutral.
1639 – Improve gun responsibility laws in our state, raising the purchase age to 21 for semi-automatic rifles, enhance the background checks for those purchases, and create a liability law for gunowners who are found to not have safely stored their firearms/weapons in an incident where someone in the owner's home was injured with that firearm. Endorsed

CANDIDATE FORUMS: FAN is finalizing the logistics for four highly competitive state legislative district races and one congressional district race. These are hosted by faith communities in FAN's network and sponsored or co-sponsored by FAN. Candidates are allowed opening and closing statements, are asked prepared questions and then take questions from the audience, but they are not allowed to ask questions of one another.
C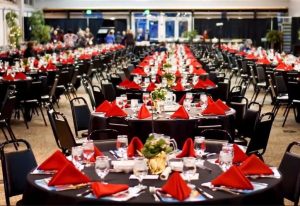 LUSTER GATHERINGS: FAN convenes the 21 geographic clusters that make up our 141-member state Network of Advocating Faith Communities every fall. We have 18 scheduled for September through November. These gatherings allow us to inform and strengthen our relationship with our faith community advocates and to have intersectional conversations about how to be more collaborative and effective in our justice work.
ANNUAL DINNER: FAN has two major events during the year – IFAD (Interfaith Advocacy Day during the legislative session), and our Annual Dinner. This year's dinner will be on Sunday evening, Nov. 18, and we've invited Washington's U.S. Rep Pramila Jayapal to speak. Our goal is to have 400+ in attendance.
---
Wisconsin
Cindy Crane, Lutheran Office for Public Policy in Wisconsin                                              loppw.org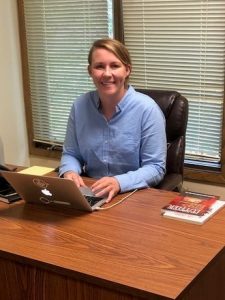 HUNGER FELLOW: Welcome to Kelsey Johnson, who just started as LOPPW's 2018-19 Hunger Fellow! Thank you to ELCA World Hunger for providing a grant for this important ministry! Kelsey has been active in the church. Most recently, she served with the ELCA Young Adults in Global Mission program in Jerusalem and the West Bank. At the Lutheran School of Hope in Ramallah (West Bank), she assisted with English and art classes. She has explored topics related to refugees, interfaith dialogue and accompaniment. Kelsey graduated with a degree in journalism and mass communications from the University of Iowa. She has interests in writing, using social media and working with young people. Kelsey says she is very excited to be working with LOPPW.
FARM BILL: LOPPW has continued to encourage people to contact their members of Congress about the farm bill.  Kelsey has initiated a social media campaign with a focus on the bill.
CARE FOR CREATION: LOPPW with the South-Central Synod of Wisconsin's Care for God's Creation team is organizing an event to focus on what's working in Wisconsin to reduce carbon dioxide emissions.  Participants will gain practical ideas and resources for increasing renewable energy in their business and congregational lives and advocacy tools. Save the date.
WISCONSIN HAS TWO NEW BISHOPS: Congratulations to Bishop Viviane Thomas-Breitfeld of the South-Central Synod and Bishop Laurie Skow-Anderson of the Northwest Synod! LOPPW was delighted to have a presence at both joyful installation services.