Following are updates shared from submissions of the Lutheran Office for World Community and state public policy offices (sppos) in the ELCA Advocacy Network this month. Full list and map of sppos available.
U.N. | Arizona | Colorado | Ohio | Minnesota | Texas | Washington | Wisconsin
---
U.N.
Lutheran Office for World Community (LOWC), United Nations, New York, N.Y. ELCA.org/lowc – Dennis Frado, Director
Women's Human Rights Advocacy Training
The Lutheran World Federation (LWF) in partnership with the World Council of Churches, ACT Church of Sweden, ACT Alliance, Finn Church Aid, Mission 21, and Norwegian Church Aid held the Women's Human Rights Advocacy Training virtually from 7-9 September 2021. LOWC Program Director Christine Mangale joined LWF colleagues in the planning and facilitation of the training. This year, nearly 60 delegates from faith-based organizations participated in a Training of Trainers (ToT) focusing on advocacy at local and regional levels and strengthening networking and collaboration. Topics discussed during the training included:
"how to design and facilitate a regional training";
"instruments on gender justice advocacy";
"how to report on human rights in different contexts";
"the role of faith-based organizations in gender justice advocacy";
"how to counter backlashes and address challenges,"
"human rights' language;"
"gender-based violence in the context of COVID-19";
"safety and security relating to advocacy on women's human rights"; as well as
"designing faith-based advocacy".
The participants are then to take part in designing and leading a regional pilot project, starting with a virtual training in Africa to be held October 11-18, 2021. A LWF resource for faith-based organizations on affirming women's human rights can be found here.
---
Arizona
Lutheran Advocacy Ministry Arizona (LAMA) lamaz.org – Solveig Muus, Director
This is an exciting time for LAMA! Readers may know the LAMA office of the Grand Canyon Synod launched the same month that COVID-19 launched, so our efforts to connect with congregations, legislators and community have, from the jump, been exclusively virtual. But now happily, congregations are beginning to invite Lutheran Advocacy Ministry Arizona into their communities, both virtually and in person – respectfully distanced! – and we are grateful to be making these wonderful connections through preaching and joining forums and groups, all to share our advocacy message.
LAMA's annual retreat will be in person this year, and we are pleased to be joined by the Rev. Amy Reumann, Director of Advocacy for the ELCA. Pr. Reumann will also be the keynote speaker at the annual LAMA Summit for congregational liaisons and advocates on Sunday, December 5 at Spirit in the Desert Retreat Center in Carefree, Arizona.
LAMA's first Lutheran Day at the Legislature is set for Tuesday, February 1, 2022 in the Rose Garden at the State Capitol in Phoenix. We welcome this opportunity to gather, to meet legislators, and to voice our common needs in the public square, activating our faith in love.
In addition, the Grand Canyon Synod has launched a new Hunger Leaders Network for hunger champions across the synod to connect, hear about hunger resources both locally and churchwide, share stories, and learn and grow together. The Hunger Leaders Network group meets monthly and is ably chaired by Melanie Hobden.
---
Colorado
Lutheran Advocacy Ministry Colorado (LAM-CO) lam-co.org – Peter Severson, Director
BALLOT MEASURES: Coloradans will have three statewide ballot measures on which to vote on November 2. Check out the LAM-CO 2021 Voter Guide for our analysis and recommendations! It's available online at www.rmselca.org/ColoradoBallot2021
LEGISLATIVE FOLLOW UP: The State of Colorado is working on implementing important legislation that was passed in our 2021 session. This includes important protections for agricultural workers, who were brought under the protections of the Colorado Labor Peace Act of 1943 for the very first time. This will include overtime pay, rest breaks, minimum wage, and others. We are working on supporting the implementation process and making sure that the state fulfills its obligations under the new law, particularly around the bills' mandated "meaningful overtime protections." A public hearing on this issue is upcoming on November 1.
Check out our 2021 Legislative Wrap-up for all the details on the bills we worked on this year!
DIRECTOR'S SABBATICAL: LAM-CO Director Peter Severson took a sabbatical rest from June 19 to September 19. With gratitude for the experience of restoration and refreshment, he's back in the office and ready to lead our work this fall!
---
Ohio
Hunger Network Ohio hungernetwork.org – Nick Bates, Director
Faith community speaks out against the death penalty
The Hunger Network in Ohio hosted a panel on the Death Penalty on October 11 with Southern Ohio Synod Bishop Suzanne Dillahunt and in partnership with the Ohio Council of Churches and Ohioans to Stop Executions as part of a faith advocacy week toward the abolition of the death penalty in Ohio.
Bishop Dillahunt shared the ELCA's commitment to justice as expressed in our ELCA social statement on the issue prior to hearing from legislators and co-victims. We are grateful for the leadership of HB183 sponsor Rep. Adam Miller (D-Columbus) and co-sponsor Rep. Laura Lanese (R-Grove City) for joining us on the call to share their perspective from the Ohio House of Representatives.
We are hopeful that this legislation will move over the next few months, but we need advocates to keep up the pressure! You can act now by writing a letter to the editor of your local paper.
Click here to send a letter to the editor of your paper!
You can watch the forum and hear the powerful impact stories on our Facebook page here.
---
Minnesota
Lutheran Advocacy – Minnesota (LA-MN) lutheranadvocacymn.org – Tammy Walhof, Director

Rent Help MN logo
Housing Crisis: Although significant COVID- related funding was set aside to address the impending eviction crisis, many renters have had difficulty accessing the help. The Minnesota Eviction Moratorium has now ended, and landlords can evict tenets. If you know someone behind in rent or facing eviction due to the pandemic, please help them access and navigate RentHelpMN.org!
Preparing for the Next Legislative Session: A big part of our fall typically includes educating congregations about our work and meeting with coalition partners.
Walhof presenting pre-pandemic
We have been in many meetings with the Energy Cluster of Minnesota Environmental Partnership to consider legislation, and plan future options for long-term impact. Additionally, the Homes for All Coalition is collecting proposals that we will review in coalition Policy Team meetings.
The education pieces are more difficult due to the pandemic. Walhof and Rachel Wyffles, LA-MN's Hunger Advocacy Fellow, are both willing to present or preach in churches if mask-wearing and vaccinations are taken seriously. We have also been brainstorming and working on videos, webinars, and studies. What does your congregation need?
Upcoming Events: Some of our partners are doing webinar events that match our priorities closely, so we encourage participation in the events listed below:
Webinar Series on Affordable Housing & Homelessness (Joint Religious Legislative Coalition). Monthly through February. November 4 focus – Homelessness. Information/Registration
"Hunger at the Crossroads" Webinar Series (ELCA World Hunger). October 27 focus – Hunger & Climate Change. Information/Registration
International Climate Conference – Pre-COP26 Conversation (Fresh Energy). October 26 focus – How Minnesota fits. Information/Registration
---
Texas
Texas Impact texasimpact.org – Scott Atnip, Outreach Director
The Texas Legislature began a third called special session September 20 focused on redistricting, spending American Rescue Plan Act funds, anti-trans legislation, and banning vaccine requirements. Through ongoing programming, including the Weekly Witness podcast, Rapid Response Team, and Legislative Engagement Groups, we continue to work to equip and mobilize Texans of faith and to help them understand what is happening in their Texas Legislature. In addition, Texas Impact hosted a Redistricting 101 webinar and a briefing with state budget experts on the process for appropriating Texas' $16M in federal American Rescue Plan Act funds.
Texas Impact also partnered with the ELCA's own John Johnson on a Weekly Witness episode focused on the Build Back Better Agenda and a training for advocates to meet with South Texas members of Congress on the Build Back Better legislation.
---
Washington
Faith Action Network (FAN) fanwa.org – Paul Benz and Elise DeGooyer, Co-Directors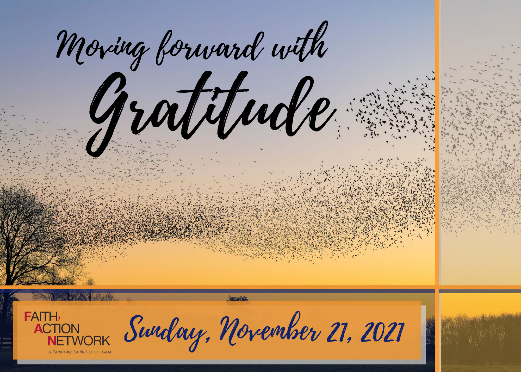 Moving Forward with Gratitude invite
FAN Annual Dinner: We will host our annual fundraising celebration virtually on Sunday, November 21 to celebrate our 10th birthday, the Rev. Paul Benz's years of service, and our shared future. Advocates across the state will be joining us online, with the option to gather in small COVID-safe watch parties. You are welcome to join from your state!
Cluster Meetings: FAN hosts Fall Cluster Meetings as a way to gather with advocates in their local areas, learn about the issues that matter in their region, and build momentum for our work together. We are hosting 11 geographic clusters via Zoom around the state, and have heard from advocates on issues of housing, homelessness, taxation, food, climate and energy, immigration, refugees, and police reform.
Tax Town Halls and Candidate Forums: With our economic justice work group, we have been sending advocates to statewide Taxation Town Halls hosted by the legislature's Tax Structure Work Group. The state of Washington has one of the most regressive tax systems in the nation, so it is vital that we move forward to restructure our tax system to be more equitable. FAN is co-hosting candidate forums across the state, with coalition partners, to hear from local candidates on critical issues of policing, housing, and immigration.
Boarding Schools: FAN's Interfaith Network for Indigenous Communities issued a statement signed by the three ELCA bishops in Washington regarding U.S. Boarding School history. We also signed on in support of the Truth and Healing Commission Act reintroduced in Congress.
---
Wisconsin
Lutheran Public Policy Office – Wisconsin (LOPPW) loppw.org – Cindy Crane, Director

John Johnson
Wednesday Noon Live interview with John Johnson, ELCA Program Director for Domestic Policy. Johnson discussed domestic policy to support people experiencing poverty and the recent White House visit of Presiding Bishop Elizabeth Eaton of the ELCA and Presiding Bishop Michael Curry of The Episcopal Church. We highlighted extending the Child Tax Credit (CTC). We have additional information on the CTC under Hunger on our website and via this Action Alert.
Anti-Sex Trafficking
Shirley Paulson, retired educator and former president of the Women of the ELCA of East Central Synod of Wisconsin, and the Rev. Cindy Crane, the director of LOPPW, testified on SB 245, which looks to make it so that anyone under the age of 18 may not be prosecuted for prostitution. At the hearing, there were several disturbing stories of trafficked youth who were afraid they would be charged with a crime if they called the police due to the current laws in place.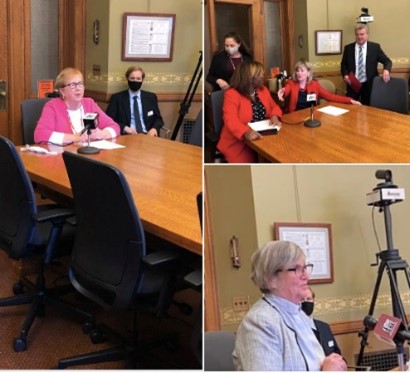 Left Image: Shirley Paulson
Bottom Right Image: Cindy Crane
It sometimes takes many years to pass a bill. We have been supporting this one for quite a few years now, but it is closer to passing.
Look forward to action alerts on SB 245 and for another significant bill on expulsion of crimes for adult victims of sex trafficking.
Juvenile Justice
Our Raise the Age Coalition is reaching out to businesses to support our efforts to return 17-year-old youth to the juvenile justice system. Recently, members of our steering committee met with the president of Wisconsin Manufacturing & Commerce to discuss this issue.
Settling Afghan Refugees
We have supported the Welcoming Evacuees Coming from Overseas to Mitigate Effects of Displacement Act of 2021, also known as the WELCOMED Act with our Action Alert.
Care for God's Creation
Pr. Crane will be at the 2021 United Nations Climate Change Conference, Conference of the Parties, known as COP26, in Glasgow, Scotland!