Following are updates shared from submissions of the Lutheran Office for World Community and state public policy offices.
As the new year begins, these state public policy offices (SPPO) share their annual policy priorities. Find a map and full list of ELCA affiliated SPPOs using our state office map.
Learn more about Lutheran advocacy using our new resource, Advocacy 101 For Young Adults.
U.N. | Arizona | Colorado | New Mexico | Ohio | Pennsylvania | Texas |Washington | Wisconsin
---
U.N.
Lutheran Office for World Community, United Nations, New York, N.Y. https://www.elca.org/lowc –Dennis Frado, Director
Promoting Gender Justice at UN CSW65: A total of 72 delegates from all the Lutheran World Federation (LWF) regions will participate in the sixty-fifth session of the UN Commission on the Status of Women (CSW65) that will take place from 15 to 26 March 2021. The larger number reflects the fact that the session will be virtual due to COVID-19. The delegates consist of LWF Gender Justice and Women's Empowerment regional coordinators, staff of LWF World Service country programs, and representatives of ELCA companion churches. Approximately two dozen of the attendees are from the ELCA.
Together with ecumenical and interfaith partners, LOWC staff drafted and submitted three joint statements (E/CN.6/2021/NGO/91, E/CN.6/2021/NGO/117 and E/CN.6/2021/NGO/147) based on the theme, as well as considering the gendered impact of COVID-19.
LWF has organized and co-sponsored five CSW related events. To influence the outcome document known as the agreed conclusions, LOWC staff have been engaging actively within the Faith in Beijing coalition convened by Side by Side.
Humanitarian Assistance to Palestinians: In the coming weeks, ELCA staff, including LOWC, will be encouraging synod bishops and other ELCA members to intensify their messaging to Congress in support of U.S. bilateral humanitarian assistance to the Occupied Palestinian Territory (East Jerusalem, West Bank and Gaza). The assistance, though appropriated by Congress, was not disbursed by the previous Administration for several years. This funding had been an essential part of the annual operating budget of the LWF-owned Augusta Victoria Hospital in East Jerusalem and its absence has resulted in substantial debt. The Biden Administration told the UN Security Council in late January that it wishes to "restore U.S. assistance programs that support economic development and humanitarian aid for the Palestinian people" and renew "U.S. relations with the Palestinian leadership and Palestinian people." Congressional leaders are being asked to contact the Administration to release those funds as soon as possible.

---
Arizona
Lutheran Advocacy Ministry Arizona, https://www.lamaz.org – Solveig Muus, Director
Lutheran Advocacy Ministry Arizona is currently tracking 37 bills of interest to people of faith in Arizona. In addition to the bills related to our specified policy priorities – Hunger and associated food security issues, Community-based Senior Support, and Fair and Equitable distribution of COVID-19 vaccines – we are watching movements on child and youth welfare, voting rights and redistricting, and education. We are encouraged to see that SB1176, a nutrition assistance bill to fund the Double Up Food Bucks Arizona program that essentially doubles the value of SNAP/EBT benefits at farmers markets, has a good chance of passing. This provides excellent support for healthy eating and local farmers!
LAMA also co-sponsored a second Advocacy 101 training workshop alongside Arizona Faith Network and Bread for the World to encourage people of faith to participate in their state government by expressing their views online using Arizona's Request to Speak (RTS) system about the bills they care about.
Lutheran Advocacy Ministry Arizona celebrated its first birthday in February. The LAMA Policy Council recently met to review this inaugural year's successes and gains as well as its opportunities for improvement. The Council is deeply grateful for the support and mentoring of the ELCA's state public policy offices, for the partnership of Lutheran Social Services of the Southwest, and for the many ministry partners who do the work of advocacy both nationally and in Arizona. Each partner has generously shared their passion and their experience with LAMA. It has been a very positive and productive first year, thanks be to God.

---
Colorado
Legislature Resumes: The Colorado General Assembly returned to session on February 16 after an extended recess to allow legislators to be vaccinated against COVID-19. The session is scheduled to proceed for its usual 120 days, ending on June 11.
Housing Bills: Lutheran Advocacy is joining the Renters' Roundtable to support several housing-related bills in this session. These include:
House Bill 1117, a measure to permit local governments to adopt inclusionary zoning ordinances to promote the construction of housing developments for low-income earners.
House Bill 1121, a measure to introduce parity between the eviction and rent-relief timelines for renters facing eviction, and to extend notice periods for tenants regarding rent increases and eviction summonses.
Other Priorities: We have adopted support positions on a number of other bills already this session and are gearing up to send out Action Alerts for timely hearings.
Petitions & Letters: Lutheran Advocacy signed a letter urging Gov. Jared Polis to prioritize providers of homelessness-related services in the distribution of COVID-19 vaccines. We also are actively encouraging the Joint Budget Committee to prioritize restoring the funding for application assistance for people seeking Social Security Disability Insurance.

---
New Mexico
1st Session of the 55th Legislature races towards the finish. The New Mexico Legislature's current 60-day session will come to an end on March 20. The last half of the session is characterized by days that start early and often don't end until close to or after midnight, including weekends. Though down significantly from previous 60-day sessions, over 800 bills have been introduced. Lutheran Advocacy Ministry – New Mexico (LAM-NM) has been tracking just under 90 bills, actively speaking in support or opposition to many.
LAM-NM Advocacy Agenda legislation highlights:
Affordable Housing & Homelessness – Support for legislation that would support and assist landlords, tenants, and mortgage holders impacted by the current pandemic and that help mitigate the looming eviction crisis.
Family-Sustaining Income – Support for tapping the state's $22 billion Permanent Fund for increased early childhood education, for capping short-term "store-front" installment loans at 36%, for utility relief and disconnection protection, and the protection of low-income New Mexicans from debt collections due to unpaid healthcare bills.
Healthcare – Support for emergency healthcare services and other health-related benefits for non-citizens, for the creation of a Healthcare Affordability Fund that would help offset the cost of health insurance for low-income New Mexicans, for the creation of Prescription Drug Affordability Board, and for legislation that would help identify those uninsured and connect them to free or low-cost health insurance plans.
Hunger – Support for additional emergency funding for New Mexico food banks, for studying college student hunger, and for the Food, Hunger, & Farm Act and the Healthy Food Financing Act, both of which would focus on identifying and addressing root causes of hunger in New Mexico.
Tax Policy – Support for legislation that would update the Low-Income Comprehensive Tax Rebate program, increases for and expansion of eligibility for the Working Families Tax Credit, for changes to tax policy, that would return progressivity to New Mexico's tax structure.
Criminal Justice – Support for ending the use and operation of private detention facilities, for repealing the cancelation of voter registration for felons after release, for decreasing the overuse of fines and fees in the criminal justice system, and for ending the revocation of driver's licenses as a penalty.
---
Ohio
Hunger Network in Ohio https://www.hungernetohio.com – Nick Bates, Director
HNO was pleased to join over 50 other individuals in offering testimony last month against SB 17. This proposal will hurt those who are in poverty and increase hunger across Ohio. It will add photo ID's to SNAP cards – causing confusion in the check-out line – add additional bureaucracy for counties and families in processing Medicaid and SNAP, punish workers for earning more money, and it will do nothing to reduce the unemployment identity theft that has hit Ohioans hard! Faith leaders across Ohio continue to push against this bill. Please write your Senator today and say NO to SB 17! 
Bishop Eaton to Preach at Ohio Advocacy Day on March 23: Budgets are Moral Documents. The Hunger Network is collaborating with the Ohio Council of Churches for a virtual advocacy day on March 23rd at 9:00am. We are pleased to welcome Bishop Eaton to our convening at 9am. This advocacy day will focus on our key priorities: Hunger, Housing, and Educational equity. Governor DeWine's budget is still being reviewed in the Ohio House and will move over the Senate shortly. Sadly, this budget is a very ordinary budget while Ohio faces extraordinary needs. During our advocacy day, we will encourage Ohio's legislators to have a bold vision for the future and craft a budget that will get us there! REGISTER HERE FOR ADVOCACY DAY!!!

---
Pennsylvania
Lutheran Advocacy Ministry- Pennsylvania (LAMPa) https://www.lutheranadvocacypa.org/ – Tracey DePasquale, Director
In February, LAMPa advocates celebrated and thanked lawmakers for the unanimous passage of emergency COVID relief as Act 1 of the new legislative session. On Feb.  5, Gov. Tom Wolf signed the law, directing more than $900 million in federal pandemic aid to struggling businesses, private schools, landlords and tenants unable to meet rent or utility bills because of economic downturn related to the failure to stop the spread of the disease.  Advocates had pressed for months to alleviate the suffering and anxiety in their communities. LAMPa urged the Public Utility Commission to extend the moratorium on shutoffs for low-income customers.
Hunger Advocacy Fellow Larry Herrold and Seminarian Margaret Folkemer-Leonard began organizing a statewide Rogation observance, gathering soil, stories, prayers, and pictures from sites across all seven synods and the two campuses of United Lutheran Seminary. Lutherans will be praying and acting for one another and their communities across divides of geography, ethnicity, age, race, ideology, wealth, immigration status and more in conjunction with the ULS convocation around "The Theology of Gathering." LAMPa will resource disciples for advocacy related to hunger, farming, environmental justice, and other concerns lifted in their prayers.
LAMPa hosted a Worship and Wonder Wednesday as part of a justice-related series in Lower Susquehanna Synod. Airing at the start of Lent and tied to the UN World Day of Social Justice, the panel discussion focused on our baptismal call to labor for justice, reflecting on wilderness and what it means to be a disciple in this democracy.

---
Texas
The Texas Legislature convened their biennial Legislative Session in January, and Texas Impact immediately began resourcing Texans of faith to engage in the process.
Texas Impact staff spent the month of February surviving the winter apocalypse and power grid failure while also preparing for the Texas Interfaith Advocacy Days- the largest interfaith advocacy gathering in the state, March 6-9. This year, the conference moved online and will highlight speakers and advocacy opportunities related to three priority areas: Health Insurance, Climate Resilience, and Elections.
Due to COVID-19 restrictions, online engagement will be more important than ever, and we continue to promote online content. This month, we partnered with Texas State Senator Nathan Johnson for a creative ten minute video explaining the importance of Medicaid Expansion in Texas.
Texas Impact continues to recruit Rapid Response Team members to make time-sensitive calls and Legislative Engagement Group members who commit to meeting and partnering with other advocates in their Texas House district to plan and prepare for monthly meetings with their representative and/or staff.
During the Legislative Session, the Weekly Witness podcast features a Texas faith leader to provide a "Weekly Word," a guest advocate discussing the "issue of the week," and Texas Impact staff providing a legislative update and action alert. For the second month in a row, February episodes had record numbers of listeners during the live Zoom recording and in downloads for the month.
In addition, our staff have been invited to present to a number of congregational events as they increase capacity for online programming. Texans of faith are mobilizing in exciting ways to participate with their representatives during this important season of democracy.

---
Washington
Faith Action Network https://www.fanwa.org/ – Paul Benz and Elise DeGooyer, Co-Directors
2021 Advocacy Days: FAN hosted three virtual Advocacy days with two pre-session trainings in January and February in Eastern WA, Olympia, and Central WA. At each event, we gathered inspiration from faith leaders and legislators on the importance of advocacy and putting our words into action, we broke out into groups by issue topic, and in Olympia we scheduled over 110 meetings with legislators by district! Between the three events, we had over 400 advocates attend who were eager to make progressive change in the legislative session and in their local areas. We missed seeing everyone in-person, but we were just as powerful behind our screens!

Legislative Successes: The 2021 WA Legislative session has just passed the cutoff date for bills to be voted out of their house of origin and onto the next chamber. We are excited that so many important bills are moving forward from FAN's legislative agenda, including:
Economic Justice and the Biennial Budget: A tax on Capital Gains, lifting restrictions for Temporary Assistance for Needy Families (TANF), greater equity and access to Community and Technical Colleges, emergency cash and food assistance during COVID, funding the Working Families Tax Credit, free and reduced lunches for all grades.
Policing and Criminal Justice reforms: de-escalation training and use of deadly force as a last resort, establishing an Office for Independent Investigations of police officers, prohibiting unnecessary police tactics, decertification and Criminal Justice Training Commission reforms, removing Driving While License Suspended (DWLS-3) as a criminal offense.
Housing and Homelessness: Eviction reform, Just Cause eviction reform.
Climate Justice: Clean Fuels Standards, the Healthy Environment for All (HEAL) Act
Immigrant, Civil, and Human Rights: Voting Rights Restoration for those with felony convictions, removing an exemption for undocumented workers in the Office of Civil & Legal Aid, prohibiting private prisons, prohibiting use of Native American mascots, establishing a paid Juneteenth holiday.
Health Care: Establishing a Universal Health Care Commission, creating public health districts.
---
Wisconsin
Lutheran Office for Public Policy in Wisconsin (LOPPW)  https://www.loppw.org/ – Cindy Crane, Director
Wednesday Noon Live: We received updates on lawmakers' efforts to limit voting rights, discussed national news, and held a special interview with Ruth Ivory-Moore, ELCA Director of Environmental and Corporate Responsibility.
Care for God's Creation: LOPPW continued planning for Faith Advocacy for Climate Justice event on March 18, at which time video testimonies on climate change were collected from our coalition members. Cindy spoke at two press conferences in Kenosha to support efforts of an ELCA pastor and six others in their fast for climate justice. She also advised the WI 7 on State Budget priorities. Both staff also helped plan a press conference and rally in Madison.
Trainings (Advocacy & Anti-sex trafficking): Kyle led a workshop on talking to youth about advocacy at a synod clergy conference gathering in the NWSW while Cindy led advocacy trainings- one at a Northwest Synod of Wisconsin-wide event, and another on anti-sex trafficking to a class at Edgewood College.
Immigration: Kyle is helping the SCSW organize Standing with our Neighbors on immigration reform.  The virtual event, taking place March 23 at 7:00 PM, is open to all.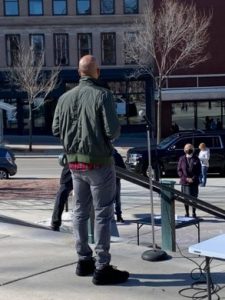 Hunger: LOPPW is part of the Better Choices Coalition examining issues related to hunger in the Governor's Budget and strategizing responses.
Criminal Justice: Kyle was part of the planning group for "Justice for Emerging Adults – Great Lakes Region: How does Wisconsin Compare," even helping to facilitate the workshop.
Lt. Governor Mandela Barnes speaking after
Bishop Joy Mortensen-Wiebe led us in an
opening prayer in front of the Capitol.