As the final election results in Georgia have been resolved, the 117th Congress has begun. Members were sworn into office on January 3, 2021. Check out some of the Lutheran legislators who will serve our country in this new Congress.
---
ELCA affiliated members Sen. Joni Ernst, R-Iowa; and Sen. Jeff Merkley, D-Ore.; successfully won their bids for re-election in November. They will be rejoining their other Lutheran incumbent colleagues in the Senate, including ELCA Members Sen. Sherrod Brown, D-Ohio; Sen. Martin Heinrich, D-N.M.; and Wisconsin Evangelical Lutheran Synod (WELS) member Sen. Ron Johnson, R-Wis. Also in the Senate, Lutheran Church–Missouri Synod (LCMS) member Cynthia Lummis, R-Wy.; joined the chamber for the first time, while LCMS member Sen. Cory Gardner, R-Colo.; was not successful in his bid for re-election. Sen. Lummis rejoins Congress after retiring from the House of Representatives in 2016.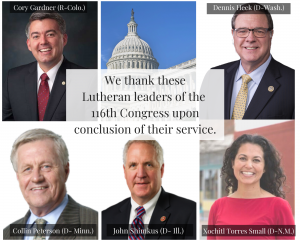 Four Lutheran members of the U.S. House of Representatives will be exiting at the start of the 117th Congress. Lutheran members Rep. Denny Heck, D-Wash.; and Rep. John Shimkus, R-Ill.; announced their retirements last year and did not seek re-election. ELCA-affiliated Congressman Heck ran and won his bid for Lieutenant Governor of Washington State. Other members, Rep. Collin Peterson, D-Minn.; and Rep. Xochitl Torres Small, D-N.M.; did not win their bids for re-election in 2020. We wish them all the best of luck in their next endeavors and appreciate their dedication to public service.
Returning ELCA members to the House include Rep. John Carter, R-Texas; Rep. Zoe Lofgren, D-Calif.; Rep. Ed Perlmutter, D-Colo.; Rep. Scott Peters, D-Calif.; Rep. Chellie Pingree, D-Maine; Rep. Lloyd Smucker, R-Pa.; and U.S. Delegate Stacey Plaskett, D-V.I. Other self-described Lutherans who will be returning are Rep. Kelly Armstrong, R-N.D.; Rep. Jack Bergman, R-Mich.; Rep. Angie Craig, D-Minn.; Rep. Ron Estes, R-Kan.; Rep. Tracey Mann, R-Kan.; Rep. Donald Norcross, D-N.J.; and Rep. David Trone, D-M.D. Re-elected LCMS representatives Rep. Larry Bucshon, R-Ind.; Rep. Glenn Grothman, R-Wis.; and Rep. Jim Hagedorn, R-Minn. WELS member Rep. Ron Kind, D-Wis.; also will rejoin the House.
---
Get a jump start on building relationships with your lawmakers. "Make Sure Your Member of Congress Knows YOU!" shares ideas from the Washington Interfaith Staff Community (prepared in 2019).
Find a full list of lawmakers and their religious affiliations at Pew Research Center.