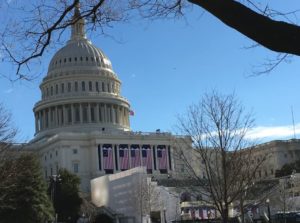 On January 20, our nation marked the peaceful transition of power from one president to the next. As this new era begins, the ELCA Advocacy network is already engaging with our nation's elected leaders on important issues affecting our communities.
The ELCA ministry of advocacy is rooted in faith that is active in love; love calls for justice in the relationships and structures of society. (The Church in Society: A Lutheran Perspective, 1991) This affirmation grounds the ELCA Advocacy priorities for engagement with the 115thCongress and Trump administration. Look for upcoming alerts and opportunities to participate in faithful witness and action to advance greater justice, peace, and care of creation.
---
ELCA ADVOCACY'S MAJOR PRIORITIES IN 2017:

CARING FOR GOD'S CREATION
Protect God's creation from the impacts of climate change, including reducing greenhouse gas emissions while ensuring a just transition to renewable energy occurs and all Americans have access to clean water.
PROVIDING HOSPITALITY TO OUR NEIGHBORS
Address the urgent need for protection of vulnerable migrant children and families from Central America while also focusing on long-term solutions that create safe, sufficient and sustainable livelihoods for all.
CONCERN FOR OUR BROTHERS AND SISTERS LIVING IN POVERTY AND STRUGGLING WITH HUNGER
Maintain and expand federal programs that provide food assistance to children and families in need as a first step toward ending hunger in the United States. 
Act to ensure all people have access to affordable, accessible and quality healthcare.
Increase support for programs that seek to end homelessness and focus on uplifting community members who are most heavily impacted, including seniors, rural residents, LGBTQ youth, ex-offenders seeking re-entry, and low-income families. 
Ensure the U.S. government continues to fund humanitarian relief and development programs that address extreme hunger and poverty across the globe.
SEEKING JUSTICE AND PEACE FOR ALL PEOPLE
Prevent gender-based violence in the United States and around the world. 
Address unjust systems of mass incarceration as part of our commitment to challenge systems of racial and economic injustice. 
Call for a peaceful and lasting negotiated resolution to the Palestinian Israeli conflict.
---
ELCA Advocacy's 2017 priorities reflect the ELCA's deep commitment to act and speak for a hunger-free world where all God's children can thrive. In addition to these primary areas of engagement, ELCA Advocacy will monitor and work on ongoing priorities and remain flexible in response to legislative opportunities as they arise.
In shepherding our 2017 priorities, your advocacy staff will initiate and steward relationships on Capitol Hill, provide education and timely opportunities for action through e-alerts, coordinate with interfaith and ecumenical partner organizations and work with ELCA ministries and Bishops to maximize their voices for impact in the new session of Congress.
How does ELCA Advocacy determine our priority issues?
ELCA Advocacy priorities are grounded in the experience and concerns of ministries and synods and are framed by our social teaching documents and theological commitments. Top tier issues are evaluated for their connection to the goals of ELCA World Hunger, examined for potential to further racial and gender justice and assessed according for the potential for action by the ELCA Advocacy Network, Bishops' Ready Benches.