"Happy are those who consider the poor, the Lord delivers them in the day of trouble. The Lord protects them and keeps them alive; they are called happy in the land. You do not give them up to the will of their enemies." – Psalm 41:1-4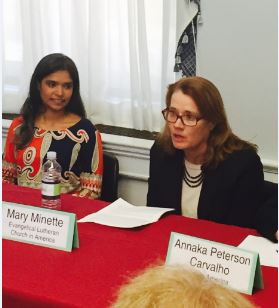 Last week I was invited to speak at a Congressional briefing on the International Climate Negotiations in Lima, Peru, which are set to take place in December 2014. During this briefing, participants discussed the September Climate Leaders' Summit in New York and looked to future opportunities for governmental, private sector, and civil society cooperation on climate change. I was asked to give the faith community's perspective on the upcoming meeting in Lima. For this month's reflection, I would like to share with you my statement from this event:
The faith community is pretty diverse, but one of the things we have in common is an increasing concern about the impacts of climate change. Why? A common element in many faith traditions is a sense that the earth is God's creation and that we are called to be good stewards—that sense of stewardship leads us to be concerned by the changes that all of us can observe in weather patterns around the world, changes that scientists tell us are the result of human-caused climate change.
Another common element shared by numerous faith traditions is concern for our neighbors, and particularly for the most vulnerable—children, the elderly, those who live in poverty. We see that climate impacts such as more severe storms, long term drought, flooding, sea level rise, are falling hardest on those who lack the means to adapt and recover—people in developing nations and in low income communities in developed nations. People of faith are among the first to respond when disaster strikes, and among the last to leave as lives are rebuilt.  Faith-based organizations are serving in communities in New Jersey where elderly residents on fixed incomes are struggling to rebuild their lives post-Sandy.  Faith-based organizations are working in the Philippines to help communities rebuild from the devastation of Supertyphoon Haiyan.
We know how climate change is impacting our neighbors, and who bears the greatest responsibility—not those who are suffering the most from its impacts, but rather those of us who live in developed countries.
Both our sense of failure as stewards of God's earth, and our sense of responsibility for those who are suffering from the impacts of climate change and for climate change itself lead us to see this as perhaps the greatest moral challenge of our time.
The faith community has been engaged in the UNFCCC process since the very beginning—the World Council of Churches has sent a delegation to every COP; faith based development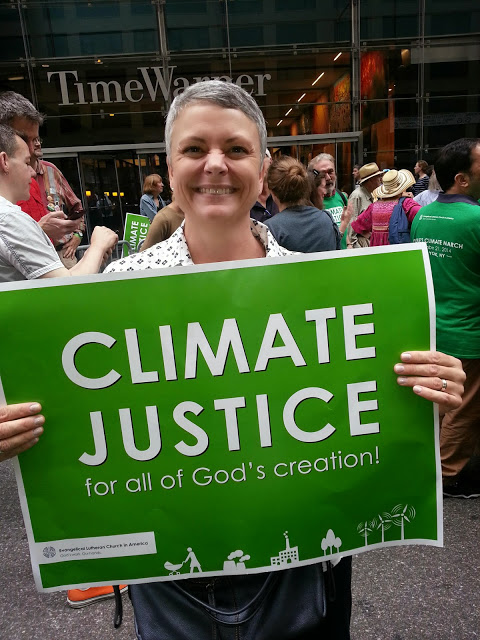 NGOs have been engaged for many years as well. However, with the Climate March in New York this past September, faith engagement and support for a global climate change agreement may have reached a tipping point. Thousands of people marched in NY out of their faith—we crowded into an entire city block during the march staging.  Lutherans and Hindus, Muslims and Methodists, Catholics and Baptists joined together out of a shared concern for our future.
Following the summit, several faith based campaigns were launched to mobilize around the need for a global agreement on climate change: the OneVoice campaign will hold vigils around the world during Lima in a campaign called "Lights for Lima"; the Lutheran World Federation has an ongoing "Fast for the Climate" campaign aimed at the Paris agreement; and ACT Alliance, a faith-based global relief and development network has just launched its "ACT now for climate justice" campaign.
Our concerns for this process are not very different from what you've already heard, although we are committed to making sure that the concerns of the most vulnerable are front and center, and in particular that funding for and attention to adaptation is sufficient. The equal division of resources between adaptation and mitigation in the Green Climate Fund is a great start, but we are committed to making sure that financial pledges to the fund are robust and to making sure that adaptation is a prominent feature of the agreement in Paris next year.
As people of faith, we want to see world leaders assume moral leadership in confronting a problem that will impact all of us, but not all of us equally, in ways that reflects shared concerns but differing responsibilities and abilities. The US/China agreement is an example of the type of leadership we believe is necessary—the largest historic emitter joining with the largest emerging emitter to pledge actions that will begin to reduce their emissions in ways that reflect their differing abilities and levels of responsibility.  Another example is contributions to the Green Climate Fund—the US just announced a substantial pledge to the fund; Mexico, an emerging economy, made a smaller pledge to the fund in September during the Climate Summit. Both countries are showing moral leadership by pledging to help more vulnerable countries.
In closing, I offer a question asked by Yeb Sano, a climate negotiator for the Philippines who has become one of the strongest voices for moral leadership within the UNFCCC process, in speeches in both Doha in 2012 and Warsaw in 2013:
​"I ask all of all of us here, if not us, then who? If not now, then when? If not here, then where?"