Guest blog posting by Eric Sigmon, director for advocacy, Lutheran Immigration and Refugee Service. This posting highlights the human dignity issues with regards to welcoming refugees into the United States.
On June 20th, the United States will celebrate World Refugee Day to raise awareness about the estimated 15.2 million refugees around the world and to celebrate the wonderful contributions refugees provide to communities across the country.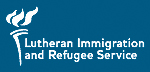 Lutheran Immigration and Refugee Service (LIRS), a nationally recognized organization based in Baltimore, MD, welcomes refugees and migrants on behalf of the Evangelical Lutheran Church in America, the Lutheran Church-Missouri Synod and the Latvian Evangelical Lutheran Church in America. LIRS partners with the federal government, local refugee resettlement partner organizations, and churches and volunteers to help refugees in the United States learn English, enroll their children in school, find jobs and become self-sufficient.  Since 1939, LIRS has welcomed over 372,000 refugees to the United States.
Here is a snapshot of the refugee populations LIRS currently assists:
Iraqis: LIRS has a long history of resettling Iraqi refugees, with a larger influx of arrivals in recent years. Many Iraqis have arrived to the United States through a special program to protect Iraqis who have been targeted as a result of their work and affiliation with the U.S. military.
Burmese: The Burmese are one of the largest and most diverse groups currently being resettled by LIRS. Since 1962 Burma has been under military rule. The oppression of minority ethnic groups has been brutal. Many Burmese refugees have lived in "temporary camps" for two decades or more. Many children and young people are born into these camps and do not know about life outside of these camps.
Bhutanese: Bhutanese refugees are mostly ethnic Nepalis from southern Bhutan, known as "Lhotsampas," who have lived in camps in Nepal for more than 16 years. The Lhotsampas coexisted peacefully with the majority population, the Druk Buddhists, until the 1980s. Protests and clashes with the police culminated in the forced expulsion of Lhotsampas from the country in 1990.
Somalis: In 1990, after the civil war in Somalia, the Somali refugee crisis began and it continues today. Many Somali refugees have lived in camps in Kenya and Ethiopia for protracted periods with no durable solution available other than third country resettlement.
Eritreans: As a result of the Ethiopia-Eritrea war from 1998-2000, Eritrean refugees have sought protection in neighboring countries. Political tensions and increasing repression continue in Eritrea, with the targeting of independent evangelical groups. Most of the refugees LIRS currently serves practice Christianity or Islam.
LIRS also continues to serve refugees from Iran, Afghanistan, Sudan, the Central African Republic, the Democratic Republic of the Congo, Rwanda, and the former Soviet Union. In honor of World Refugee Day, please take time to pray, volunteer with a local refugee resettlement organization, or visit the LIRS website for further information:
 LIRS Advocacy Page on Refugees
 LIRS Work to Welcome Refugees
 Frequently Asked Questions About Refugees
 LIRS statement — Improving the Welcome for Refugees Resettled to the United States
 LIRS statement — LIRS Supports Legislation to Provide Permanency to Liberian Migrants in the United States
 LIRS statement — The Impact of Budget Proposals on Justice, Job Creation, Public Safety, and Civil Liberties