"Be strong and bold; have no fear or dread of them, because it is the Lord your God who goes with you; he will not fail you or forsake you."
– Deuteronomy 31:6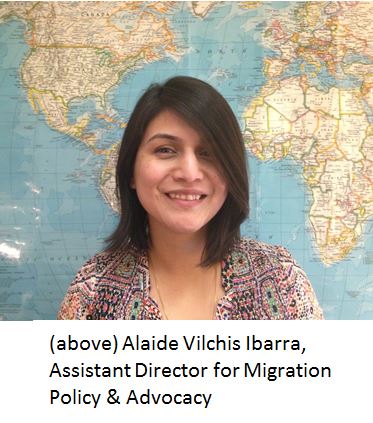 For many Christians, Lent is a time of spiritual renewal and preparation for the resurrection of Jesus Christ. My preparation had to do with being a witness to the causes of migration in Central America. A few weeks ago, I traveled with ELCA leaders to Guatemala, Honduras and El Salvador to learn more about the reasons why children and families are fleeing their countries of origin and to better understand what happens when they are deported. What we saw and heard continues to stay with me – not only because the violence faced in these countries is worse than I imagined, but also because many of those we met stood with strength and boldness through incredibly difficult situations. We heard over and over how faith and belief that God is with them provides this strength.
As we listened to stories, met with government and non-government officials and prayed with people in these communities, I kept thinking about my favorite song about Latin America (watch the amazing video here) that includes the line "un pueblo sin piernas pero que camina," which translates to "a community without legs but that still walks." I have always thought that this line the best way to summarize the communities in Latin America that I grew up in. They were communities where many people went hungry or didn't have proper housing or running water, where many felt their voice didn't count. But still, people helped each other and many worked to fix what they saw was broken. They walked.
In the communities we visited, I witnessed similar experiences. People face violence from gang members, military, police and other government forces that work with criminals or narco-traffickers. Many of the members in their communities also live in poverty and are forced to pay an ongoing fee to gangs to avoid being targeted. Yet many of the people we heard from also highlighted the beauty of their countries and their appreciation for the people. Many were also working to reform the systems that keep violence and poverty alive or the corruption that feeds those same systems. They walk.
It always troubles me when I write about the strength of communities without also pointing out that there are many people who feel defeated. We also met with people who weren't sure what they could do, and the toll of the violence weighed on them heavily. We prayed with them and I, at times, still feel defeated with them when I think of all of the forces that work together to push people out of their communities of origin while also working to strip them from their rights as they journey.
All the people we met knew someone who had migrated and many knew people who left their home because they were going to be killed if they didn't. These people left their communities and sometimes their countries to survive. They left in the middle of the night and many walked through areas controlled by narco-traffickers. Some knew of the dangers that would face them in Mexico, and some didn't. They had hopes of a better life, but also a safe life. Many of them were returned, most from Mexico, but continued to face the same country they had to leave.
Let us walk together, and with God, for positive change.
I left with a sense that we all need to walk together in order to change these conditions that force people to migrate and cause governments to ignore human dignity. I am driven to learn from experts, service providers and people in these countries and help amplify the voices of my brothers and sisters. Our travel to Central America was a time of preparation to be bold in our witness to the stories. Please join us in bearing witness by signing up for updates from our network, where you will hear more about the work that came out of our trip. Also, please continue to pray with your congregation and community for the women and children who are forced to migrate.
May God walk with us as we continue letting decision-makers know the stories we heard. May God walk with those we met as they continue to fight for safer countries and dignity for all people. May we all be strong and bold.