Following are updates shared from submissions of the Lutheran Office for World Community and state public policy offices.
Find a map and full list of ELCA affiliated SPPOs using our state office map.
U.N. | Colorado | Kansas | Minnesota | Pennsylvania | Texas | Washington | Wisconsin
---
U.N.
Lutheran Office for World Community, United Nations, New York, N.Y. https://www.elca.org/lowc –Dennis Frado, Director
International Dialogue on Migration: Christine Mangale, LOWC Program Director, attended virtually the first International Dialogue on Migration (IDM) session of 2021 from 25 – 27 May 2021. Speakers included H.E. Volkan Bozkir, the President of the 75th Session of the United Nations General Assembly; H.E. Amina J. Mohammed, the Deputy Secretary-General of the United Nations, H.E António Vitorino, the International Organization for Migration (IOM) Director General, H.E. Josaia Voreqe Bainimarama, the Prime Minister of Fiji; H.E. Nasser Bourita, the Minister of Foreign Affairs, the African Cooperation and Moroccans Living Abroad of the Kingdom of Morocco; Ms. Runa Kahn, the Founder and Executive Director of the Friendship NGO, and several other government, experts, and practitioners.
The focus theme was "Accelerating integrated action on sustainable development: migration, the environment and climate change." The theme was building on the 2008 and 2011 IDM meetings. This year, the discussions explored the links between the focus theme and issues such as COVID-19 and the humanitarian, development, and peace nexus. Actions were emphasized to mitigate the impacts of climate and environmental change and to implement several global frameworks, such as the 2030 Agenda for Sustainable Development, the Global Compact for Safe, Orderly and Regular Migration (GCM), the United Nations Framework Convention on Climate Change (UNFCCC), the Paris Agreement on Climate Change, and the Sendai Framework for Disaster Risk Reduction.
The IDM session also aimed to contribute and galvanize momentum towards the 26th Conference of the Parties of the United Nations Framework Convention on Climate Change (UNFCCC COP26) that will take place in Glasgow in November 2021, as well as preparations for the 2022 International Migration Review Forum (IMRF).
Israeli-Palestinian Conflict: During May, LOWC Director Dennis Frado focused largely on the building tensions between Israel and Palestinians. On the 5th, Frado joined other representatives of member organizations of Churches for Middle East Peace in a meeting with State Department officials to discuss the developing situation. Working alongside Peace Not Walls staff colleagues, a special action alert was issued on May 11th which urged ELCA members to ask President Biden to tell Israel it must halt the illegal removal of East Jerusalem families from their homes which was originally scheduled for early May, and to affirm that Israel must respect the Status Quo agreement and holy sites in Jerusalem.

---
Colorado
Legislature Concludes: The Colorado General Assembly has come to the end of its 2021 legislative session. We advocated for major changes to Colorado's tax code, renter's rights, agricultural worker rights, environmental issues and more. Some of the major victories this session:
The Tax Fairness for Coloradans package (House Bills 1311 and 1312) passed both chambers. This is the first major tax reform adopted by the legislature in a long time, closing tax loopholes for corporations and the wealthy while permanently investing the savings into funding the state Child Tax Credit and expanding the state Earned Income Tax Credit.
The Agricultural Workers' Rights Bill (Senate Bill 087) will finally entitle agricultural workers to the protections of the Colorado Labor Peace Act, including overtime pay, rest breaks, and more.
The Colorado Office of Financial Empowerment will be created by Senate Bill 148, a measure to extend practical tools and resources to communities that have historically lacked access to mainstream (and non-predatory) credit and banking services.
Rights in residential lease agreements will be expanded by Senate Bill 173. The mismatched timelines between rental assistance and eviction have led to further housing inequities, and the bill will attempt to rebalance the scales to help renters remain housed and landlords remain solvent.
Check out lam-co.org for our 2021 session recap later this month!
Director's Sabbatical: LAM-CO Director Peter Severson will be on sabbatical until late September. During the summer, members of the LAM-CO Policy Committee will keep our network informed of opportunities for action, organizing, and education via social media and our synodical communication network.

---
Kansas
The Kansas legislative session ended with the so-called veto session in early May. This was a very challenging year, with a newly strengthened conservative majority determined to enact some of its long-held priorities, as well as challenging the Democratic governor at every turn – especially in regard to pandemic-related emergency powers.
We had hoped that we might see movement on criminal justice reform this year, with two commissions (a bipartisan criminal justice commission and a governor's task force on police reform) putting forward over a dozen bills. In the end, only one of these bills even had a hearing.
KIFA opposed a bill that would criminalize protest at fossil fuel facilities, including pipelines. This was part of a national effort by the fossil fuel industry to preempt protests such as the one currently taking place against Line 3 in Minnesota. We were able to garner some national media attention, as well as the involvement of the Native tribes in Kansas. The bill was significantly watered down in committee — for one thing, organizations, including churches, that help arrange or facilitate protests will not be liable to conspiracy prosecutions — but it passed.
We worked to sustain four vetoes issued by Governor Kelly: on another tax cut primarily benefiting corporations and upper-income people; on a bill that limits advanced voting; on a bill lowering the age for the conceal carry of handguns to 18; and on a bill that would ban trans girls from participating in girls' sports on the high school and college levels.  In the end the only veto that was sustained was the trans athlete bill; the rest were overridden.

---
Minnesota
Legislative Session: The official legislative session ended with very little agreement and little accomplished, but not for lack of advocacy and prayer by Lutherans and our partners.
Budget Levels: On the last official day of session, Senate Majority Leader Gazelka, House Speaker Hortman and Governor Walz finally announced an agreement on overarching budget and committee area budget targets. Without time for nitty-gritty negotiations on program specifics, both chambers adjourned in anticipation of a special session.
Special Session: The Special Session starts Monday, June 14. As of now, budget specifics and policy language are still not settled for 12 of 13 budget bills.
Clean Energy: Some small energy programs will likely move forward, but several good parts of both House and Senate Energy bills will not be included due to resistance by some senators – especially for clean transportation. Thankfully, proposals to take us backwards on electric emissions will also not likely be included.
Housing: Good news! Between drafts of this update, some funding for emergency shelters and services went from ridiculously low one-time funding to base funding. We hope this continues to be the case. However, an off-ramp for the rental eviction moratorium remains unresolved as one of the most contentious housing debates.
LA-MN Introductory Video: Have you checked out our 3-minute video yet? Please consider ways to use it in your congregation and share it widely to help us recruit others for advocacy action!
---
Pennsylvania
Lutheran Advocacy Ministry- Pennsylvania (LAMPa) https://www.lutheranadvocacypa.org/ – Tracey DePasquale, Director
In May, LAMPa staff happily expanded in-person activities, including teaching at St. Matthias in Carlisle and visiting and planting at Lutheran Camping Corporation's Wittel Farm as part of LAMPa's ongoing rogation project. Director Tracey DePasquale made her first in-person legislative visits in the Capitol in over a year, meeting with House and Senate committee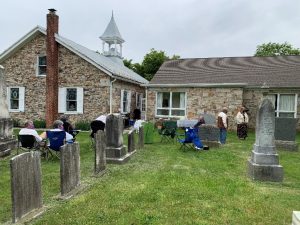 leaders to press for a plan to remedy the state's inequitable school funding system.
Staff prepared materials for synod assemblies, including guidance to help congregations prevent but prepare for a possible surge in homelessness as the eviction moratorium ends. Hunger Advocacy Fellow Larry Herrold put his production skills to use as LAMPa partnered with Lutheran Disaster Response for a video describing how our ministries accompany disciples in "loving the land," one of the three themes of the Northeastern Pennsylvania Synod's gathering, and a second one for SWPA Synod's assembly.
Further embracing t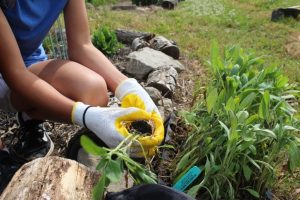 he opportunities presented by virtual gathering, LAMPa hosted models of accompaniment ministry presentations by Bridge of Hope and Open Table, which is at the heart of advocacy. We rejoice in the follow-up engagement of congregations who want to see their service ministries move from transactional to transformational. LAMPa also hosted a webinar on the state of hunger programs and funding in the state as a basis for informed advocacy as we enter the final weeks of budget season.  Staff also participated in meetings of the Pennsylvania Council of Churches Commission for Public Witness, the Interfaith Justice Coalition, and the Pennsylvania Immigration and Citizenship Coalition.

---
Texas
The 87th Texas Legislature adjourned Sine Die Monday, May 31 with drama that garnered national attention and expectations that the Governor will call a Special Session later this year.
Texas Impact resourced Texans of faith through three ongoing programs:
Weekly Witness: a podcast recorded during the legislative session in front of a webinar audience featuring a "topic of the week," legislative update and action alert.
Rapid Response Team with 500+ members committed to making time-sensitive calls to representatives; and
Legislative Engagement Groups of members coordinating with other advocates in their legislative district to build intentional relationships with representatives and their offices. Texas Impact staff held weekly briefings for LEG members during the legislative session.
The Texas Impact network prioritized legislation in the following five categories:
Health Coverage
Voting Rights
Climate Justice
LGBT Equality
Criminal Justice Reform/George Floyd Act
The Legislative Wrap-Up will be available soon; following the veto period, it will be featured in June/July Weekly Witness episodes.
In addition to preparing for a possible special session on voting rights, energy, and other issues, Texas Impact staff will spend the summer speaking with congregations and groups about the 87th Texas Legislature and organizing regional events to recruit and strengthen Legislative Engagement Groups. We are also excited to partner to recruit a new ELCA Hunger Advocacy Fellow! Apply here.

---
Washington
Faith Action Network https://www.fanwa.org/ – Paul Benz and Elise DeGooyer, Co-Directors
Celebrating FAN's 10th Birthday! Since June 11, 2011, Faith Action Network has grown from an infant born after long labor to a still-growing, multifaith body of communities and individuals – Christian, Jewish, Muslim, Buddhist, Sikh, Quaker, and Unitarian – from Pullman to Port An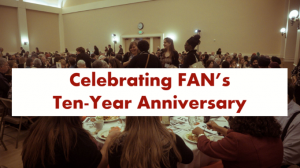 geles. Together we have successfully advocated for public policy that upholds justice and compassion and lived into our calling to be "a partnership for the common good." We are thankful to our 160 faith communities, many coalition partners, and thousands of advocates who have grown and sustained our work!
Spring Summits: FAN hosted two Spring Summits – one in May and one in June, to connect with our advocates across the state, celebrate legislative wins from the past session, and hear what issues FAN should focus on throughout the year. We were joined virtually by 150 advocates who met in breakout groups by region and issue topic. We look forward to connecting advocates with their legislators during the interim this summer to move our discussion into action!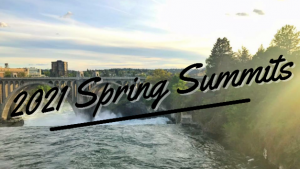 Post-Legislative Session: Now that so many bills have passed in the virtual Washington State legislative session, the important work of implementing those bills begins. FAN is particularly involved in the implementation of the Voting Rights Restoration bill for people coming out of prison, and the many police reform bills we worked to pass with the Washington Coalition for Police Accountability. Our Economic Justice Work Group is also engaging our network with the bipartisan legislative Tax Structure Work Group to chart a path forward to improve the state's regressive tax code.

---
Wisconsin
Lutheran Office for Public Policy in Wisconsin (LOPPW)  https://www.loppw.org/ – Cindy Crane, Director
The Wisconsin State Budget: The State Legislature is in the process of finalizing the budget. It is unclear whether the governor will entirely or partially veto it. We expect some of our priorities that will likely to be left out of the budget to return in separate bills. Also, the director has been in dialogue with Senator Baldwin's office about possible federal actions to help individuals in states that have refused federal dollars for Medicaid (BadgerCare).
Care for God's Creation: The director consulted with a new faith group that has started a care for God's creation group in Milwaukee and invited them to join the Wisconsin Climate Table. She has also committed to returning to the leadership team of the Table for one year.
Advocacy Training: LOPPW led a virtual presentation to the lay school of ministry in the East Central Synod.
Youth: We organized our second meeting to begin planning for high school youth advocacy events. Members from all six synods have shown interest.
Raise the Age (Juvenile Justice): Kyle Minden has continued taking the main lead in our coalition to return 17-year-old youth to the juvenile system. Together with the Wisconsin Catholic Conference and three other organizations we met with the Senator who is the lead in writing a bill that will approach what we are advocating for.
Immigration: Minden helped organize a second presentation on immigration with the South-Central Synod Immigration Task Force. AMMPARO's Mary Campbell was the presenter.