U.N. | California | Colorado | Kansas | Minnesota | Nevada | New Mexico | Ohio | Pennsylvania | Washington| Wisconsin
---
Lutheran Office for World Community, United Nations, New York
Dennis Frado, director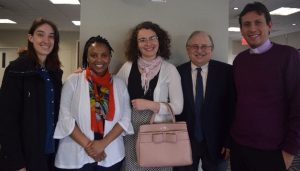 LOWC staff and Bishop Atahualpa Hernández of the Evangelical Lutheran Church in Colombia
INTERCHURCH DIALOGUE FOR PEACE IN COLOMBIA CALLS FOR FULFILLMENT OF 2016 PEACE ACCORDS:The Lutheran Office for World Community joined the World Council of Churches, the World Communion of Reformed Churches, and the Presbyterian Church U.S.A. in co-sponsoring a panel discussion by members of the Interchurch Dialogue for Peace in Colombia (DiPaz in Spanish) on May 29. The panel was led by Bishop Atahualpa Hernández of the Evangelical Lutheran Church of Colombia and included a representative of a women's association (name withheld for safety reasons) and the Rev. Milton Mejía of the Presbyterian Church of Colombia.DiPaz has strongly supported the 2016 peace accords between the government and the Revolutionary Armed Forces of Colombia (FARC in Spanish) but is currently concerned that President Iván Duque's government is not implementing the agreement fully. They are concerned about war victims' rights, intimidation of and attacks on human rights defenders, rural reform, legal attempts to unilaterally modify the accords, political participation, disarmament and reintegration of former FARC guerillas, and other issues inhibiting a just peace and reconciliation. The delegation also urged the U.N., especially the Security Council, to continue its role in the verification of the accords, affirmed a planned council visit in July, and asked for support from the international community to have the government resume its dialogues with the other major insurgency group, the National Liberation Army.The delegation met with the UN Department of Political and Peacebuilding Affairs and Member States of the Security Council.
KWIBUKA 25 – "REMEMBER, UNITE, RENEW: PRESERVING MEMORY AND UPHOLDING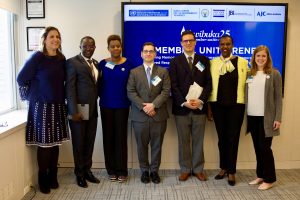 Permanent Mission of Rwanda to the United Nations
HUMANITY THROUGH COOPERATION AND SHARED RESPONSIBILITY IN FIGHTING IMPUNITY AND GENOCIDE DENIAL.": On May 20, the Permanent Mission of Rwanda to U.N., the American Jewish Committee, the U.N. Office on Genocide Prevention, the Global Centre for the Responsibility to Protect, and the New York Bar Association organized a conference on the 25th commemoration of the 1994 genocide against the Tutsi in Rwanda.In her opening remarks, Ambassador Valentine Rugwabiza highlighted the cost of indifference to genocide and the collective need to speak out: "It is our collective responsibility to stand and act for stigmatized communities who are seen as less deserving of life."During two panels different aspects of genocide prevention, fighting impunity and genocide denial were discussed. Simone Monasebian, director of the U.N. Office on Drugs and Crime emphasized that genocides are processes that start with an increasing use of hate speech, which dehumanizes people. This was reiterated by Zachary D. Kaufmann, lecturer in law, who added that genocides are preventable and that female leadership and women's representation in political systems are crucial concerning prevention.On the second panel Celine Uwineza and Consolee Nishimwe, two survivors of the genocide against the Tutsi in 1994, talked about their journeys after the genocide and about the importance of sharing witness's stories. Rugwabiza reminded the audience that accountability is an effective means of prevention.
HIGH-LEVEL EVENT ON CULTURE AND SUSTAINABLE DEVELOPMENT: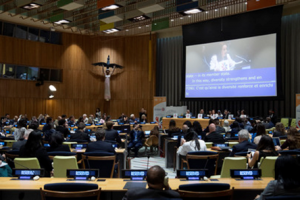 Photo: U.N. Library
On May 21, a high-level event was held at the U.N. Trusteeship Council Chamber on culture and sustainable development. This full day of thematic debates coincided with the World Day for Cultural Diversity for Dialogue and Development, a day of recognizing the values of cultural diversity and to advance the goals of the UNESCO Convention on the Protection and Promotion of the Diversity of Cultural Expressions adopted in 2005. The event on culture and sustainable development included a roundtable discussion on cultural heritage and its mobilization of people toward sustainable development and two panels highlighting the importance of cultural education and culture as a means of empowerment and equality. To achieve the 2030 Agenda for Sustainable Development, the transformative power of culture has been recognized as a key enabler in providing sustainable solutions to local and global challenges.
---
California
Regina Q. Banks, Lutheran Office of Public Policy- California (LOPP-CA)                    loppca.org
LUTHERAN LOBBY DAY 2019 WAS A HUGE SUCCESS: About 105 Lutherans from throughout our diverse state gathered in Sacramento on May 29 to talk to policy makers about childhood poverty, a MediCal expansion to cover undocumented adults and water justice. We assembled at St. John's Lutheran Church in Sacramento to hear the gospel preached by the Rev. Amy Reumann, director of ELCA Advocacy, commune together and learn advocacy tips and strategies before heading to the Capitol for scheduled meetings. We met with 52 (of 120) state legislator offices in four hours! Some were short, uplifting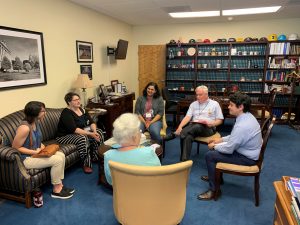 meetings of like-minded people; others were more contentious. But all participants had a meaningful day putting faith into action. LOPP-CA would like to extend a huge thank you to everyone who helped make the event a success. We'd especially like to highlight Bishops Guy Erwin of Southwest California, Mark Holmerud of Sierra Pacific and Andy Taylor of Pacifica Synod who attended and committed themselves and their staffs to highlighting the role of advocacy in the life of the church. St. John's and its pastor, the Rev. Frank Espegren, who were a study in hospitality for the day; and our ministry partners throughout the capitol community that made the vision for the day come to life. It was truly a blessed time in the Lord, and it's not too soon to plan to join us next year!
---
Colorado
Peter Severson, Lutheran Advocacy Ministry–Colorado                                                  lam-co.org
END OF SESSION: The Colorado General Assembly has adjourned for 2019. Our complete legislative wrap-up is now available at lam-co.org. Below are highlights of passed bills from this session in the key areas of our policy agenda.
Hunger: House Bill 1171 will extend the School Lunch Protection Act through high school, providing a state copay for reduced-price lunches. House Bill 1132 will incentivize the use of locally-grown food, reducing the carbon footprint of school meals.
Housing: House Bill 1118 will increase the time a tenant has to cure a minor lease violation, while Senate Bill 180 will establish an Eviction Legal Defense Fund to help keep tenants in their homes with balanced legal representation in eviction proceedings.
Economic security: House Bill 1013 will extend a child care expenses tax credit for low income families. We supported a bill to establish paid family leave in Colorado, but it was amended to a study.
Criminal justice: House Bill 1025 will officially "Ban the Box" in Colorado, allowing job applicants with a criminal history to get their foot in the door for an initial job interview as they reintegrate into society.
Environmental justice: House Bill 1261 will implement concrete climate action goals to reduce carbon and other greenhouse gas pollutants in Colorado.
We are grateful to all the advocates who took action this year! We look forward to continuing our stakeholding work with legislators and faith communities over the summer and fall, particularly around paid leave and abolishing the death penalty.
---
Kansas
Moti Rieber, Kansas Interfaith Action (KIFA)                                          kansasinterfaithaction.org
KANSAS LEGISLATIVE SESSION ENDED: The Kansas legislative session ended May 29. This year we had a new Democratic governor while legislative leadership remained in conservative hands. KIFA's major priority this year was Medicaid Expansion, which was passed 3 years ago but vetoed by the then-governor. With clear legislative majorities in support and a supportive governor, the only thing that stopped it was legislative leadership, which refused to give the bill a hearing or a floor vote. The House managed through procedural means to pass it, but the Senate stayed obstructive. Late in the session protests escalated until cracks appeared in the Republican caucus and a vote to proceed over leadership's objections failed by one vote in the Senate. This is disappointing (and will cause an estimated 600 deaths of people without health insurance) but we'll be working on the issue during the legislative off-season.
KIFA also helped to sustain the governor's veto of a bill that would have given tax cuts primarily to multinational corporations and the wealthiest Kansans, especially ill-advised as we try to climb out of the budgetary abyss caused by the "Brownback tax experiment." We are on two coalitions, on criminal justice reform and voting rights, led by the Kansas ACLU, and we also testified in favor of a bill that protects domestic violence survivors in rental property relationships, which passed, and against a bill to lower the concealed carry age to 18, which didn't.
---
Minnesota
Tammy Walhof, Lutheran Advocacy- Minnesota (LA-MN)               lutheranadvocacymn.org
MINNESOTA LEGISLATIVE SESSION: Significant disagreements between the House and Senate bills meant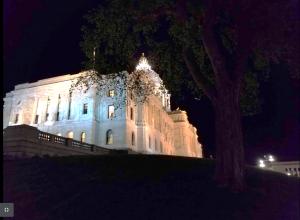 negotiation meetings at all hours in the final official weeks of the session. Committees kept meeting "unofficially" following the May 20 "end" and then the legislature kicked off Memorial Day weekend with a 21-hour special session!
Affordable housing came out better than every other issue and agency, though need still outstrips appropriations. Clean energy had disappointing results. A session summary will be available on our webpage. Thanks for the many calls, emails and visits with legislators!
EVENTS AND PRESENTATIONS: Minnesotans from five synods participated in the ELCA Advocacy Convening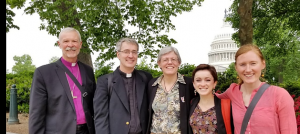 on "advocacy in the context of disasters enhanced by climate change" (April 29-May1, Washington, D.C.) The group had several good meetings, though there is more work needed with some of Minnesota's congressional delegation.
Director, Tammy Walhof, presented on LA-MN to pastors from the Saint Paul Area Synod South Metro Conference at its meeting (May 2). Later (May 17-18), she did similar mini-sessions at the Saint Paul Area Synod Assembly, passed out 300 plus action alerts and spoke in-depth with several participants.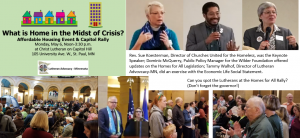 Walhof had many wonderful conversations at the Southwestern Minnesota Synod Women of the ELCA convention (May 3-4), and was able to give out 230 plus action alerts after being allowed a brief announcement about decisions being made by legislators. LA-MN's Lutheran Affordable Housing Event (May 6) was followed by a rousing Homes for All Rally in the capitol rotunda with hundreds of other housing advocates from across the state.
---
Nevada
William Ledford, Lutheran Engagement and Advocacy in Nevada (LEAN)      leanforjustice.org
LEAN has been very active this month given that our legislature only meets for a few months every two years and that we are currently at the end of the last month of the session. We are continually engaging one-on-one with legislators, as well as testifying in committees as much as we can for bills related to justice, education, equality, and hunger/poverty issues. We are involved with a bill increasing our abysmal minimum wage to $12 an hour by 2024. We wish it was more aggressively paced than that but at least it is something. We also saw a victory in a bill being signed that protects the LGBTQ+ community by making the "gay panic" and "trans panic" defenses no longer valid arguments in court. We also saw a significant victory in our primary concern this session: the regulations protecting against predatory payday loan practices. One bill was withdrawn but will come back around as a ballot measure and historically across the country those have done well. The other was creating a system that would prevent people from being able to take out a payday loan if they already have one, protecting people from the "cycle of debt" that many fall in to. This is my first session in this position, and I am pleased at how well it went.
---
New Mexico
Ruth Hoffman, Lutheran Advocacy Ministry—New Mexico (LA-MN) lutheranadvocacynm.org
LEGISLATIVE INTERIM BEGINS: Since New Mexico's legislative sessions are somewhat short, interim is
May meeting of the Legislative Health and Human Services Committee
crucial for legislators to gain knowledge and discuss many issues. It is also a time for advocates to be heard and to bring up topics and questions. Senate and House members serve together on interim committees that focus on a number of topics and interests and meet between now and December in Santa Fe and around the state. LAM-NM monitors and attends meetings of the Legislative Health & Human Services Committee; the Revenue Stabilization & Tax Policy Committee; the Mortgage Finance Authority Oversight Committee; the Legislative Finance Committee; and the Courts, Corrections & Justice Committee. LAM-NM director, Ruth Hoffman recently testified before the Legislative Health and Human Services Committee to urge it to include poverty and hunger as well as increasing the State SNAP Supplement on their work plan for the interim.
---
Ohio
Nick Bates, Hunger Network Ohio                                                             www.hungernetohio.com
THE BUDGET ROLLS ALONG: Hunger Network offered testimony last week in the Senate Finance committee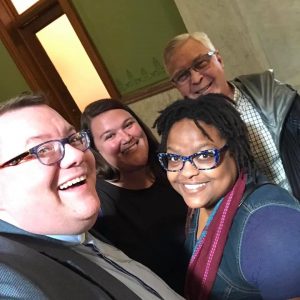 (and it can be read here). This testimony echoed legislative meetings advocates had earlier in the month with State senators on issues related to food banks, affordable housing, and the Earned Income Tax Credit (EITC). We are hopeful to see investments in Ohio to solve problems instead of just more income tax cuts for the wealthy.
TAKE ACTION NOW: Write a letter to your local newspaper in June to create the change we wish to see in the world. CLICK HERE for the links.
THANK YOU: to all the great advocates who came out in mid-May to talk with about 1/3 of the state Senate about simple steps to address hunger and poverty in our communities.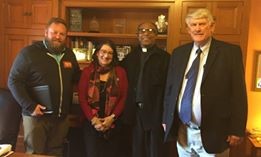 ---
Pennsylvania
Tracey DePasquale, Lutheran Advocacy Ministry–Pennsylvania (LAMPa) lutheranadvocacypa.org
 CIVIL CONVERSATIONS TRAINING: Fifty bridge-builders from diverse faith traditions gathered May 19 to improve their skills in engaging in meaningful conversations in our divided times and learn how to organize civil conversations in their communities to build a thriving, diverse democracy. LAMPa and United Lutheran Seminary co-hosted the training led by Interfaith Philadelphia.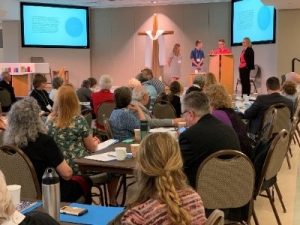 LUTHERAN DAY AT THE CAPITOL: More than 130 individuals gathered in Harrisburg on May 20 for LAMPa's annual day at the capitol. The theme was "Set A Welcome Table- How very good and pleasant it is when kindred live together in unity!" (Psalm 133:1). Participants gathered for worship, a keynote address by Kathryn Lohre on the ELCA's proposed "Declaration of Inter-Religious Commitment", a variety of issue workshops, recognition of synod advocacy honorees, and legislative visits on hunger funding. Learn more.
LAMPA WORKSHOP AT SYNOD ASSEMBLY: Director Tracey DePasquale provided a workshop at the Southeastern Pennsylvania Synod Assembly titled "Building the Beloved Community Beyond Our Walls-When loving your neighbor leads you into the public square, let LAMPa and ELCA Advocacy accompany you."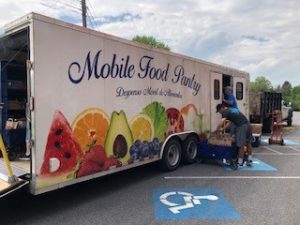 HUNGER IN PENNSYLVANIA ACTION ALERT: LAMPa advocates are emailing lawmakers requesting $21 million for the State Food Purchase Program and $3 million for the Pennsylvania Agricultural Surplus System. As a portion of the total state budget, funding for these programs is small, however the impact on the ability of the state's charitable food assistance network to provide critical aid is enormous.
---
Washington
Paul Benz, Faith Action Network (FAN)                                                                            fanwa.org
REGIONAL SUMMITS: FAN has entered a new season of our program year! As we transition from our state legislative session that ended April 28, we move toward a focus on congressional issues and hosting our four regional spring summits across the state- in the Tri-Cities, Vancouver, Seattle, and Spokane. We will share our legislative successes and strategize in different subject area groups. Our small and large group conversations will help us shape our next legislative agenda and plan for our year ahead. We will be hosting these gatherings throughout June and are very excited to meet with folks in our network across the state!
RACIAL EQUITY: Racial equity and justice must be central to our work. Staff has been working with FAN's board to ensure that our organization examines policy, programming, and the culture of FAN through a lens of racial equity. This summer, our board and staff will have a retreat with training and conversation as a commitment to this ongoing process.
---
Wisconsin
Cindy Crane, Lutheran Office for Public Policy in Wisconsin (LOPPW)                          loppw.org
IMMIGRATION/ASYLUM & STUDENT PASTOR BETTY RENDÓN: LOPPW organized a van of people to drive to the Immigration and Customs Enforcement detention center in Kenosha to attend a vigil held for Rendón and her husband, Carlos. We were also in contact with the immigration center in Chicago to get language for a sample letter to send to our listserv when inviting our members to support them in receiving a stay on their removal. We have kept our members updated, especially with messages from Bishop Paul Erickson of the Greater Milwaukee Synod, who has championed the family's efforts. LOPPW is in the process of planning an immigration panel with the South-Central Synod of Wisconsin.
SYNOD ASSEMBLIES: LOPPW staff led a presentation based on our still very new PowerPoint on water at the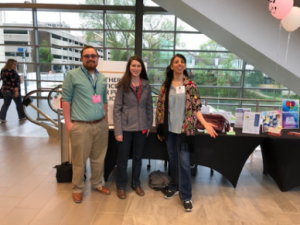 South-Central Synod of Wisconsin and invited participants to write letters about water issues included in the draft of the state budget. Kelsey Johnson, hunger fellow, and Cindy Crane, director, also managed tables at the Northern Great Lakes and East Central Synod of Wisconsin assemblies held at the same time.
LEGISLATION: Johnson was asked by a legislator's office, where she has made connections, to testify on a bill that had an indirect link to sex trafficking. Crane met with the staff of the chair of the Wisconsin Clean Water task force to discuss how his work was coinciding with water issues highlighted in the proposed state budget.
GOOD-BYE: We said good-bye to our part-time intern Sarah Schultz who shared her creativity and passion for justice as part of a campus ministry program.